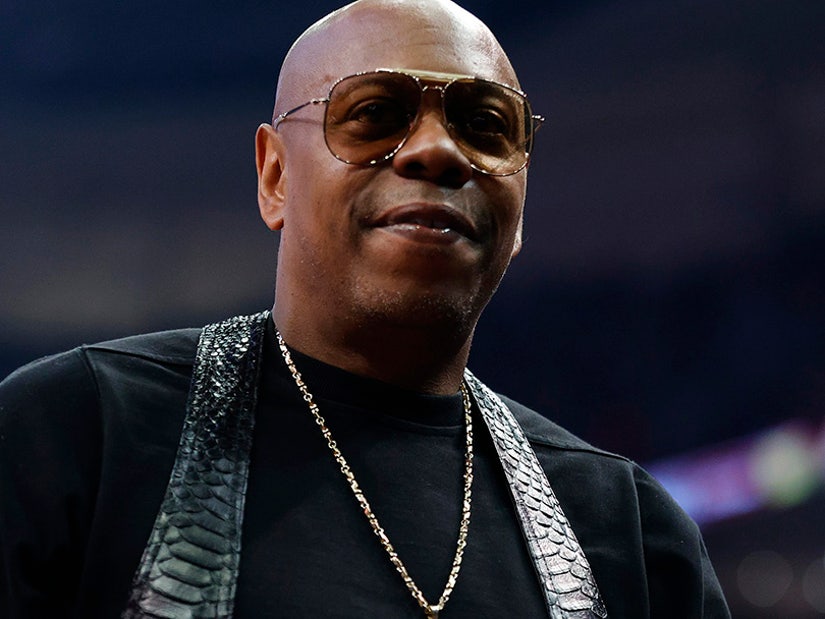 Getty
The comedian referred back to a Minneapolis show in July, claiming protesters at the venue threw eggs and even a police barricade at his fans.
Dave Chappelle is still taking about the anti-trans jokes that have made him a polarizing figure in entertainment, with his latest claim that it was protesters who were getting violent.
According to Chappelle, he's heard that his transphobic bits "are somehow gonna be the root cause of some impending violence that they feel like is inevitable for my jokes."
In the latest episode of his podcast "The Midnight Miracle," with Talib Kweli and Yasiin Bey, he claimed that it was actually the protesters who were trying to incite violence.
He detailed alleged violence he witnessed from people who showed up to protest at a show, per Variety, including the throwing of eggs and even a police barricade, and how his fans reacted.
"These were grown people of various genders and gender identities," he said of the Minneapolis protesters who appeared at his Varsity Theater show in July after the First Avenue club cancelled his appearance over the backlash. "They threw eggs," he said. "They threw eggs at the [fans] who were lined up to see the show."
He then singled out one alleged incident where a woman "was so mad ... she picked up a police barricade." He said, "This b---- picked that barricade up by herself and and threw it at the crowd. I gotta tell you, it's an amazing feat of strength for a woman."
Despite the alleged raucous protests, the show did go on, with Chappelle saying he was greeted by a standing ovation from the same fans who'd had to endure the protests to get inside.
"As abrasive as they were, the way they were protesting, throwing eggs at people, throwing barricades, cussing and screaming, [none of my fans] beat 'em up," Chappelle said. "In fact, the people in the crowd would just say, 'We love you. Like what are you talking about?'"
Speaking about the protesters' behavior, Chappelle alleged, "In a weird way, they had the intention of inciting violence against themselves for publicity," per Rolling Stone. He said that he felt that "they wanted him to say something inflammatory" as they were throwing things at his fans.
He also took issue with First Avenue for how they handled canceling his show. The venue released a statement apologizing for booking him, saying that they are determined to "make our venues the safest spaces in the country."
"'I guess apparently they had made a pledge to the public at large that they would make their club a safe space for all people, and that they would ban anything they deemed transphobic," Chappelle argued. "This is a wild stance for an artistic venue to take, especially one that's historically a punk rock venue."
"I'm not even mad that they take issue with my work. Good, fine. Who cares?" he added. "What I take issue with is the idea that because they don't like it, I'm not allowed to say it."
Speaking about those who are coming out in protest against him, Chappelle said, "They want to be feared. 'If you say this, then we will punish you. We'll come to First Avenue and f*** your show up and we'll come to the Varsity Theater and f**** your show up.' And they just don't get to do that."
As for the problems with the content of his comedy, Chappelle argues that "art is a nuanced endeavor." He believes that there is a movement in American culture to remove that nuance and make "people speak as if they're either on the right or left."
"Everything seems absolute, and any opinion I respect is way more nuanced than these binary choices they keep putting in front of us," he argued. "I don't see the world in red or blue."
As for the show itself, Chappelle called it a rousing success. "When I walked on stage, it was a huge ovation," he said. "Because suddenly going to see a comedy show was this huge act of defiance."