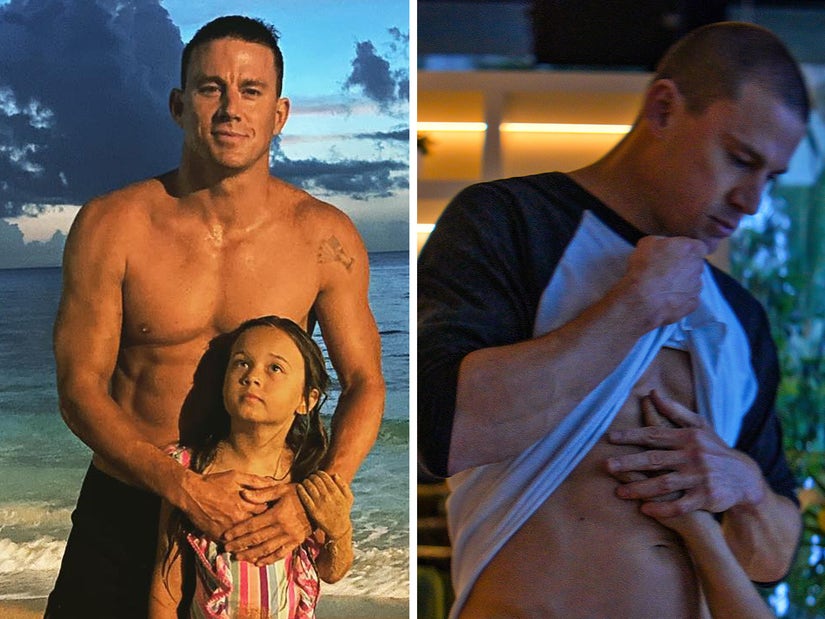 Instagram/Warner Bros.
Tatum's Magic Mike films were inspired by his real-life stripper past.
It's widely known that Channing Tatum was a stripper years before he became an actor, and the "Magic Mike" star is sharing whether or not he plans on hiding that part of his past from his daughter.
While speaking with Entertainment Tonight, the actor -- whose personal experience as a stripper inspired "Magic Mike" -- revealed that he's "not gonna lie" to his daughter, Everly, 9, about his time as an adult dancer, however, he said he's not going to talk to her about it anytime soon.
"When she's old enough to watch them, we'll have that conversation," said Tatum, who is currently promoting the third "Magic Mike" film, "Magic Mike's Last Dance."
"There's no version of me not having the conversation of 'Dad didn't just do them in movies, I was an actual stripper,' so I'm not gonna lie to her," he added.
Tatum has been open about his time working as a stripper in Florida as a late teen.
"The Lost City" star -- who began stripping at 19 after he dropped out of college -- revealed to The Hollywood Reporter back in 2014 how much money he would make per night.
"Not as much as you think," Tatum said. "On a good night, 150 bucks. On a bad night, 70 bucks -- even 50 at times."
Following his time as an adult dancer, he began working as a model, before he started acting in 2005. Tatum went on to star in a handful of films, including "Step Up," which starred his now-ex-wife Jenna Dewan, "Dear John" and "21 Jump Street."
"Magic Mike" -- which, although fictional, is loosely based on Tatum's experience as a stripper -- came out in 2012, with Tatum both starring and producing the project. The comedy-drama spawned two sequels: 2015's "Magic Mike XXL" and "Magic Mike's Last Dance," which hits theaters on February 10.
Meanwhile, Tatum shares daughter Everly with Dewan. The former couple was married from 2009 until they announced their separation in 2018, five years after the birth of their daughter. Their divorce was finalized the following year. (Tatum is currently in a relationship with Zoe Kravitz, whom he met while working together on her directorial debut "Pussy Island.")
While the "21 Jump Street" star and Dewan are both actors, Tatum said they don't want Everly to follow in their footsteps -- at least not until she's 18.
"Jenna and I, we've always met eye to eye on this one. It's pretty tough to be a child actor or artist," he told People back in June. "I also believe that if you really want to be a beautiful artist, you have to go live a real life. And I think kids in Hollywood, in general, there's a lot of things that are standing in the way to living a very normal life in the world."
"I can't say 'yes' in this moment," he says. "Definitely not being the lead of the movie. That's never, ever going to happen. Maybe when she's 18, if she wants, if it takes us that long to make the movie, then great," he adds with a laugh. "When she's 18, she's lived a full life and she can make her own decisions, then I will put her in anything and everything that I can possibly put her in because she'll be the coolest thing in the world and she is the coolest thing in the world."