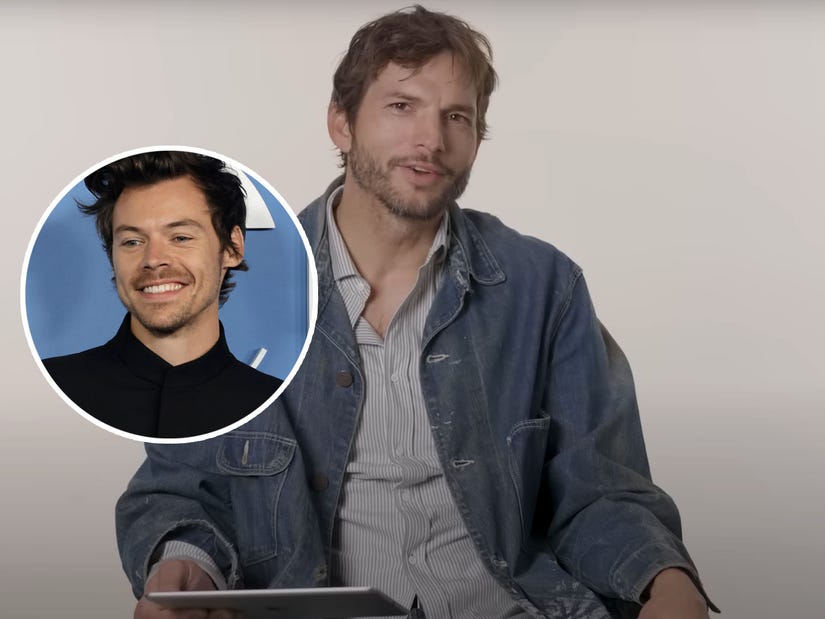 YouTube / Esquire
"I was like, 'Oh my god, now I feel like a jerk!'"
It's hard to believe that anyone on this Earth hasn't heard of Harry Styles, but at one point, Ashton Kutcher was one of these people.
In the latest installment of Esquire's "Explain This" video series, the actor recalled a hilarious story about the time he and his wife Mila Kunis attended their A-list neighbor's karaoke party, during which Styles gave a "bananas" karaoke performance.
However, Kutcher revealed that at the time, he and Kunis had no idea who Styles was and mistook him for just an extremely talented karaoke singer.
"There's an extraordinarily well-known singer, that is maybe the best singer today, that we happen to be neighbors with, and she was throwing a karaoke party," Kutcher, 44, began, bringing up the "very funny" story after he shared his go-to karaoke songs. "And she gets up and does this like out of the world bananas [performance], and I'm like this is just so unfair."
"And then this other kid gets up, and he does this ABBA song... I'm like, 'Oh my god. It's bananas,'" he continued. "So this kid gets off stage, and Mila and I go up to him. We're like, 'Man, I got to tell you something, you're a ringer. You're like a karaoke ringer. You're really good.' He goes, 'Thanks, man, thank you. I really appreciate that.'"
"So we go to our friend and we go, 'God, that guy was really good, huh?' And he's like, 'It's Harry Styles,'" Kutcher added. "And I was like, 'Who's that?' Mila's like, 'It's the guy from the boy band. He's a professional singer.'"
The "That '70s Show" jokingly admitted that he felt "so dumb" calling Styles, 29, a karaoke singer when he's a professional.
"I was like, 'Oh my god, now I feel like a jerk!'" Kutcher recalled. "He's a professional singer. And we're trying to tell him he's a good singer."
"The Ranch" actor then issued an apology to Styles. "So I just really want to say, I'm sorry Harry Styles, but you're really good at karaoke, man," he said. "Seriously, like really good."
Meanwhile, Kutcher touched on a wide variety of topics during the "Explain This" video, including the one person he wishes he could have "punk'd" on the hidden camera reality series, which initially ran from 2003 to 2007.
"I desperately wanted to punk George W. Bush because he was president at the time when we created 'Punk'd,'" he said. "I thought I had a couple Secret Service agents that would work with me on that, but it turns out that they're more loyal to the president than Ashton Kutcher."
At another point in the clip, Kutcher shared his thoughts on whether he'd be interested in joining the Marvel Cinematic Universe someday.
"Yeah, I'd play a bad guy. I think it'd be more fun to play the bad guy like the Joker," he said, referencing the legendary DC Comics villain (not Marvel). "I think it would be fun to play that version, not the Joaquin Phoenix 'Joker,' like that's a little dark for me, I'm gonna be honest. It was a little too emotionally ... I was stressed watching [that movie]. I don't need more stress!"
"I want a fun Joker, but that is also slightly menacing."