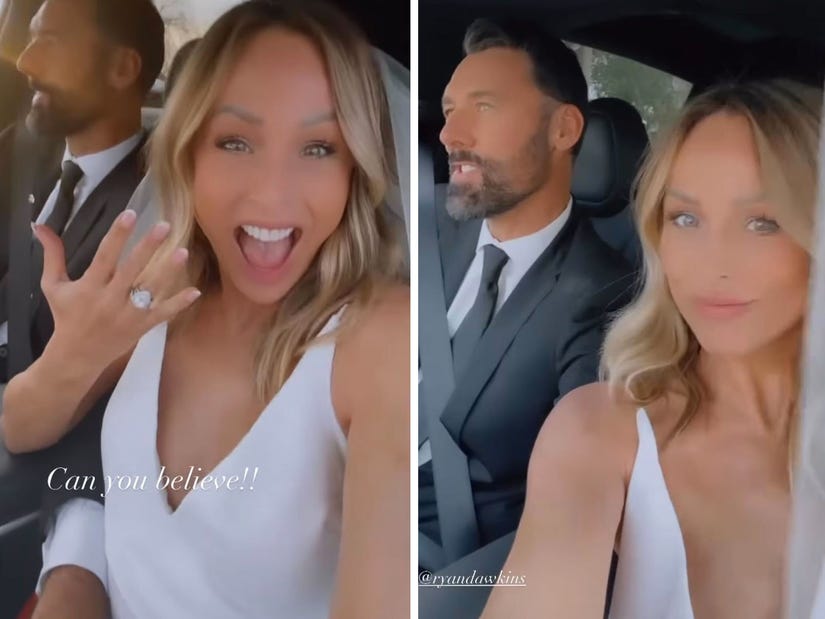 Instagram
The reality star calls it the "happiest day of her life," after her original dress was stolen days before saying "I do."
Per PEOPLE, the 41-year-old "Bachelorette" alum tied the knot to Mascot Sports CEO Ryan Dawkins on Wednesday, February 1 in an intimate ceremony in Sacramento, California. The reality star called her wedding day the "happiest day of her life," telling the publication it was just a perfect celebration.
"If I had to do this day over every single day for the rest of my life ... I wouldn't change a thing!" she gushed. "Happiest day of my life hands down!"
Waiting for your permission to load the Instagram Media.
Though Crawley was able to have her dream wedding, she revealed that her original wedding dress was stolen from her car just days before the ceremony. In the end, the mishap actually had a great outcome.
"I know I always share this, but I am deeply, deeply in the belief that everything is supposed to happen how it's supposed to happen, regardless of if it looks good or it looks bad or it's what I want or not what I want," she said last weekend, while alerting her followers that her dress was taken when their rental car was broken into during a Hawaiian vacation.
"In the moment, I was like 'Ughhhhh, what do I do?'" she continued. "And I thought, 'It's okay. It's about the moment and what we're celebrating. I can wear anything, and I'll be happy that we're getting married.'"
Clare eventually decided to return to the shop where purchased her dress, explained the situation to the store owner and worked when them to fix the problem.
Waiting for your permission to load the Instagram Media.
Waiting for your permission to load the Instagram Media.
"Basically, within three days, I got a brand-new dress altered, pressed, completely altered again in the best way, like even more fitting," Crawley said, before gushing over her replacement gown. "Turns out, that was the wedding dress that was on my Pinterest board three years ago. It's the dress of my dreams."
"She actually picked the dress out and was like, 'Here wear this one.' And I was like, 'Okay, I'll wear anything!' " she continued. "And it literally turns out ... it's the most beautiful dress, and it's better than I could have imagined."
Clare and Ryan got engaged back in October during a floating lantern festival in Las Vegas.
At the time, the television personality took to Instagram to share a photo of the moment her now husband popped the question on one knee. She also later posted a video montage of the proposal.
She captioned the photo, "He has held me in my darkness, loves me through my healing, and we now celebrate the light together! The easiest YES of my life ❤️"