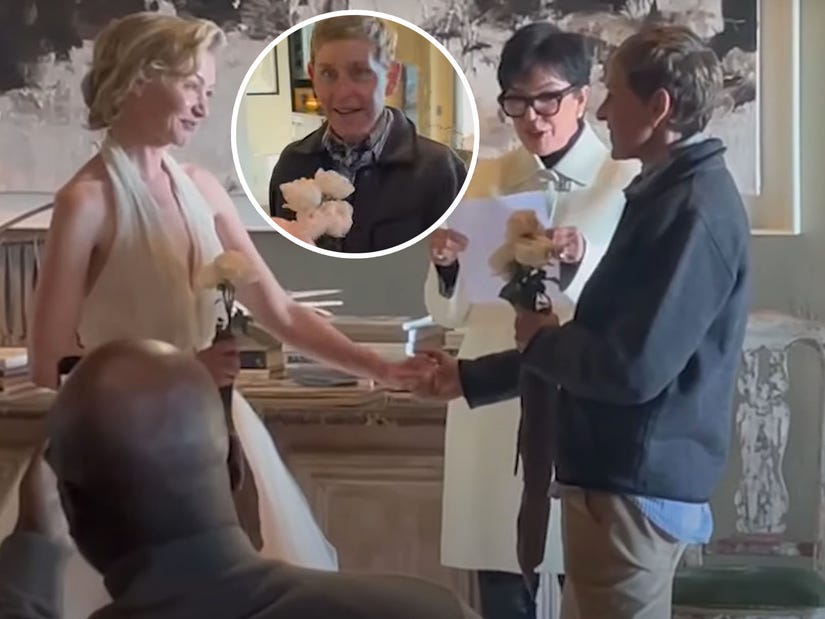 YouTube
Kris Jenner officiated, as Ellen's jaw dropped.
On Thursday, the couple shared a video captured at Portia's b-day celebration this past Tuesday, showing de Rossi absolutely shocking her wife with an impromptu vow renewal ceremony ... stepping out in the same Zac Posen dress she wore to the duo's 2008 wedding.
The surprise came as Brandi Carlile performed "The First Time I Ever Saw Your Face" during the soiree. As Portia entered the room in her gown, holding white roses, DeGeneres was clearly taken aback by what was going on.
Expressing shock and exclaiming, "Oh my god!", Ellen then joined her wife in front of the whole party -- as Kris Jenner stepped in to officiate the ceremony.
"Welcome to Portia's birthday party and to the newest home of one of my favorite couples, two of my BFs and the record holders for the most homes every purchased in one city," joked Jenner. "These two were born for each other ... these two are couple goals who continue to amaze me with how cute they are together, a match made in heaven."
"Two peas in a pod, their love and commitment to each other is amazing and it makes me so happy that they have each other to love and cherish and grow old with," she added. "Today Portia would like us to witness a renewal of her commitment to Ellen, to honor and celebrate their marriage of 14 years."
With that, Jenner passed over the mic to de Rossi, who exclaimed "Surprise!" to her very surprised wife.
"You don't have to say anything at all, but when I was thinking about what would make my birthday really special, it was reminding you that you're the most important thing in the world to me, in front of family and friends," she said.
"I was thinking about my life, my accomplishments, and it just all kept leading back to you and I thought what greater accomplishment could I ever ever have in my life than being loved by someone who is so magnificent, by someone as incredible as you," she continued. "Also I feel like we're on a new journey, this is a new chapter, after 24 houses in 18 years -- 24 in 18 years! -- this is our first home, this is it, we're settling down finally and we're planing roots and taking care of each other more than ever before."
"I'm so excited for our future where we just get to do whatever the hell we want for the rest of our lives," she added, before praising her other half for accepting her "for exactly who I am."
"It's you, it always has been," she concluded. "You cheer me up when I'm down, you make me feel seen, you make me feel safe, cherished, loved. I love you, I will always love you. I am so honored to be your life."
After they kissed, DeGeneres was nearly at a loss for words.
"I just adore you, I love you and I would not be on this earth without you," she said to Portia. "You save me every day. Thank you for saving me every day. I'm the lucky one. Wow, everybody!"
Sharing video of the whole thing to Instagram, Ellen added, "Portia surprised me at her birthday party by renewing our vows. Thank you @KrisJenner for officiating and @BrandiCarlile for performing, and Portia for being the greatest gift to me, even on your birthday."