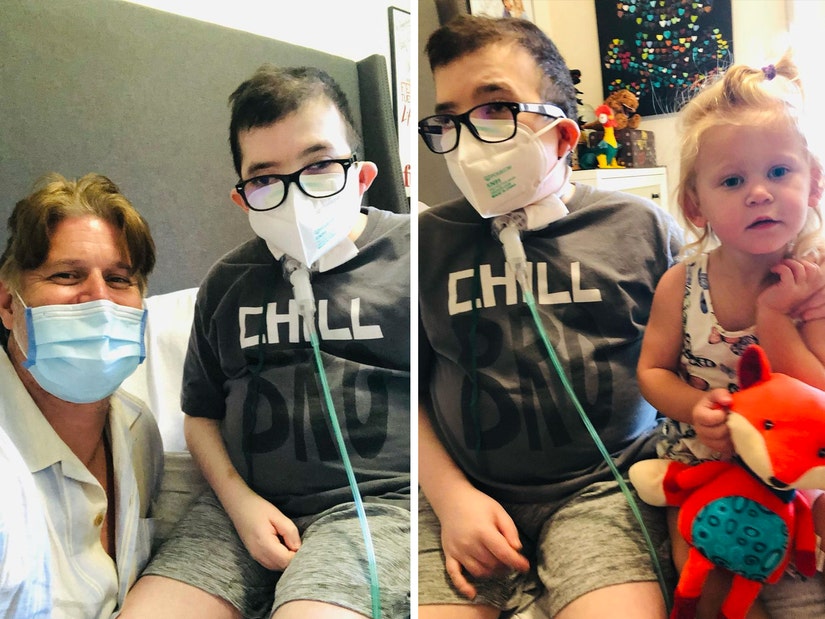 Instagram
Grayson died this week at the age of 22 -- with Slade and Gretchen saying "This isn't goodbye but rather see you soon little man."
Gretchen Rossi is mourning the loss of her fiancé Slade Smiley's son, Grayson Smiley-Arroyo, honoring him with a sweet tribute after his death.
The 44-year-old former "Real Housewives of Orange County" star and Slade revealed Grayson died on Tuesday; He was 22. His mother, Michelle Arroyo, also shared that his passing came after he was diagnosed with brain cancer back in 2006.
After her and Slade's initial post about his death, Rossi shared a series of photos and videos showing Grayson interacting with his 3-year-old sister, Skylar Gray, who Gretchen shares with Smiley.
Waiting for your permission to load the Instagram Media.
One of the videos featured the brother-sister duo playing with Grayson's toys, while another depicted Skylar and Grayson huddled on the bed as he showed off his collection of trinkets and gadgets. She captioned the sweet moments, "💔 We love you Gray."
Rossi's original post sharing the news of Grayson's passing featured a slideshow of the pair growing up together throughout the years.
"Our rational minds told us this day might come, but our hearts always held onto the hope that this day would not come to fruition 💔," she and Slade shared in a joint statment. "We are beyond devastated and heartbroken over the loss off Gray. 😔 Grayson Arroyo-Smiley was such a special human being."
Calling the young man "an angel on earth" and "an incredible warrior," the pair commended Grayson for his positivity throughout his health struggles and described him as "a warrior like no one has ever seen before."
Waiting for your permission to load the Instagram Media.
Waiting for your permission to load the Instagram Media.
"Although his life was cut short on earth he made an incredible impact on so many people. The Lord knew his life had purpose and would touch many along the way," they continued. "We are forever grateful for the many lessons learned from this little man, and will miss his beautiful spirit immensely."
They concluded, "This isn't goodbye but rather see you soon little man…..We love you Grayson. You will forever be in our hearts. Love your Dad, Gretchen & your sister Skylar Gray."
Arroyo explained on Instagram that Grayson's heart stopped while he was at home. She then attempted to give him chest compressions until the paramedics arrived, but when they got to the hospital Grayson's heart stopped again.
"When he left for the hospital he looked good and was breathing on his own but his heart gave out again at the hospital," she said.
"I don't have all the answers now, but I do know that the last few months with fevers, infection, and low potassium most likely took a toll on my sweet boys heart. I'm still in shock and going through the motions of dealing with all the details."