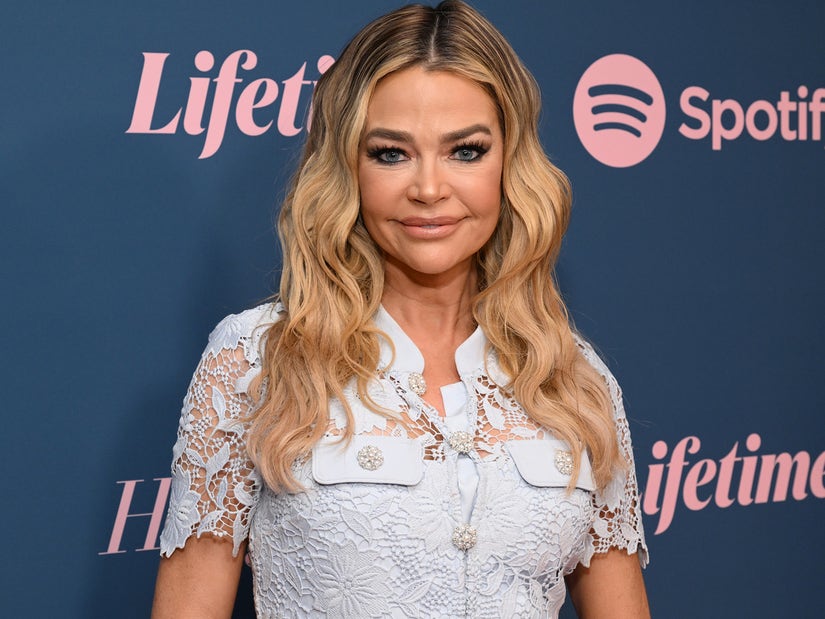 Getty
"I did not handle it well."
Denise Richards is still reeling from a terrifying incident with a shooter on the road.
During an appearance on "Jeff Lewis Live" on SiriusXM, the 51-year-old went into detail about an extreme road rage incident while she and her husband were driving to work on a Los Angeles highway last year.
Richards and her husband Aaron Phypers were startled when a bullet hit the back of their truck. When the couple kept driving, the shooter followed them until they were eventually forced to pull over.
"It wasn't like we got cut off. It was just all of a sudden this guy was following us," she recalled. "He was kind of aggressive, and Aaron tried to scootch over, and he pulled over and [the shooter] pulled over."
When Phypers rolled down his windows to confront the shooter, Richards said, "He put his hands up and goes, 'I don't know what you're upset at. I'm just trying to take my wife to work.'"
While her husband may have kept his cool, the actress said she "started screaming like a lunatic. I did not handle it well. I was literally on the floor almost peeing my pants."
Richards tried to exit the vehicle and run but thankfully her husband pulled her back, telling her, "'If you run out of this truck, you're gonna get shot.'"
Scared for her and Phyper's lives, she pleaded out the window, "Please, I don't know what we did, but he's just trying to take me to work." She then claimed the man looked at both of them, rolled his window up and drove away.
Richards believes the shooting was not an act of road rage, but a case of mistaken identity.
During the same interview, Richards was also asked if she would return to "The Real Housewives of Beverly Hills" following Lisa Rinna's departure.
Though she admitted Bravo have not "approached me," surprisingly said she would consider a return.
Elsewhere in the chat, Denise opened up about her daughter Lola's own scary experience driving in the middle of the night.
The reality star recalled receiving a phone call informing her that her 17-year-old daughter had been in an accident after she had snuck out from home.
"It's the worst call as a parent to get that kind of phone call," she said. "The car was totaled, no one was hurt, thank the lord."
According to Richards, Lola's friend had been driving the car when they crashed. "You want to scream at them but you're like thank God no one got hurt," she continued, explaining that her daughter was "driving on a canyon and one little thing could have flipped them over the edge."
"The police officers were so wonderful because they said there's a car accident there almost every single weekend and a lot of kids don't survive it so it scared the f--king s--t out of her," Denise said.