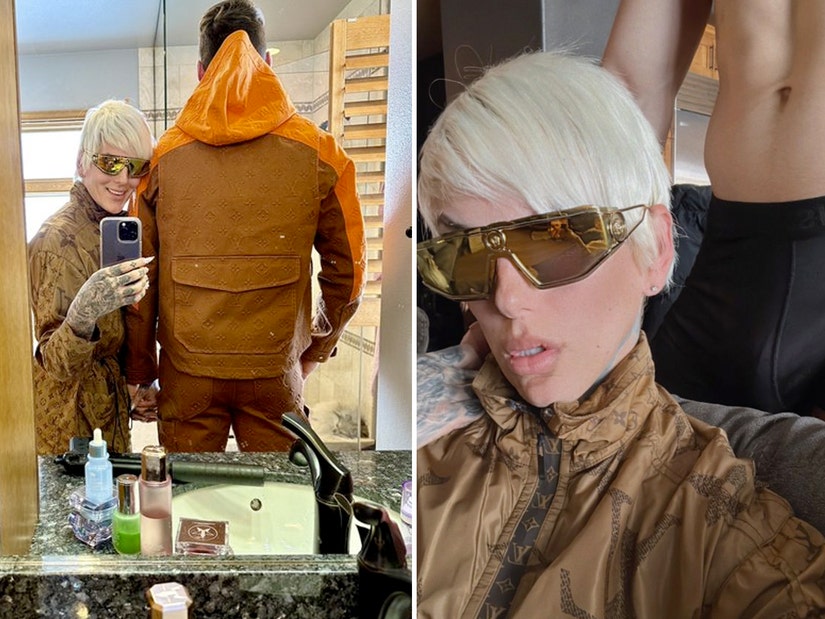 Twitter
Speaking with Taylor Lewan, Star addresses some of the rumored names and says his man "doesn't care if anyone, at the end of the day, found out later."
Jeffree Star isn't revealing his "NFL boo" boyfriend's identity just yet -- but provided some more clues while also opening up about how his mystery man feels about the guessing game.
The controversial beauty mogul appeared on Taylor Lewan's Bussin' with the Boys podcast this week, putting to rest any speculation that Lewan is the man Star has been teasing all over social media for the past month.
"I loved it," Taylor said of the speculation, which he denied in a playful manner when he started getting tagged in Star's mentions.
"Everyone thought I was sleeping with you, but I'm really f---ing one of your friends. That's the short version," added Jeffree, who said he does think Taylor is "hot."
Star kicked off the rumor mill in late-January, when he shared a photo to Twitter of him on a jet, holding another man's hand. "Goodbye LA, time to spend time with my #NFL boo in Wyoming," he captioned the post.
He followed it up with other photos showing the man in a Louis Vuitton outfit and just his boxer-briefs, all while obscuring his face from the camera.
"The color of the outfit does not match the team, I think people were wondering that," Star shared of Louis Vuitton fit.
"It's fun to cause a stir and he was down, because he doesn't have any tattoos. I did this game before a few years ago and the person was discovered the next day, because of their tattoos," he continued. "I wanted to start off '23 letting people know we're here."
Star said "no one has figured it out, which is great" -- but said the mystery man "doesn't care" if his identity is revealed "later" down the line. "Right now doesn't want to be on the news," he added, saying the player in question also "loves vagina," which can sometimes get "boring."
The YouTube personality also said he's heard from at least one NFL player's wife who wasn't thrilled her husband was the subject of speculation. "I thought it was so annoying and insecure," Star said of the DMs.
Taylor, meanwhile, said his own agent told him that another person being named was "f---ing pissed" to be part of the speculation, adding that the NFL can be very "homophobic," especially in the locker room.
Watch the full conversation above.