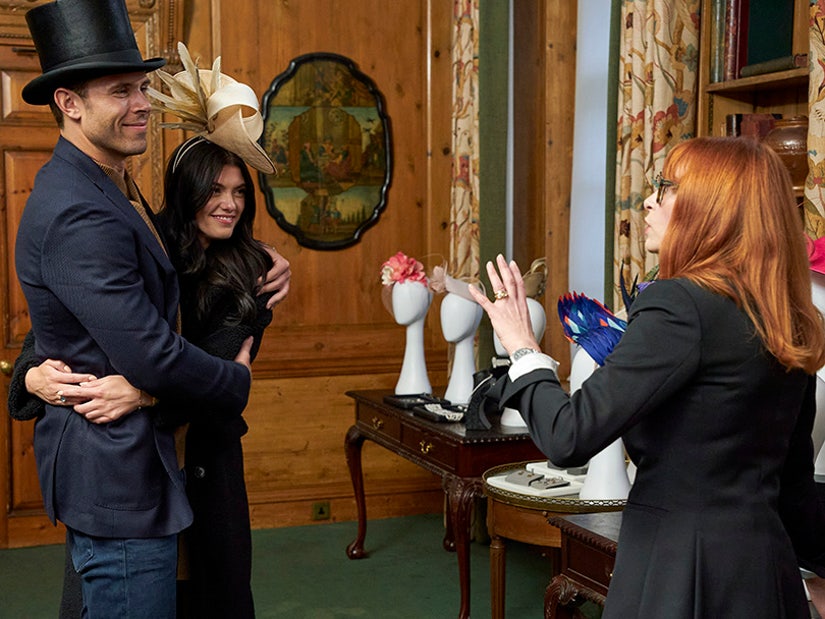 ABC
"The Bachelor" goes digital after Zach gets Covid in London and has to cancel a Group Date and a One-on-One date before reconnecting with the women on video -- and still booting two of them.
Half of a normal episode of "The Bachelor" turned into a Bizarro version after Zach Shallcross contracted Covid, leading to the first-ever virtual cocktail party and virtual rose ceremony -- and yes, both were extremely awkward.
It was a night of first for Bachelor Nation, nearly three years after COVID-19 first began to shut down the world, it finally came for ABC's stalwart dating franchise in a huge way, completely derailing plans in London.
Everything was all good for Gabi, who scored the first One-on-One date during their stopover across the pond. After that, it was one awkward moment after another until it ended... well, still awkward.
Even harsher, it was the end of the road for two of the women after a disastrous week with literally zero physical time with Zach. They didn't even get the courtesy of a goodbye hug.
At least, Zach and Gabi had a really fun and innovative One-on-One date, getting the true Royal treatment in London complete with a visit from the Royal corgis and service by a Royal butler who'd served many in the family, including King Charles.
Like Zach, we got our first real sense of who Gabi is as a person when you take away all the other women and distraction of this bizarre setting. One-on-one, she was an absolute delight with a killer wit.
Her snappy one-liners during their time in the perfumery were pure comic gold. It was also a very cool stop, as they got to develop their own perfume which was then bottled and named after them, Zabi.
Floris has been around for 300 years and developed scents for a ton of famous British figures, including members of the Royal family. But this was just the first taste in an extremely fun day.
Gabi got the full shopping treatment, including a stunning ball gown that she would wind up wearing to the evening portion. It's rare that we follow the woman back home between the day and night, but this week was light on content (damn Covid) and their reactions were a lot!
In fact, just seeing Gabi happy and with her bags of fine clothing and shoes and even jewelry proved too much for Greer, who appears to be a bit of an Anglophile -- or at the very least, has a whole thing for tea. She even has a teacup tattooed on her body.
She explained that tea is a big deal in her family, how they bond and connect. What happened was she set herself up for disappointment by expecting that the One-on-One would be for her because it's London and tea and all that, so she was crushed when it wasn't her.
Never mind that there was another one, Greer wasn't feeling validated or seen -- which was a point she brought up over and over on the night. She clearly needs constant reassurance and validation or she can start to spiral into despair.
That spiral led to her crying in the hall ... outside of Gabi's door. Did she know it was that door? Did production? Either way, she was there when Gabi was trying to get into her room to change so we got to witness another awkward moment.
That evening, everything continued going great between Gabi and Zach. We almost thought we had a new frontrunner, but the night wasn't over yet. She is developing a strong connection with him, which gave her the only Rose of the night ahead of the Rose Ceremony.
That was the end of normal "Bachelor." The reading of the Group Date card revealed that Charity had scored the second One-on-One, so Greer was certainly free to freak out again after that. As it turned out, though, all the women had reason to break down.
Rather than meeting Zach in London, they got a note telling them to go enjoy the Group Date without him. To their credit, after whining about it for the first half of the day (the rain didn't help), the women bucked up and decided to have fun without him.
It helped that they got the same advice from the breakout character of the whole episode, the woman working the pub with a great pour and an even better personality. She was so much fun, some of her banter scored the closing credits sequence.
Even Greer was able to get out of her own head and lighten up and have some fun. At least, she was able to for a little whlie.
In the cruelest move yet, production had the ladies get all dressed up for the After-Party only to pull the rug out from under them again with another note and cancellation from Zach. We get they may not have known he would cancel again, but did they really not test him?
It wasn't until the next morning, when Charity was preparing for her date, that they finally got the news that he had tested positive for Covid, devastating her. Did production do all of this on purpose so it could be "the most dramatic" Covid reveal "ever"?
Also, why was there no talk of isolating Gabi, who had literally been with him the day before? We can only assume she tested negative, as we figure they're still testing everyone regularly on these shows.
As an ER nurse, Kaity knows all too well how isolating and lonely a Covid diagnosis is. Not only are you not feeling our best, but you are stripped from any human contact whatsoever.
So she went out of her way to make Zach feel seen and cared about by putting together a gift basket for him after their day on the town in London. She then delivered it to his door and spoke with him through it.
This was one of the most genuine and sweet moments we've seen all season long, and clearly it meant a lot to Zach. None of the other women thought to go out of their way to make sure Zach knew that they cared (that we saw).
On a show where one-on-one time is a precious commodity, Kaity also banked some key time during a pivotal moment on the show when no one knew how things were going to proceed.
She was already one of our favorites based on that early One-on-One and little moments stolen throughout, but this almost felt like the show just going ahead and telegraphing to us that she's going to win.
The connection between the two of them through a door was so sweet and palpable, we found ourselves rooting for them to fall in love. It also said so much about the positive qualities that Kaity has in her just to think of him like that. You know he's paying attention.
We even got flashback scenes from their One-on-One date earlier this season, which both served to pad time with everything getting canceled, and gave us more fuel on our Kaity-is-the-winner train. Who else gets a clips sequence?
It's remote and it's actually not remotely the same as in-person. But it is better than nothing at all ahead of a Rose Ceremony. Apparently, Covid or no Covid, the show must go on. They're only in London for so long.
Rather than put the whole show on hold until Zach got better, they decided to forge ahead, with Zach setting up a whole little virtual studio in his hotel room. The ladies were then ushered one by one into another room to chat with him on a tablet.
As cocktail parties go, this one was pretty strange, but at least no one was saying, "Can I steal him for a second." It also assured that everyone got their time with him, uninterrupted.
It went great for almost everyone, with some really cute moments along the way. Since he had to cancel the One-on-One with Charity, Zach gifted her a Big Ben statuette. More importantly, he promised her they would get that time, all but assuring her she'd survive the night.
He and Kat practiced their "snogging" virtually, while Brooklyn showed up with one of those tall hats Royal guards wear (and the ladies harassed earlier as typical American tourists). Aly kissed an orange with him, which was weird, but at least it didn't irk him.
Things got so tense on Zach's screen, we could feel it coming through our screen. Greer made an effort to relate to Zach's frustrations in this moment by comparing it to when she got Covid at the end of the year, impacting her quarter-end sales figures.
To say Zach was not about this comparison would be a huge understatement. It was about as cold and bristly as we've ever seen him with someone. Maybe in person it would have been easier to smooth over, but as it was, we felt like she was going to have to scrape ice off of that tablet screen.
Understandably, Greer was an absolute mess after their one-on-one time, feeling awful that he thought she was minimizing his journey to find love by comparing it to her job, and feeling convinced that this would spell the end of her journey to find love.
The weirdness continued at the Virtual Rose Ceremony where the women had to pick up their own roses as Zach virtually handed them out via oversized monitor.
Mercedes had spent much of the evening so in her feelings about not having time to connect to Zach that we thought she might quit a few times. Had Covid not been a factor, she may well have.
As it happened, though, she was right to be concerned as she was one of two women ditched by video conference. The other was Kylee, who's had a quiet season overall, leaving Zach with his Top 9 women.
In a trailer for the back half of the season, Zach gets back on the saddle in person with the women for high highs and low lows. Typical Bachelor stuff. So while this was a weird diversion from the norm, things look to be quickly getting back to the usual chaos.
"Pip pip cheerio, we are in London town." --Zach (don't do that)
[all the women doing bad British accents] --like all of them (don't do that)
"Suddenly my asthma is acting up." --Gabi (when date card arrives)
"Your time will shine, my dear." --Kaity (trying to cheer up Greer for not getting selected)
"I don't know. I don't know anymore." --Greer (loves tea so thought she'd get One-on-One in London)
"I want the chance to show Zach my full self. And my biggest fear is that he's going to send me home before he give me that chance." --Greer (speak it and the Bachelor Nation gods are usually listening)
"This one kind of smells like Sour Patch Kids when someone's eating them next to you." --Gabi (at perfumery)
"It's giving Christmas mixed with a little bit of weed." --Gabi (at perfumery)
"This is a deeper, sensual woody notes, as well." --perfumist
"Love sensual woody." --Gabi (at perfumery)
"I feel like this is our first child." --Gabi (after creation of Zabi scent)
"It felt very nice to feel not loved, but liked. Wanted." --Gabi (trying on gowns)
"That's actually my room." --Gabi (to Greer, crying outside her door over not getting the One-on-One)
"I'm sorry. I didn't get the One-on-One. I'm gonna hyperventilate-- I literally can't." --Mercedes (after Charity gets second One-on-One)
"I don't feel seen. It's just such a horrible feeling." --Mercedes (after not getting picked)
"A lot was riding on today and I feel if I'm not gonna have today I'm not gonna have anything with him." --Mercedes (after Zach cancels Group Date)
"Today sucks." --Kaity (not enjoying the Group Date without Zach)
"I came here for a specific reason and Zach's not here. So what's the point?" --Mercedes
"Zach being sick is out of my control, so what is being upset going to do?" --Greer (drinking her woes away)
"This is how I feel with Zach, invisible." --Mercedes (in front of Royal guard)
"I hate that he doesn't feel good. That sucks. But selfishly, I feel stood up." --Brooklyn (after Zach ditches after-party, too)
I gave grace today, I don't have grace tonight." --Greer
"What does that mean for us? How do we move forward, honestly?" --Brooklyn (after Zach's positive Covid test)
"I'm gonna find a way to make sure he knows I'm always going to be there for him." --Kaity (dropping off a gift basket to his door)
"All my fears and doubts dissolved just by talking to him … through a freaking door." --Kaity (front-runner moment)
"I know our time had Ben cut short." --Zach (giving Charity a Big Ben statue virtually)
"I do want to throw out there. I think it's completely different, at least my perspective, from me being frustrated on finding my future wife versus end of sales, closed quarter, because that's what I do, too … I put a lot of weight on this week and it is frustrating … I just had to put it out there that it's not the same. In a few short weeks, I could be standing in front of my person and that means a lot more to me than the end of a sales quarter." --Zach (to Greer after she tries to relate with a bad comparison)
"It's like literally breaking up with you over the phone." --Brooklyn (about Virtual Rose Ceremony)
"The Bachelor" continues Mondays at 8 p.m. ET on ABC.