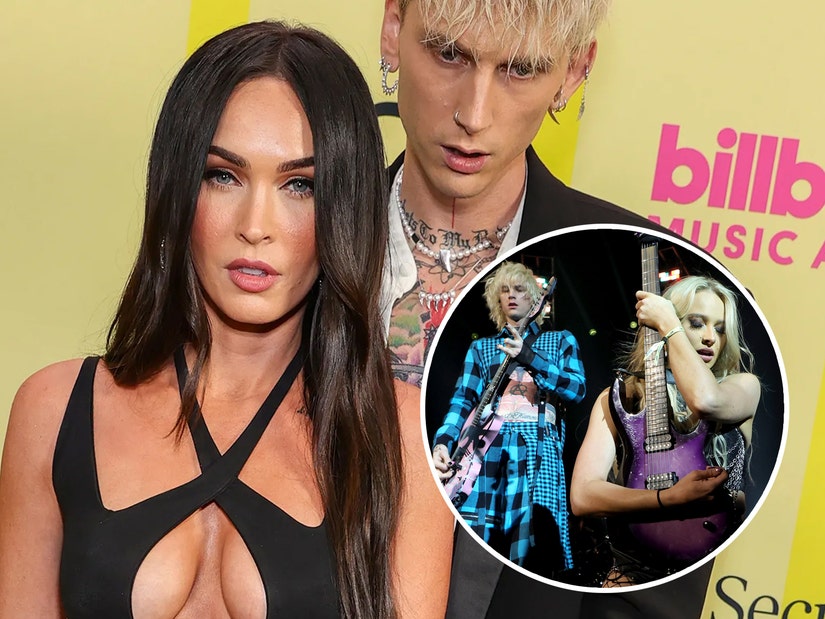 Getty
The actress returns to Instagram to push back against some of the cheating allegations regarding her and Machine Gun Kelly.
update at 6:50am PT on 2/20/23
"How me making a joke in order to absolve this girl of a hurtful accusation somehow turned into a confirmation of it—I will never understand. Why are people so ..... so dumb," Fox commented.
"Sophie you are insanely talented. Welcome to Hollywood. Your first unwarranted PR disaster. You have now been baptized by the flames of fame," she added. "It only gets worse from here unfortunately. Just ignore it as much as you can. ❤️middle finger up."
Lloyd responded, writing, "The internet is so wild! Sending so much love."
As the media keeps reporting on purported relationship woes between Megan Fox and Machine Gun Kelly, the "Jennifer's Body" star is pushing back.
After deleting her Instagram -- shorty after scrubbing all evidence of MGK from it and quoting Beyoncé's "Pray You Catch Me" -- Fox returned to the platform with a single message.
Published and time-stamped Sunday morning at precisely 9:45 a.m. PT, Fox shared a message directed pointedly at the media.
"There has been no third party interference in this relationship of any kind," Fox wrote. "That includes but is not limited to...actual humans, DMs, AI bots or succubus demons."
Waiting for your permission to load the Instagram Media.
She went on to call out the media itself, adding, "While I do hate to rob you of running random baseless news stories that would have been much more accurately written by ChatGPT, you need to let this story die and leave all of these innocent people alone now."
She closed her message with a prayer hands emoji and a purple heart. Comments appear to be turned off, though at least Tori Spelling has liked the message so far.
Meanwhile, Machine Gun Kelly's IG page remains up and the same as it has looked since before speculation began about their relationship. Fox's images are still present and the page doesn't appear to have been updated in three weeks.
Fans and the media began speculating about the couple's relationship status a week ago after Fox appeared to delete all pictures of Colson Baker (MGK's real name) from her IG page.
She added a carousel of images of herself looking fierce capped off with a video of what appeared to be an envelope being burned. "You can taste the dishonesty/ it's all over your breath," Fox captioned the share.
Some fans quickly took note of the fact she was posting in front of a poster captioned, "When You Can't Walk Away," as a hint as to what might have been going on.
One fan speculated right on Fox's since-deleted (along with the entirety of her IG page until today) post by commenting, "He probably got with Sophie," a reference to MGK's touring guitarist Sophie Lloyd.
"Maybe I got with Sophie," Fox replied to the commenter. The speculation caused Lloyd to respond via her representation.
"Sophie Lloyd is a professional, accomplished musician who has been needlessly dragged into the media based off of meritless accusations made by social media," the rep said in the statement.
"Any suggestion that she has ever acted in an unprofessional manner or stepped out of her relationship are untrue. It's disrespectful to her as a female artist and poor journalism and social commentary to be reporting anything else."
The couple was subsequently seen together on Valentine's Day entering a building filled with therapists' offices. There have been reports that their troubles might have began when Fox found DMs on his phone leading her to believe he was cheating. Fox was reportedly not talking to Baker and had stopped wearing her engagement ring.
Prior to Fox scrubbing her Instagram page, she was seen with MGK at Drake's Super Bowl party, where he performed. she was not present when he performed Saturday night at the Sports Illustrated Super Bowl party, per People.