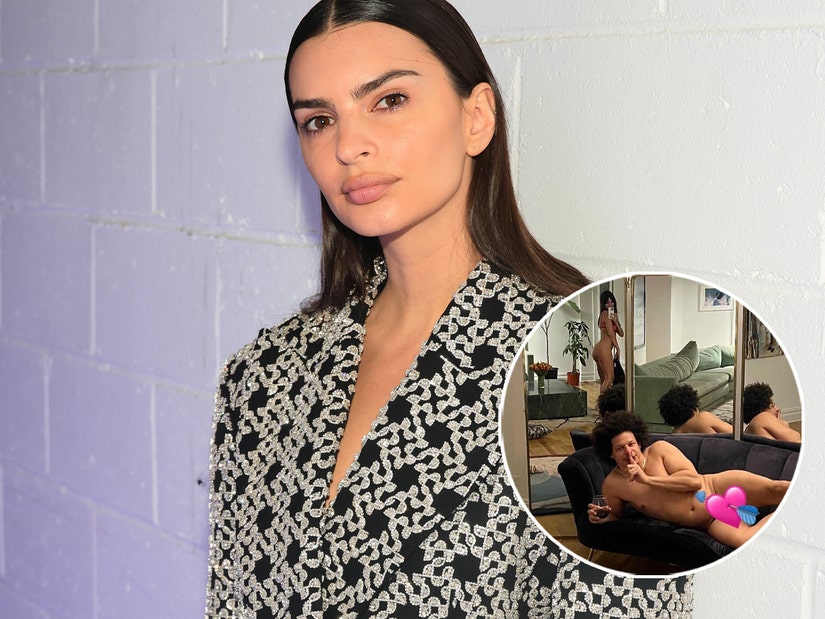 Getty / Instagram
The two went public with their romance on Instagram earlier this week.
On Friday, Ratajkowski shared a short TikTok video about the end of a "situationship." In the clip, the model used a popular TikTok sound from the 2019 movie, "The Peanut Butter Falcon," as she filmed herself while lying down on her bed, seemingly topless.
The five-second video began with Shia LaBeouf's character from the movie asking, "What's rule number one?" At the same time, the words, "What should you do when a situationship ends?" appeared on top of Ratajkowski's video.
The model then lipsynched over Zack Gottsagen's character's response: "Party." She added the words, "Start another one."
Ratajkowski stared at the camera as LaBeouf's voiceover said, "No, not party. No, it's not party."
Although the 31-year-old didn't outright mention André in her TikTok video, the timing of the clip immediately had fans running to the comments section to speculate whether or not she was referring to the comedian -- and suggesting that they had split.
"NOT OUR BOY ERIC???" a user asked, while another commented, "DONT TELL ME ERIC IS OVER."
"On to the next one but dang right after that V day post!" another added.
Some users used the opportunity to shoot their shoot with the "My Body" author, with one fan writing, "I volunteer as tribute."
Ratajkowski's post comes only three days after she and André made their relationship Instagram official.
On Tuesday, André shared spicy photos of himself and Ratajkowski in honor of Valentine's Day. In the NSFW pics, the "Bad Trip" star posed on a couch while holding a glass of wine. André appeared to be completely naked, however, he added a heart emoji to cover his private area. Ratajkowski -- who seemingly shot the photos -- could be seen in the reflection in the mirror behind André, with the "I Feel Pretty" star wearing nothing but a bra.
"💘 💘💘💘💘Happy Valentine's Day 💘💘💘💘💘," André captioned the post.
Ratajkowski and André reportedly began dating early last month. The two were first linked after they were spotted out in public together in New York City. Ratajkowski and André continued to fuel romance rumors after they were seen on vacation together in the Cayman Islands a few weeks later. The pair were seen together at a New York Knicks name on Monday, just one day before André shared the Valentine's Day post.
Meanwhile, on an episode of her podcast, "High Low with EmRata," last month, Ratajkowski detailed how media scrutiny has affected her love life. The mom of one explained why it's "difficult" for her to go on dates in public, sharing that constantly being photographed has "screwed up" some possible romantic connections.
Ratajkowski said she's found casually dating to be "tricky" as "everybody" can see photos of her out with a new potential partner on the Internet, including other men she may be dating at the same time.
"I've gone on dates where there's been no pictures, and I'm like, 'All good,' and then there's been times where literally the first time that I've met someone, we spent two hours together, and there's pictures on the Internet," she explained. "My close friends will be like, 'Dude, that guy's stoked, like, he's stoked. He just got photographed on a date with you.' And then that makes me feel gross; I'm like, 'I wouldn't want to be with somebody who is excited to be photographed with me,' that's not a good sign."
"It's also been tough because I've been trying to casually date and not get booed up, not get cuffed up," she continued, "and it's been hard to do that and be kind of mindful of the people that I'm seeing because I don't necessarily want to know when they're going on another date."
Ratajkowski added, "It's been really hard because basically, any time I go on another date, everybody knows, so the other guys I'm dating see it, and it has been kind of difficult because of course they're like, 'Oh, didn't talk to her last night,' and then you know, there's pictures of me out to dinner with someone else. It sucks."
Ratajkowski filed for divorce from film producer Sebastian Bear-McClard in September 2022 after four years of marriage. Following the split, the "We Are You Friends" star has been spotted while out on dates in public, and has sparked dating rumors with Brad Pitt, Jack Greer, DJ Orazio Riscop, and most notably, Pete Davidson.