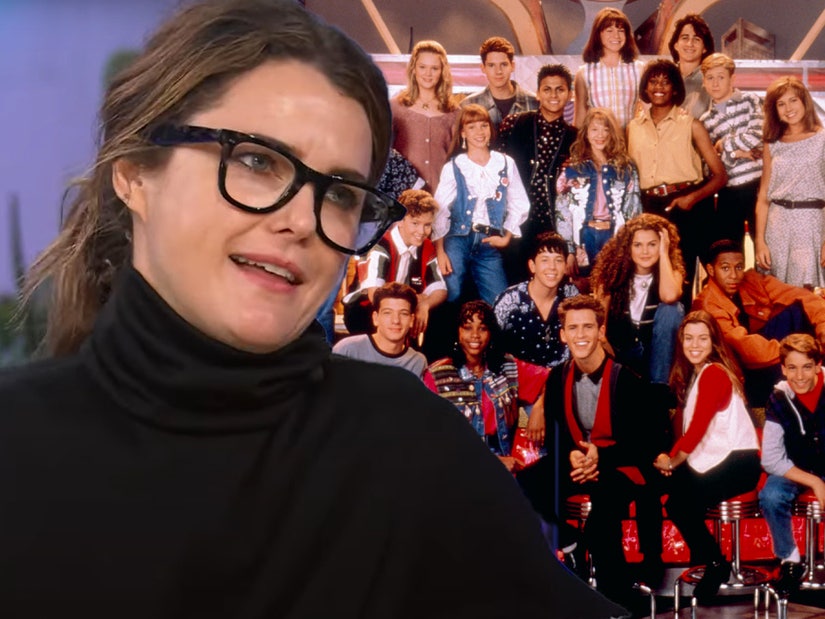 YouTube / NBC / Everett
"All those kids were 12 when I was 17. I was a little older, I could drive, I was cool," the Cocaine Bear actress said of her relationship with her famous castmates.
Keri Russell is opening up about being one of the many stars in the making in the '90s cast of the "Mickey Mouse Club."
During an appearance on "The Kelly Clarkson Show," the 46-year-old "Cocaine Bear" star shared a few details of her time on the iconic Disney show.
Reacting to a throwback photo of herself recording a song for the "Mickey Mouse Club," Russell revealed what it was like to be an older kid amongst a cast of talented youngsters.
"The Americans" actress said she had learned how to drive while shooting the show in Florida, and would often practice her skills on the road around the studio.
While it may have been harder to bond with her younger castmates due to their age gaps, Russell said that she earned her cred by being the person who could drive.
She continued, "Two of my best girlfriends, Lindsay and Alana, were on the show with me too and they were all my age."
While Russell may have been an It Girl in the late '90s, the actress recalled her 11-year-old daughter being less than impressed when she shared one of her most iconic bodies of work, "Felicity."
"My daughter about a year ago -- she's kind of mature for her age and she was bored one day -- I said, 'Hey, Willa, I did this show about this college girl and you might think it's cool. It's really sweet,'" she said during an appearance on Jimmy Kimmel Live. "And so I showed it to her. I put it on and I downloaded an episode from Amazon or wherever you get it these days."
Though Russell was excited to share the show with her daughter, Willa showed no interest in watching her mother on the teen show.
"After about 15 minutes, she turned it off and she went, 'Ugh, mom, it's so cringy.' She was actually grossed out by me," she recalled. "I was like, 'Oh, I thought you might like it.' And she was like, 'Ugh, so cringy.'"
She remembered Willa asking, "Like, why would you think I'd want to watch your college experience making out with weird boys and stuff?"
Even though Willa wasn't a huge fan of "Felicity," Russell noted she may feel differently about the "Mickey Mouse Club."
"I feel like she might like that," she said.