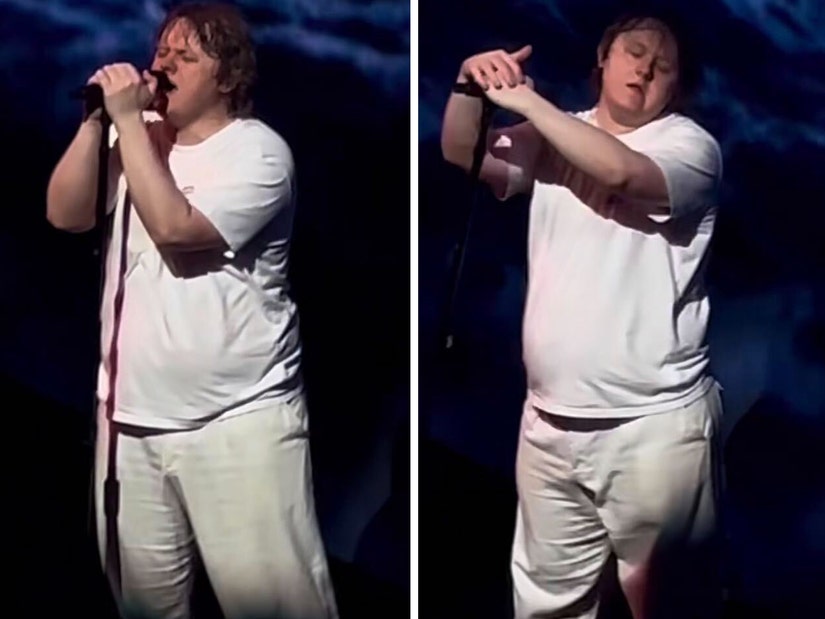 TikTok
The Grammy nominee revealed his Tourette syndrome diagnosis in September.
Lewis Capaldi's fans have his back -- and recently shared their support for the singer in a big way when he needed it the most.
As shown in a TikTok video, during a recent performance in Frankfurt, the singer -- who has Tourette syndrome -- began to experience tics while singing his hit, "Someone You Loved." Capaldi turned his head away from the microphone when his neck and shoulder began to twitch, and the audience immediately stepped in to help him, singing the ballad's lyrics in unison.
It didn't take long for the emotional video to go viral, with the TikTok clip already getting 33 million views since it was posted one day ago.
The fan who shared the video wrote over the clip: "Fans finishing off the song for Lewis as he struggles with his Tourette's >>." The user captioned the touching clip, "we support you!!"
Many fans took to the comments section of the TikTok to react to the clip, with several praising Capaldi and his fans.
"I love Lewis Capaldi. I never knew he had Tourette's. I'm glad I know now. That's an amazing crowd," a person wrote, while another said, "I never knew he has tourettes, I will now look at him [m]ore than a musician. He is a legend."
Another fan added, "Coming from someone who has Tourettes, I love this 🥺."
"humans humaning can be so healing to watch sometimes," a user said.
Tourette syndrome is a "disorder that involves repetitive movements or unwanted sounds (tics) that can't be easily controlled," per Mayo Clinic. Tics can "range from mild to severe," with the symptoms usually showing up between the ages of 2 to 15. Mayo Clinic also adds that men "are about three to four times more likely" than women to develop Tourette's.
Capaldi revealed he had been diagnosed with the nervous system disorder during an Instagram Live in September.
The Grammy nominee opened up about his struggles with Tourette's, noting that one of his common tics is a shoulder twitch.
"The worst thing about it is when I'm excited I get it, when I'm stressed I get it, when I'm happy I get it. It happens all the time," Capaldi said. "Some days it's more painful than others and some days it's less painful. It looks a lot worse than it is. Sometimes it's quite uncomfortable … but it comes and goes."
"I do the shoulder twitch quite a lot. And you see underneath every TikTok and stuff, people are like, 'Why is he twitching?' which is fine. Curiosity is fine. I get it," he later added.
The "Before You Go" singer also shared that he believes he's suffered from the disorder for his whole life, noting that he initially thought he had "some horrible degenerative disease." After seeing himself twitch in interviews from 2018, Capaldi said his diagnosis "makes so much sense."
As for why he decided to reveal his diagnosis, Capaldi said he didn't want people to believe he was using drugs like cocaine.
"It's a new thing, I haven't really learned much about it -- I'm learning," he added in the Instagram Live. "I've got Botox on my shoulder to stop it moving. It worked for a bit."