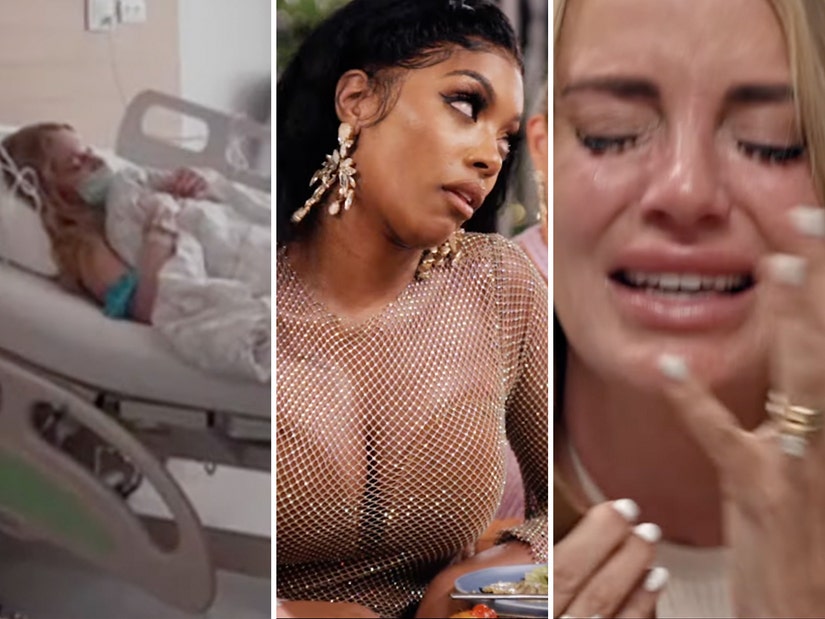 Bravo
Jen Shah's name comes up amid larceny allegations, tears and even a Brokedown Palace reference as the group heads to Thailand.
On Friday, Bravo dropped the first trailer for the show's third season, which features "The Real Housewives of Potomac" stars Candiace Dillard Bassett and Gizelle Bryant, Alexia Nepola and Marysol Patton of "The Real Housewives of Miami," Heather Gay and Whitney Rose from "The Real Housewives of Salt Lake City," former "Real Housewives of New York City" star Leah McSweeney and "Real Housewives of Atlanta" alum Porsha Williams on a trip to Thailand.
The sneak peek shows the ladies all enjoying themselves, the food and their incredible lodging ... before it all starts to hit the fan. "I mean, it's eight Housewives in a foreign country, what could go wrong?" asks McSweeney. The answer, it seems, a lot.
The footage then teases Gizelle asking Heather and Whitney about their feud -- which was very much not resolved by the end of the most current RHOSLC season -- and Lea and Porsha fighting over something.
Candice also puts Porsha on the spot about her relationship with Simon Guobadia, who was previously married to RHOA costar Falynn Guobadia. "You all became friends and 2 minutes later, you and her husband was dating. You stole somebody's man," says Dillard ... and Williams is not having it.
Gizelle, meanwhile, grills Heather and Whitney about Jen Shah and whether they "knew she was lying" ... before the trailer ends with Alexia and Marysol fighting, Whitney in tears, larceny allegations and, yes, even a "Brokedown Palace" reference.
The first three episodes drop March 23 on Peacock, with additional episodes streaming weekly each Thursday.