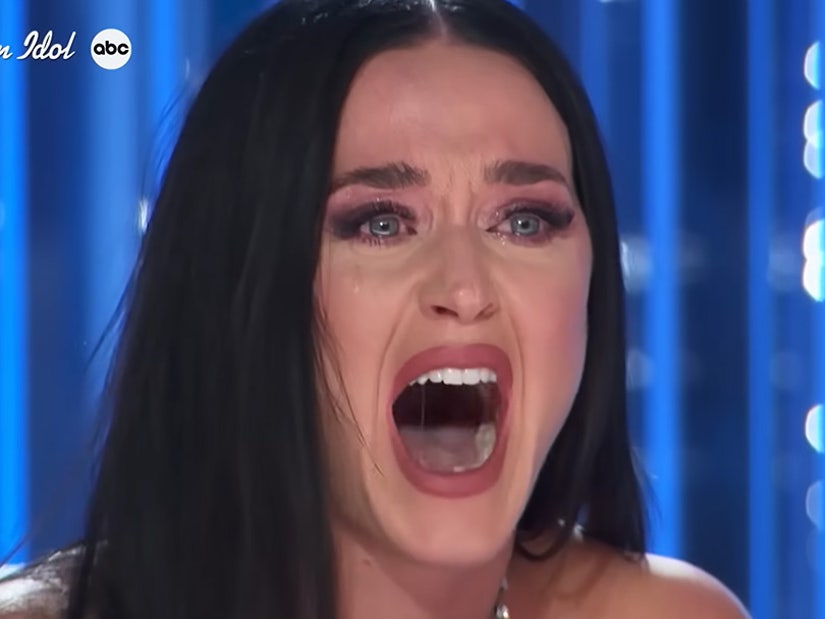 ABC
A school shooting survivor shares their terrifying story on "American Idol" -- plus, a heartwarming military reunion and a former Top 6 contestant is back to support the daughter who was born during their audition.
It was a heavy night on "American Idol," with one tear-jerking family reunion, a second generation "Idol" contestant and a heartbreaking story from a school shooting survivor.
Now that school shootings have been normalized in America and are more prevalent than ever, the school shooting survivors are going to start appearing more and more on reality shows like his one, sharing their story and trying to instigate change. These poor, traumatized kids are growing up and looking to see what's being done to stop these tragedies.
After he shared his story, Katy lost it with tears and outrage that he had to endure what he did and that so many kids just like him for years now have had to suffer this way, and so many more will in the future until something is done.
The tears kept coming on the night as one young contestant was given the surprise of her life, and a Top 6 finalist returned to the show to accompany the daughter who was born during his original audition way back in 2006 as she tried to begin her own "Idol" journey.
Fair warning, since I'm safe at home, I'm probably going to be a little harsher than my colleagues Lionel Richie, Katy Perry and Luke Bryan. But I might be nicer, too. Maybe.
And just for fun, I'm going to rank the performances from worst to first to see who my favorites are each week. That way I can see who's the best and then see if you get it right with your votes -- i.e., agree with me.
[[video not yet available]]
("Under a Neon Halo," Bill Green - 25, Marion, TX) Cody opted to sing a cappella on a throwback honky tonk track that sounds like it came from another era. Alas, he has a sweet demeanor, but this is not it. The voice is just … okay. It's the voice of someone who maybe enjoys singing while driving his truck or feeding his cattle, but there's no sense that it's made for bigger dreams.
("Unwound," George Strait) After Katy urged Luke to help him out, he grabbed his guitar and pushed Cody into a George Strait classic. Cody sounded, well, pretty much the same. Again, we just don't see it in him right now. Cody was clearly a bit starstruck and way out of his element, but this was a performance that could be fun to drink and dance to at a honky tonk, but not on a stage like this. Lionel compared him to Willie Nelson, who sings whatever notes he wants and has a lot of character in his voice.
("Kids in America," Kim Wilde - 26, Dallas, TX) We only got the chorus of this, but Madison had that rock girl growl down pat. It was a solid vocal, but with only that snippet to go on, there was no way to tell the depth or range of her talent. The clear highlight of this audition, though, was that Katy rocked so hard, a bit of her hair extension came out and Luke gave himself a mullet. A few lines of "Achy Breaky Heart" and it was Lionel's turn, with Katy absolutely losing it. It was genuinely funny -- but did Madison make it? Based on the few seconds we saw, we'd have passed.
("Firework," Katy Perry - 25, Nashville, TN) This was a very shaky performance to kick off the episode, but Katy was pleased to hear her hit that "Baby" high note as that's the centerpiece of the whole thing. Her pitch was not at all consistent in the melodic elements, which was interesting as she later proved she has the pipes. Perhaps nerves were getting to her but based on that, we can see why she's had a lot of almosts and not yet the break. The tools might be there, but the training to properly use them (or the instinct) is not. The judges saw a "magic" in her, so they're hoping this will bring it out.
("you broke me first," Tate McRae - 22, Durham, NC) After 14 times being told "no" before making it to sing for the judges and we are glad they showed her unbridled shock and joy in getting that news. She was almost overwhelmed by her enthusiasm when she finally got in front of them. It was a little shaky and around the pitch from time to time, but this is a very hard song to cover. Tate has such a unique intonation, which is very current but also doesn't offer a great way to showcase range or power as it's more of a character piece. It didn't seem a perfect fit for what Ashley's voice, but this is where Katy put in her "school" and had her focus on enunciation and try one more time. This second run was a lot more clear, and the warble sounded more like a cry in her voice rather than uncertainty. Even just shaking off some of those first-time jitters made a huge difference. But can she get out of her own way? Katy fought for her and said she would fight in Hollywood, trying to convince Lionel to give her that chance.
[[video not yet available]]
("One Last Cry," Brian McKnight - 16, Centurion, South Africa) It was a pretty straightforward vocal in the few, brief lines we were shown, but Stefan definitely handled them well. He's got a big range and a lot of power, from what we can tell so far.
[[video not yet available]]
("Break My Heart Again," FINNEAS - 19, Clover, SC) Anxious and a complete bundle of nerves, it's any wonder Aiden was able to give any inflection at all on this track. And yet, what eked out from his near-stony frame was a very pleasant tone with great pitch. There wasn't a lot of vibrato, so it was precision on his part hitting the notes. It was definitely held back too much, but it was nevertheless one of those diamond-in-the-rough types of moments. If this is what he can do when he's practically swallowing himself whole, imagine if he believes this is his moment, opens his eyes and really puts it out there?
("Let It Go," James Bay) The judges saw it, too, literally helping Aiden shake off the nerves, see that this and they are real and really put himself into the music. His movements were still stiff and awkward, but the character of his voice climbed out of his throat and stepped up for its moment. It's exactly what we knew was in there. If he can do that with one little exercise, this journey could work miracles.
("She Used to Be Mine," Sarah Bareilles - 16, Wichita, KS) A wild full-circle moment as 16-year-old McKayla was making her second appearance on "Idol," 16 years after her first. Joining her for her audition was Phil Stacey, who made it to the Top 6 back on Season 6 in 2006, missing her birth for his audition. The cameras then followed him to the hospital so we could all meet McKayla for the first time together. In a sweet moment, Paul Abdul connected with both of them to see Phil again, and wish McKayla well on her big chance.
One of the very first "Idol" babies was back to take her own shot at stardom as Phil said he was "passing the baton," and even accompanying her audition on piano. It was such a sweet moment, and a pretty solid performance from McKayla. She's got some real pipes on her, with a solid depth to her voice. We enjoyed her range and control, shifting from the louder moments to the softer, almost whispery lines. She interpreted the notes pretty much the same as Sarah, meaning she's a student of the craft, but she needs to be careful it's not too clinical and precise. This song has so much emotion behind it. With the tools she has, she's ready to shift to emoting and connecting artistically.
[[video not yet available]]
("Love on the Brain," Rihanna - 20, Lima Peru) We got just a snippet of this audition, but loved the grit and passion on display. Rihanna is not an easy artist to sing, and what we got was moments of chorus that showed she was up to that task. We loved that little growl, too.
[[video not yet available]]
("Try a Little Tenderness," Otis Redding - 28, St. George's Gredada) This dude is the real deal. We barely got a glimpse of his audition, but it was filled with attitude and so much passion, we believed what we saw already. He had that same authenticity that Otis brought to the track, telling us he's someone who can really get in there and dig out the truth of a song.
("I'm Already There," Lonestar - 15, Pound Ridge, NY) According to Kaylin, in order to help her achieve her dreams in music, he got deployed to "dangerous places" so they could get to New York where she could pursue her passion. He has now missed her birthday nine years in a row, with her expressing how little she's gotten to see him in person over the years. She's a little performative vocally, with her musical theater background coming through.
She's got a great instrument and made some great choices on the song, but now she needs to figure out how to reach in and project her emotional connection (which she told us about) to the lyrics so we can feel it with her. By the closing measures, we started to see who she is emerging from underneath all the efforts to be big and impressive vocally. She's got an incredible weapon inside her throat if she can shake off the pageantry and just sing.
Then, in an incredibly sweet moment, Katy shared that her dad had sent a video message telling her that even though he's missed a lot of things, "no matter where I am, I'm already there, so take a look around." Then, she did just that and there he was. What an incredible surprise -- and thank goodness they waited until after she'd performed to spring it on her. They then continued to share the goodwill by bringing mom in and surprising her with her husband. On top of all that, with all these surprises, Kaylin scored a coveted Platinum Ticket
("For Tonight," Giveon - 21, Buffalo, NY) Matt almost gave up on dreaming, crediting his wife with giving him that spark again. We're so glad she did because he has an effortless gift and clearly has no idea just how good he is. His voice soared up with richness into a beautiful falsetto and stepped down into his lower register with precision. There was real heart behind it all, too. This was a special moment that almost catches you off guard because he's so unassuming, and even performs that way. But if you listen, that's the spark of something truly special right there.
("Tell Me Ray," John Wayne Hatfield- 21, Goshen, OH) An original song Jon Wayne wrote this after his grandfather came out to him following the death of his wife (John's grandma) and best friend of 50 years. Jon had been raised by his grandparents, so it was a scary thing for his grandpa, but John insisted it changed nothing between them. After that, we needed it to be a beautiful song and wow was it just that. Add to that the delivery that sounded like it was riding on a dirt road and this was so authentically country and beautiful. Jon is a mesmerizing performer with just his voice and guitar -- he's a damned good player, too! -- which tells us he could be someone to watch if he can interpret someone else's songs as meaningfully as his own (or has a killer lineup of originals).
("Lady Marmalade," LaBelle - 25, Tbilisi, Georgia) For eight years, Nutsa has dreamed of coming to "American Idol" and finally it was happening for her. She came to not only sing, but also to dance … so after a 17-hour flight from Dubai, we were really hoping for her sake that she was great. She hit that mark with a vocal Christina Aguilera would have been proud of. We even heard hints of Christina's interpretation of the track in the choices she made. The bottom line, though, is Christina has one of the biggest voices ever in music, and Nutsa was competing just about at that level. She has an incredible instrument with so many facets to it, we're not sure were even able to take it all in.
("Greatest Love of All," Whitney Houston) Katy challenged her on this one to reign in all that extra sauce (Xtina style!), skip all the dancing and just perform from the heart. Like we said, all the tools are there -- she's got one of the most stacked arsenals we've ever seen -- but does she have the skill to weaponize her voice at every level and for any moment? She then delivered a tasteful rendition with a few tweaks of her own to make it her own. We knew she had the ability to do this, but we're glad Katy pushed to make sure she would.
("Stone," Whiskey Myers - 21, Santa Fe, TX) With his eyes closed and hands in pocket, Trey lifted his head up and to one side as his only move through the majority of this performance … and it was mesmerizing. He's got the voice. He's got that magic thing already there, with absolutely no idea what to do with it. Well, he knew enough to come here, but there is so much further he could go. He's got a lot of charm and personality, so if he can grow his confidence as a singer, that grit and gravel could really take him places. Luke called the first name that came to our mind, too: Chris Stapleton. Them's some big shoes, but if you can fill 'em, you've got it made!
Trey shared that a gunman walked into his school and shot up Art Room 2 before making his way to Art Room 1, where Trey was. "Lost a lot of friends," he shared. "Eight students were killed, two teachers were killed. It's really just been negative, man. Santa Fe's had a bad rap since 2018." Katy was reduced to outraged tears, "Our country has f------ failed us!" she told him. "This is not okay. You should be singing here because you love music. Not because you had to go through that f------ s---! You don't have to lose eight friends. I hope that you remind people that we have to change. 'Cause, you know what, I'm scared, too."
"We have tolerated this for so long. For too long, and it's become a norm," Lionel echoed. "And it's gotta change," Katy agreed. "And I hope you can just lead."
Trey was willing to take that load on his shoulders and represent for school shooting survivors on the show. "It's important for me to share my story for my hometown. For Parkland. For Columbine. For Las Vegas and so many others," he said. "What we go through every day because of what happened is terrible. But there is light, there is positivity, you just have to go chase it."
If you or someone you know needs help with mental health text "STRENGTH" to the Crisis Text Line at 741-741 to be connected to a certified crisis counselor.
"American Idol" continues Sundays at 8 p.m. ET on ABC.