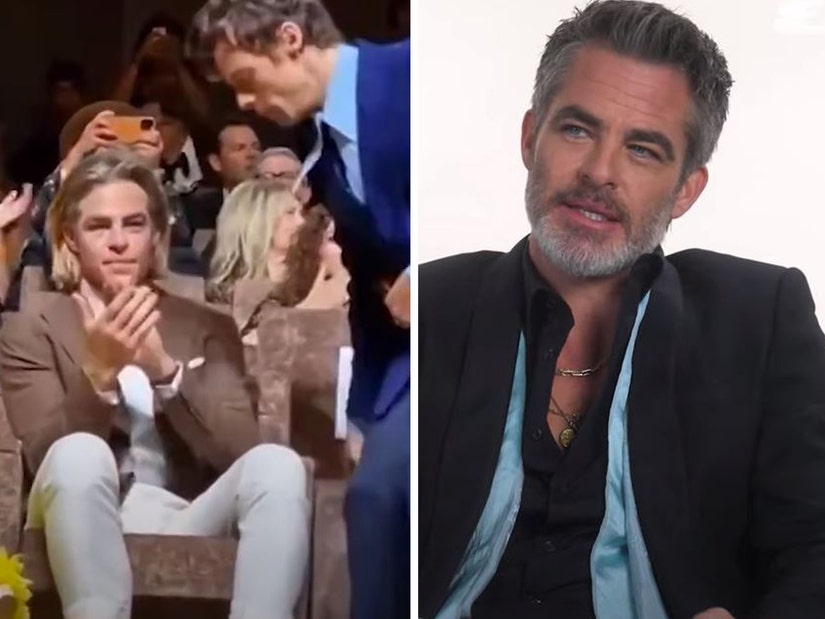 Esquire
The actor shares what Styles said to him in the moment, and addresses the "Don't Worry Darling" drama.
Five months after it broke the internet, Chris Pine is sharing what really happened with "Spitgate" -- the now-infamous online debate when fans questioned whether or not Pine's "Don't Worry Darling" co-star, Harry Styles, spit on him at the film's premiere at the Venice Film Festival.
In an interview with Esquire for its "Explain This" video series, Pine, 42, set the record straight on the controversy. As he previously claimed, the actor said Styles didn't spit on him, however, he did recall what the singer said to him during that viral moment.
Waiting for your permission to load the Instagram Media.
"Harry did not spit on me. Harry's a very, very kind guy," the "Dungeons & Dragons: Honor Among Thieves" star explained. "I was trying to figure out -- I was on the plane with my publicist ... we were flying back from Venice, and I'm sleeping, having a great time on the plane. I love planes."
He continued, "She wakes me up in a state, and she said, 'We have to craft a message about what happened in Venice.' And I was like, 'About what?' [She said], 'About Harry spitting on you.'"
"I had no idea what happened," Pine said. "She showed me the thing. And it does look, indeed, like Harry's spitting on me. He didn't spit on me."
As for what Styles said to him? "I think what he said -- he leaned down -- and I think he said, 'It's just words, isn't it?'" Pine recalled, before sharing that his comment was a "little joke" with the cast. "Because we're all jetlagged. We're all trying to answer these questions, and sometimes when you're doing these press things your brain goes befuddled, and you start speaking gibberish. And we had a joke: 'It's just words, man.'"
At the time, Pine's publicist did, in fact, release a statement, denying the rumors that Styles spit on the "Star Trek" star. "This is a ridiculous story, a complete fabrication and the result of an odd online illusion that is clearly deceiving and allows for foolish speculation," Pine's rep told TMZ. "Just to be clear, Harry Styles did not spit on Chris Pine. There is nothing but respect between these two men and any suggestion otherwise is a blatant attempt to create drama that simply does not exist."
Meanwhile, Pine also spoke to Esquire for its March cover story. In the interview, "The Princess Diaries 2" star addressed the "Don't Worry Darling" drama, sharing whether he believes there was any at all.
If you recall, during "Don't Worry Darling" press tour last fall, there were string of messy headlines connected to the Olivia Wilde-directed film, including rumors star Florence Pugh and the director had a falling out over Wilde's relationship with Styles. The movie's premiere at Venice Film Festival -- where the cast all appeared together -- created even more headlines, further igniting speculation that there was drama on the film's set.
"If there was drama, there was drama," Pine told Equire, adding, "I absolutely didn't know about it, nor really would I have cared. If I feel badly, it's because the vitriol that the movie got was absolutely out of proportion with what was onscreen.
"Venice was normal things getting swept up in a narrative that people wanted to make, compounded by the metastasizing that can happen in the Twittersphere," he said. "It was ridiculous."
Waiting for your permission to load the Instagram Media.
Like Styles, the "Wonder Woman" star only had positive things to say about his co-stars, including, calling Pugh, with whom he also starred with in 2018's "Outlaw King." Pine said he loves the 27-year-old "to f---ing death."
Among the headlines surrounding the "Don't Worry Darling" premiere in Venice was the hilarious memes fans made of Pine appearing to "zone out" during a press conference -- at one point even staring at the ceiling.
Speaking with Esquire, the star shared his thoughts on becoming a Twitter meme, even reacting to a few of the funny tweets.
"All the memes I saw about my face in Venice made me f---ing laugh," Pine explained.
Sometimes the question's not that interesting, and you just f---ing zone out, and you're looking at a ceiling because it's really pretty."
In the "Explain This" video, he added, "It's a long flight to f--ing Italy, it's a long time. I was so jetlagged and then you get thrown in press conference and you have to talk about a film you made five-and-a-half-years ago. I was just tired, frankly."