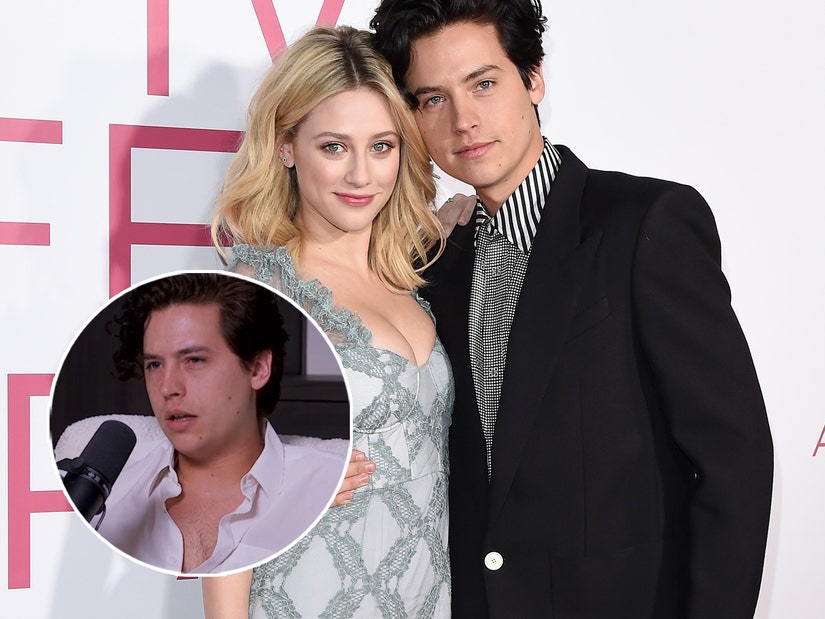 Getty / Instagram
He admits it was initially "really hard" for them to work together on Riverdale after their split, and opened up about past experiences with cheating
During an appearance on Wednesday's episode of the "Call Her Daddy" podcast, the actor got candid about his past experiences with dating and relationships, including his highly-publicized romance -- and split -- with his "Riverdale" co-star, Lili Reinhart.
Sprouse, 30, and Reinhart, 26, were first romantically linked in 2017. The two had an on-again-off-again relationship for three years, before separating in January 2020 and then officially calling it quits that March.
While speaking with "Call Her Daddy" host Alex Cooper, Sprouse -- who never mentioned Reinhart by name -- said he wasn't going to share "too much" about why he and the actress called it quits, but he stressed that the breakup was "mutual."
"I left," he revealed. "To be honest, when you're in a relationship for that long and someone leaves … it's not a surprise. ... It was time."
The "Riverdale" star admitted that he believes that if he had "loved myself a little more," he "would have left" his relationship with Reinhart "a little earlier."
"I just felt like I had to take care of a lot of people around me, which was not good for me," he said. "I probably should have exercised a bit more selfishness in that situation."
"I think the complicated thing was I was so private ... that we didn't make a big deal when we split," he added. "So afterwards, I was photographed ... as a single man dating other women, and I think it caused people to think there was something dubious going on."
Sprouse also detailed working with Reinhart after their breakup.
Waiting for your permission to load the Instagram Media.
"It really hard. It was really hard for both of us," he recalled. "I think work thing got difficult because it was hard to suspend all the way we felt about each other and it didn't afford us the luxury of distance to really overcome that. I know we both did quite a bit of damage to each other."
"We're good friends now, which is awesome," Sprouse continued. "We work really good together now. But I think that was exactly where we both needed to be. We were in a foreign city, working a very intense schedule ... alone, and we really leaned on each other, while also going through the elected trauma of this incredible overnight success, a ton of criticism, a ton of expectation, and I think we did the best we could, really. I really do think we did."
"I'm very grateful in very many ways I was able to go through it with someone who was going through the exact same set of circumstances as me," he added, before pointing out, "In very many ways, all the cliches about dating someone you work with are very true."
As for whether Sprouse believes their relationship "lasted longer" because he and Reinhart worked together? "Absolutely," he said.
Meanwhile, also during the interview, the "Five Feet Apart" actor also opened up about infidelity in his relationships, admitting that he's been cheated on -- both physically and emotionally -- by "almost" all of his ex-girlfriends.
"Have you ever been cheated on?" Cooper asked Sprouse, who immediately replied, "Yeah. By almost every single one of my girlfriends."
However, he then clarified that he's been cheated on "emotionally" "very, very much," but he said one of his girlfriends cheated on him "physically."
"I will say, the current relationship I am in has woke me up to what real compatibility and trust looks like in a way that I have never had before," Sprouse said, seemingly referring to his relationship with model Ari Fournier, with whom he was first linked back in February 2021.
The Disney Channel alum admitted that he was "younger and stupid" and "not the greatest partner either" during some of his past relationships. "I was no saint. I mean I was going through my own f---ing traumas and s--- and trying to reconcile that as a young twenty-something," he said.
Looking back at the "emotional cheating," Sprouse said, "I've come to terms with my own inability to be emotionally vulnerable over time. I don't blame -- I literally don't blame -- any of my partners for anything that has happened ever, ever, ever."
Waiting for your permission to load the Instagram Media.
"It takes two to tango," he continued, adding, "Sometimes you're just incompatible with someone and ... it just doesn't actually work. ... I think I was in the right place at the right time for every relationship I've ever had."
Elsewhere in the interview, Sprouse revealed how he lost his virginity.
"I was 14," he began. "I was on a family trip in Florida, and I met this girl who was older, so that's already dubious. The first night we kind of made out and the second night ... We went down to the beach."
He continued, "I looked at her ... and I finally mustered up enough courage to deliver a line that my brother has never, ever let [me live down]. I looked at her, and I was like, 'So are you, like, DTF?'"
He said he and the girl went up to his hotel room. "[I] lasted about 20 seconds," he recalled, jokingly adding, "And never talked to her again!"
However, all jokes aside, Sprouse said he "ended up regretting" the experience because it wasn't "special at all."