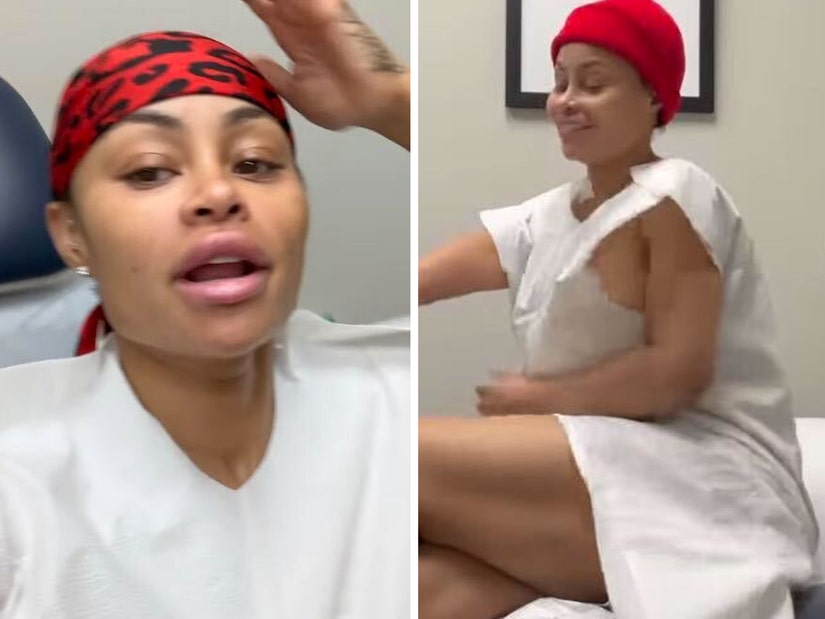 Instagram
The former reality star called her breast reduction surgery "one of the best decisions" she's ever made, while also sharing that her butt surgery took nearly nine hours after the silicone in her buttocks kept "clogging the machine."
Blac Chyna is opening up about her "life-changing journey."
On Monday, the former reality star revealed on Instagram that she recently underwent surgery to reduce her breasts and butt. Chyna posted a series of videos, in which she documented the process behind the procedures.
In the first clip, which featured her in the doctor's office, Chyna said, "As y'all know, I've been changing my life and changing my ways so one of the things I think is going to take me to the next level is obviously taking some of these ass shots out."
She then noted that silicone butt injections are "totally different" from a BBL (Brazilian butt lift), sharing that she got the former. However, Chyna admitted that she wished she didn't get the shots, and warned other women against getting butt injections as well.
"I just want all the ladies out there to know, do not get silicone shots because you can get sick, you can die, have complications and all this other crazy stuff," she explained, sharing that she got the injections when she was 19. "But now I'm moving here in life, and I want this out of my ass I can grow."
The 34-year-old went on to share footage of herself in the car on the way to her surgery, noting that the day was March 9.
"I'm about to go get my buttocks reduced and also to my breasts because honestly I feel like I'm past that stage -- been there done that -- this is actually my fifth time -- hopefully my last time -- getting my breasts done," Chyna said.
Waiting for your permission to load the Instagram Media.
She also showed her bare nails to the camera, revealing that she had removed her super-long acrylics, and plans to keep them that way. "I'm going to retire the long sharp nails," she said, adding that she's "stepping into a different way."
In another video taken a few days post-op, the "Rob & Chyna" alum opened up about her surgery.
"I must say I'm very, very, very, happy right now," she told the camera while showing off her bandages as she filmed herself laying down in bed. "As you can see, [I] got my breasts reduced, one of the best decisions I could have done in a very long time."
"Also, I got the reduction in my butt," she continued. "So normally my procedure would've [taken] like maybe four hours right, four hours tops. My procedure took over eight-and-a-half-ours y'all."
Chyna then revealed what was behind the complication. "Whatever that silicone mass, whatever that was that was in my buttocks, it kept clogging the machine and breaking [it]," she said.
In the post's caption, Chyna wrote, "I want you all to be apart of my life changing journey. 🙏🏽❤️ I Reduced my breast and Gluteus Maximus." She then quoted herself, writing, "'You all have the power to heal your life, and you need to know that.' ~ Angela White."