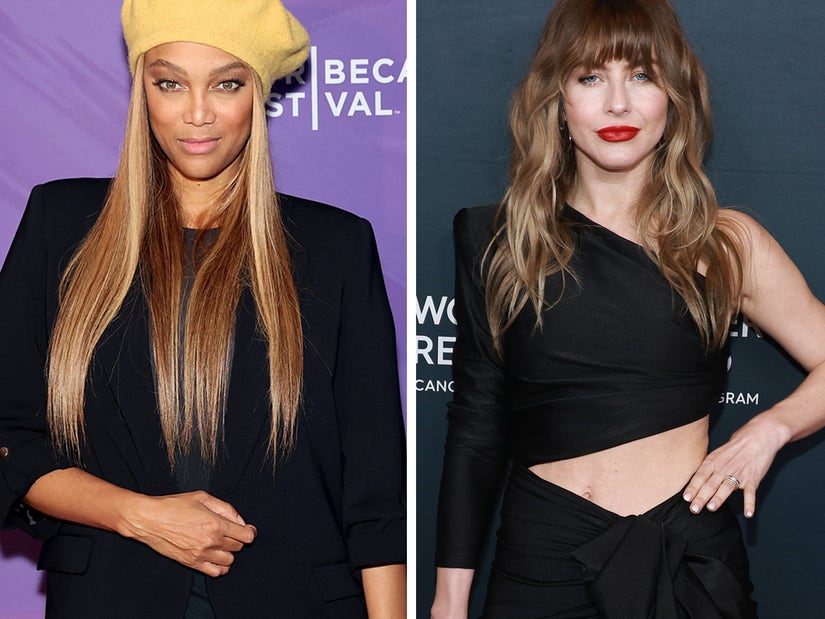 Getty
Earlier this month, the television personality revealed she was leaving "DWTS" after three seasons to focus on her business.
In an interview with Us Weekly, the television personality -- who recently revealed she was leaving the Disney+ competition series after three seasons -- only had good things to say about Hough taking over her job as co-host, calling the professional dancer "a perfect choice."
"The businesswoman in me sees how Julianne is great on multiple levels. She's a professional dancer," Banks said. "She is the sister of Derek [Hough], a 'DWTS' multi-champion, who is now a stellar judge. It's going to be a family affair in that ballroom which people will love to watch. And she has so much personality and strong opinions backed by expertise. She's a perfect choice! She's gonna crush it!"
Earlier this month, Banks shocked viewers when she spoke with TMZ about her decision to exit "Dancing with the Stars."
"I feel it's time for me to really focus on my business and my entrepreneurship, and also producing more TV ... but behind the scenes," she said. "I think it's time to graduate from the dance floor to the stock market floor, from the ballroom to the boardroom."
"Don't you think it's time? Yeah, I think it's time," she added. "I'm an entrepreneur at heart. I think my heart, my soul, is into my business, it's also into producing new TV, which we're working on. We have a new business show coming soon. But, I really, really want to focus on my business, and you can't do that hosting a show."
Meanwhile, during her interview with Us, the supermodel shared what she'll miss about hosting "Dancing with the Stars."
"I loved walking out every week in over-the-top outfits to such a hyped ballroom," Banks said.
She added that it was a "treat" to watch professional dancer and "DWTS" judge, Derek Hough, "dance in person," with the "ANTM" star praising his "mind-boggling amazingness!"
As for what she'll miss about judge Carrie Ann Inaba and her now-former co-host Alfonso Ribeiro, Banks said, "I'm going to miss Carrie Ann's kindness and warm heart and of course reminiscing with Alfonso about the good ole 'Fresh Prince' days."
A few days after Banks revealed her departure, Hough announced she would be hosting "Dancing with the Stars" alongside returning co-host, Alfonso Ribeiro.
"It is such an honor to be rejoining 'Dancing with the Stars' as co-host. The show holds such a special place in my heart from the many years and different roles I have had the privilege of being a part of," Hough told Variety.
"The incredible team that brings the ballroom to life every night has been my family for the past 17 years," she continued. "I am so excited to reunite with Alfonso, Carrie Ann, Bruno, Derek, the unbelievably talented pros, and the amazing cast on the dance floor."
"The energy is magnetic every time you step foot in to the ballroom and I can't wait to feel it again -- and of course to share it all with the absolute best and most loyal fans — for another exciting season," she concluded.
As she mentioned, Hough's history with the show runs deep. She began on the series as a pro dancer from 2007-2009, appearing on Seasons 4 through 8. She later returned as both a guest judge and full-time judge in later seasons.