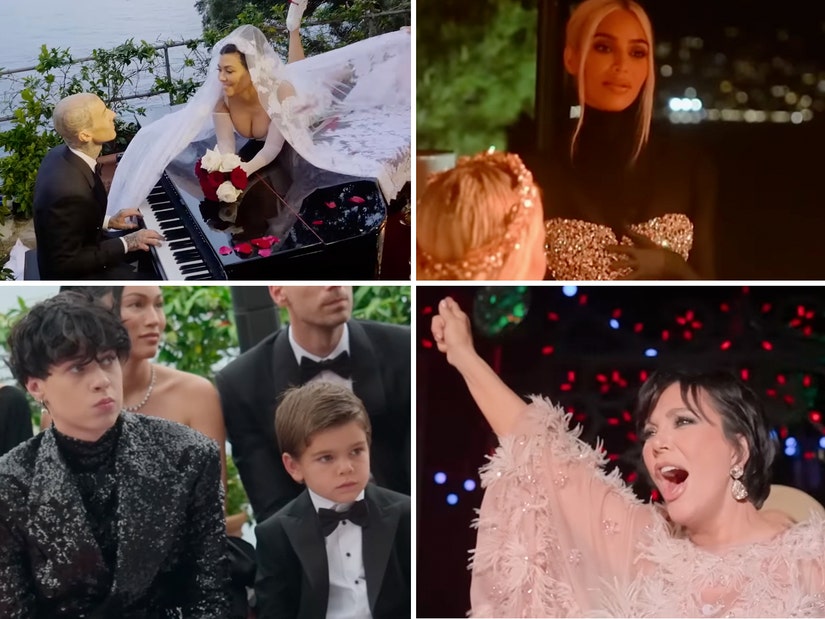 Hulu
Barker got choked up, son Landon praised Kourtney for looking out for him "like a mother," while Mark Hoppus and all the Kardashian women also spoke at the lavish affair.
Nearly a year after the two said "I do" for the third time with their big wedding in Italy, Kourtney Kardashian and Travis Barker are sharing their "personal archive" of footage with the world.
The new Hulu special "'Til Death Do Us Part: Kourtney & Travis" dropped overnight, packed with about 75-minutes worth of video leading up to and of the couple's Portofino nuptials on May 22, 2022. The two explained that most of the video came from Ellen von Unwerth, who they hired to take all their official wedding photos, as well as family photographer Pierre.
Keep reading for everything we learned about the wedding from the special -- from the confessional reveals to the many, many speeches throughout the celebrations.
The special started with footage from the couple's first wedding, on April 4, 2022 in Las Vegas.
The two went to a Sin City chapel to tie the knot in front of an Elvis impersonator after the Grammy Awards -- and it was pretty clear from the get-go that Kourtney was drunk. She looked a little wobbly walking down the aisle, before falling to the floor in hysterics after Elvis kept saying Khloe's name during the ceremony. Their vows? Well, they included the phrase "You're my hunka, hunka burning love."
The two then had a second ceremony in Santa Barbara, which Travis said was the most "grounded" of the three weddings. They explained that it was special for them because only Barker's father and Kardashian's grandmother attended, since they couldn't make the flight to Italy.
"That was like as traditional as everybody else's wedding could have been. Santa Barbara was special," added Barker.
From there, it was off to Portofino, where family members kept arriving in different groups leading up to the main event. Someone who almost didn't make it was Travis' son Landon Barker, who has a big fear of flying -- something to be expected from the child of a rocker who nearly died in a plane crash.
"We didn't know if Landon was going to make it because he's so afraid of flying. I think he walked off two commercial flights," Travis explained, as Kourtney said he wound up traveling with her sister, Kim Kardashian.
"When I saw him, I was so happy. As everyone knows, I'm kinda shook just flying anywhere. My plane crashed on take off so takeoffs are terrible for me," Travis added. "I'm still equally afraid of flying as I always was, but it's not something that can hold me back."
As footage of the entire family heading out to pre-wedding events around town was shown, it was a little scary seeing how swarmed they all were in the fishing village by both paparazzi and fans. In confessionals, Kourtney explained how surprised they were to see so many people in town -- foolishly, perhaps, thinking "no one would even be there." She added, "it was major chaos."
The speeches began at the first of two pre-wedding dinners, with Kris Jenner saying they couldn't be more "happy for you guys combining this amazing, beautiful family," telling them it would be the "best weekend" of their lives. Khloe Kardashian spoke at the event too, saying, "Kourt, I love you so much. Trav, you were my neighbor, somehow you guys started just hooking up on the side. If only I knew, you could have bought my house, you guys would have made a tunnel."
"We love you guys, long live Kravis," she then exclaimed, something Landon reiterated when he briefly grabbed the mic.
The next day, they visited an old monastery before having another group meal. As they checked out a local church, Kourtney explained that they did initially want to get married in one there, but it just "didn't work out."
"An Italian Catholic church is so strict and we needed specific documents or we needed to do a one-year Catholic course," she explained. While the wedding itself was at Castello Brown, Kourtney said Domenico Dolce and Stefano Gabbana of Dolce & Gabbana offered up their property for the reception. Since the area is so isolated, helicopters were actually shown dropping off a piano and other materials used to build up the party. Kourtney and Travis simply told the designers what "vibe" they were going for, they said, and then "really trusted Domenico to carry it out."
The special continued with a glimpse inside the rehearsal dinner, with Kourtney getting choked up as she revealed her mother gave her her wedding ring from the late Robert Kardashian.
"When my dad died, I remember thinking I never want to get married, because my dad isn't there to walk me down the aisle. So that gift meant so much," she said, before recalling just how "tipsy" Khloe and Kris got at the dinner.
On the day of the wedding itself, Kourtney recalled feeling "so much anxiety," explaining that she really doesn't like "being the center of attention." Footage from the morning of the ceremony showed her saying she felt "shaky," before joking about taking a Xanax she had in her room. "I just feel like what if my legs collapse," she wondered aloud. Sister Kim later offered her some advice, telling her that during her Italian wedding to Kanye West she was so nervous about her train that she raced down the aisle.
"Walk slow, take it in," she told Kourtney, "This only happens once." (Or, in Kim's case, thrice, but who's counting?)
While Travis spent the hours before the wedding jumping off a boat to pass the time, he too was feeling anxious -- comparing the realization that he was nervous to Kevin McCallister realizing he made his family disappear in "Home Alone." He called up his father before walking down the aisle, telling him, "I'm about to go get married, I just wanted to say I love you." He also said that while walking down to the ceremony he was "teary-eyed" and having conversations with his late mother in his head. Kourtney said she felt her late father's presence as well, which gave her "a sense of calm."
Every single person who has to walk down the steep steps to the altar commented about their fears of falling, before Kourtney's veil got stuck multiple times on the long procession to her husband-to-be. The wedding itself was very traditional, with the pair repeating vows from the pastor before sealing it with a kiss. Barker was surprised to discover after the ceremony that Kourtney's veil actually had one of his tattoos on it -- telling her, "I love that."
With the reception in full swing, the party started and the celebrity guests rolled in. Mark Hoppus was there, as were Machine Gun Kelly and Megan Fox -- the latter of whom turned down a "Lady & The Tramp" photo-op with her other half and some freshly-made pasta because she doesn't eat gluten. Andrea Bocelli also popped up as a surprise to sing "Only Fools Rush In," before the parade of speeches began.
"Seriously, you brought us along in your fairytale. There's really no love story like you guys," said Kim in hers. "It's a movie, it's the cutest, you guys are the best and we all just wish you so much love and happiness."
Kylie Jenner added, "I've never seen you happier, Kourtney, it warms my heart," before Hoppus took the microphone. "Travis and I have been bandmates and friends for the past 25 years, the highest highs and lowest lows," he said, adding, "I've seen Travis go through hell and now I'm so happy to watch him find heaven with Kourtney."
Travis' son Landon also took center stage for a moment, first expressing how grateful he was "to have such a great dad in my life and have such a sweet, caring, loving, supportive person to call my father."
"Next off, I want to talk about how much I appreciate and love you Kourtney. Since the day I met you Kourtney, you have had such a great and bright personality that always showed and shined. In these past few months, I've really gotten to know you so well and grown so much love for you," he said. "You look out for me like a mother and have always had my back. I really think you have filled the empty spot in my heart so well and have shown me great morals and taught me so much. Together you guys show what true love looks like."
There was also a performance of "bloody valentine" from MGK, after Barker and Kardashian addressed the crowd. Kourtney's one contribution to the couple's speech was simply saying "Poop" into the microphone at the request of her son Reign, before handing the floor to her husband.
"Thank you Kris for giving me Kourtney's hand in marriage. Robert, I know you're here in spirit and so proud," he said, getting choked up before even saying a single word. He went on to thank Kourtney's sisters for "accepting me into your family," and expressed how much it meant to have all of his own children and Kourtney's kids in attendance.
"We're all here because I fell in love with my best friend," he continued, as Reign let out an "Awww!" in the background.
"Kourtney, my heart and soul knew you were the one way before I realized. The sense of home I felt any time I was around you was undeniable. Going to museums together, working out every day together, even when I hadn't slept because I was at the studio late and I didn't want to miss the chance to see you, spoiling each other on our birthdays and holidays, playing house, deep down I always knew," he continued. "You are a great mother, great friend, you are beautiful and classy, healthy, even sometimes vegan."
He explained that "for so long" he was afraid "to ruin our friendship by trying anything," despite attempting to "a couple times." Barker said that while "literally everyone" would tell him they needed to hook up, he held out because "for a while" he was content and thankful to simply have "someone so special in my life that has been a friend for so long."
"I also knew if we were ever together, something more powerful than either of us had ever experienced would happen and it did. I didn't ever want to be with another person again," he concluded. "The last year and a half has been magical. I love your eyes, your smile, your laugh, your sense of humor, everything about you. Kourtney, you're the love of my life and I can't wait to spend forever with you."
"'Til Death Do Us Part: Kourtney & Travis" is streaming now on Hulu.