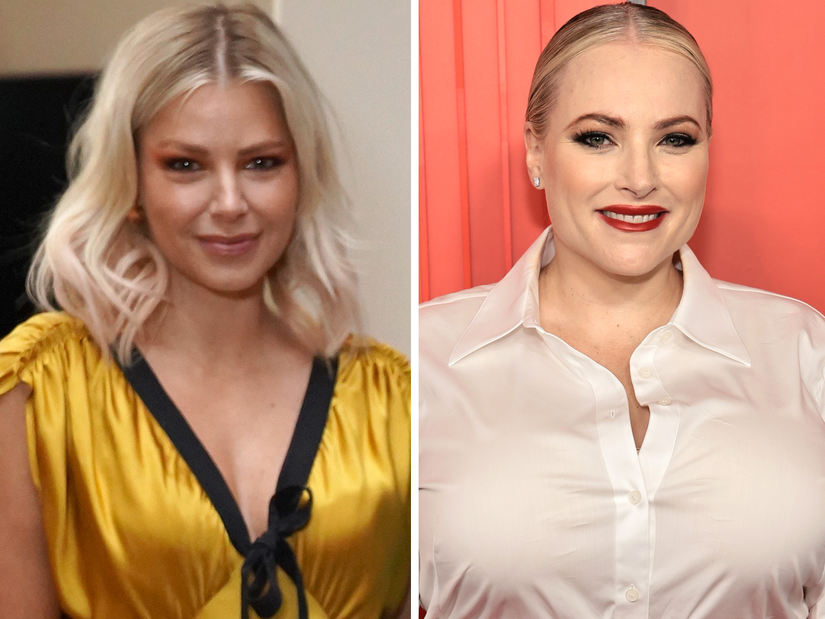 Getty
"We all know how aspect ratios work," the Bravolebrity later wrote on her Instagram Story.
The "Vanderpump Rules" star raised eyebrows when she cropped the former "View" host out of a picture that was taken at a kickoff party for the White House Correspondents' Dinner on Friday.
Madix posted a group photo that included her co-star Lala Kent, Rebecca Romijn, Jerry O'Connell and NBCUniversal EVP Jennifer Geisser in her Instagram Story. McCain later shared the same photo to her own feed, revealing she had been totally cropped out of the reality star's original picture.
The Daily Mail columnist captioned the photo posted horizontally, "When Bravo meets The Beltway! 🇺🇸 💫."
Waiting for your permission to load the Instagram Media.
After the discrepancy was pointed out and subsequently went viral on Twitter, a rep for Madix eventually explained she had no ill-intent with her crop.
"I can tell you without a doubt that there is no agenda with this post whether political or otherwise," her rep clarified to Page Six, noting that Ariana had posted the picture vertically to her Story where images are auto cropped to fit the frame. "It's just how the post came out."
"I had a wonderful time with Ariana, Lala and DailyMail.com," McCain corroborated Madix's story and told the outlet. "I can't believe I'm commenting on something so ridiculous."
The Bravolebrity also took to her Instagram Story to clear any alleged bad blood. She explained the "difference between a main feed and a zoomed IG story," and quipped, "We all know how aspect ratios work."
Madix later reposted the full photo and added a "good times" GIF over the new image.
In addition to Kent, Ariana was joined by her co-star Lisa Vanderpump at the White House Correspondents' dinner on Saturday.
During comedian Roy Woods Jr.'s set, the Florida native was seen cracking up after he made a reference to her ex Tom Sandoval's cheating scandal. Ariana and Tom were together for nine years before they called it quits after the restauranteur engaged in a months long affair with their "Vanderpump Rules" co-star and friend Raquel Leviss.
The "Daily Show" correspondent had been speaking on Tucker Carlson's departure from Fox News before making the joke.
"Scandals have been devouring careers this year," Roy said. "Tucker got caught up. Got caught up like that dude from Vanderpump Rules."
See more photos from the star-studded event below!