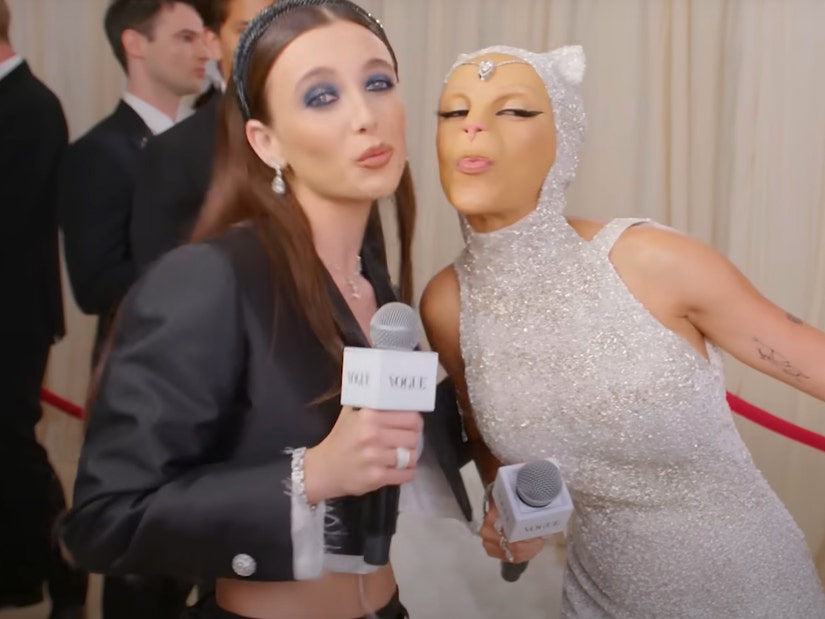 YouTube / Vogue
Andrew Lloyd Webber and Katy Perry weighed in, while Nick Jonas and Priyanka Chopra already recreated the funny moment on TikTok.
At fashion's biggest night on Monday, which honored late designer Karl Lagerfeld, the singer's jaw-dropping, sparkly look paid homage to Lagerfeld's famous cat, Choupette. Doja, 27, wore a white and silver Oscar de la Renta gown, which featured a headpiece with cat ears. The "Kiss Me More" singer completed the look with cat-like face prosthetics.
However, it wasn't only her fashion ensemble that had people talk talking. Fans went wild on social media after Doja was seen staying in character -- as a cat -- during an interview with Vogue's Met Gala correspondent, Emma Chamberlain.
Waiting for your permission to load the Instagram Media.
As shown in the clip, above, Chamberlain asked Doja questions about her look, with the latter not answering with words, but rather, with meows.
Chamberlain, for her part, went along with the bit and acted like Doja was speaking English, which made the interview even more hilarious.
"What was your inspiration for tonight? And go into detail," the internet star said to the pop star, who paused as if she was contemplating an answer, before she then meowed again.
Many social media users took to Twitter or Instagram to share their thoughts about the interview -- and it's safe to say they were loving it.
Andrew Lloyd Webber, the composer of "Cats" the musical, commented on Vogue's Instagram post, writing, "Cats the sequel @dojacat?" The musical's official Instagam account also chimed in, writing "Met Ball? More like Jellicle Ball 😽."
Katy Perry appeared to find the moment so hilarious that she couldn't spell correctly. "IM WCREAMT," she wrote in a comment, before adding in another, "THE ONLY THING RHAT MAYTWRS." (It seems that she meant to write, "I'm screaming. The only thing that matters.")
As for fans, a user wrote, "It's the commitment for me." Another joked, "Tbh I would've meowed back."
"DOJA IS ACTUALLY HILARIOUS FOR THIS I'M CRYING 😭😭😭😭😭," a person said in a viral tweet, while another added, "It was the deep sigh before going into detail 😭."
Nick Jonas and Priyanka Chopra also reacted by recreating the interview in a TikTok video. The couple -- who attended the Met Gala on Monday night -- can be seen sitting in a van together, with Jonas taking on the role of Chamberlain, and Chopra playing Doja.
Meanwhile, Doja had yet another viral Met Gala moment, which happened shortly before her interview with Chamberlain.
As captured by viewers of Vogue's live stream, Doja can be seen casually hitting her vape in the background as Chamberlain interviewed Jennie from Blackpink. And fans took to Twitter to react to the funny moment.
"we live in a world where jennie from blackpink is getting interviewed by emma chamberlain as margot robbie walks past while doja cat DRESSED AS A CAT hits her vape," a person tweeted.
"DOJA CAT BEING A LITERAL CAT AND HITTING A VAPE, IF THAT ISNT THE MOST DOJA THING IDK WHAT IS," a fan wrote, while another added, "doja cat hitting her vape on the red carpet is so on brand."
Meanwhile, Doja wasn't the only celeb who honored Karl Lagerfel's cat, Choupette.
Actor Jared Leto appeared on the carpet wearing a full furry white mascot-like suit, complete with ice-blue eyes. Singer Lil Nas X also paid homage to Choupette, rocking a nearly-nude cat-inspired look by Dior Homme. The "Industry Baby" was covered in head-to-toe silver body pant, with a silver, bejeweled mask covering his face. Lil Nas X also appeared to stay in character like Doja, answering questions from some red carpet reporters with "meows."
The theme for this year's Costume Institute exhibition was "Karl Lagerfeld: A Line of Beauty," dedicated to the late fashion designer. The dress code was both a simple prompt and a challenge to realize, asking guests to come dressed "in honor of Karl." Lagerfeld headed his own eponymous brand as well as designed for Patou, Balmain, Chloé, Fendi, and Chanel.
Penélope Cruz, Michaela Coel, Roger Federer, Dua Lipa, and of course Vogue's Anna Wintour are co-chairs for the star-studded gala this year.
Meanwhile, fans can experience the exhibit at The Metropolitan Museum of Art in New York City from May 5 to July 16.