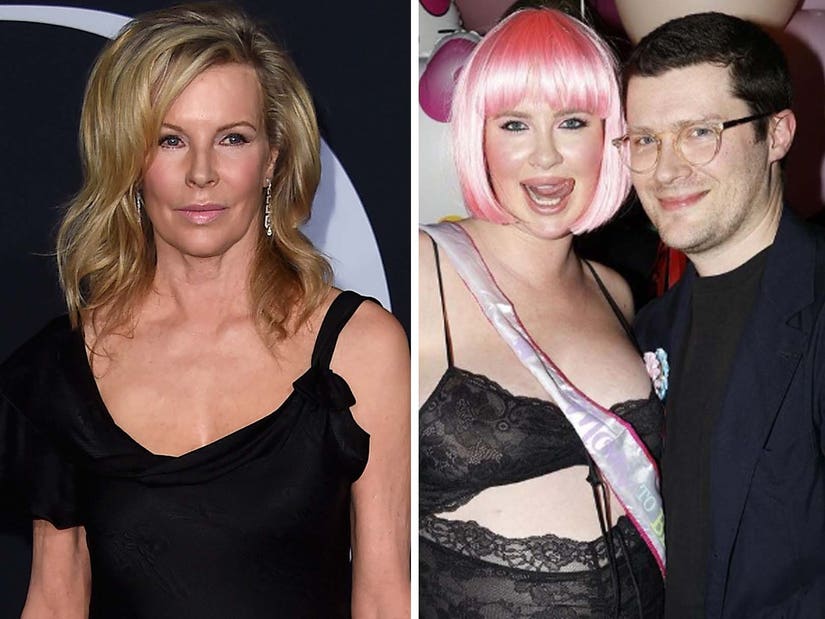 Getty/Instagram
"She threw a crumpled dollar bill as fast and as hard as she could … because she was so scared," Ireland said of her famous mom
During an appearance on the "High Low with EmRata" podcast on Tuesday, the 27-year-old "A Dark Foe" star revealed that her mother was a bit uncomfortable with the nature of the festivities.
"My mom's pretty open but I would say she was pretty mortified," Baldwin laughed. "She watched me and my boyfriend get lap dances from eight strippers on the stage, and I think she was just like, 'What is happening right now?'"
The expectant mother recalled watching Basinger as she "hid in a corner" and ordered a "pinot grigio at the bar with ice."
According to the model, the 69-year-old "Batman" actress was so frazzled she didn't know how to interact with the dancers at the party.
"She didn't even know what to do with the money," she continued. "She threw a crumpled dollar bill as fast and as hard as she could … because she was so scared."
Though her mother kept an open mind, she revealed she was "thankful" that her boyfriend RAC's parents and her conservative "Christian family" members "did not attend, nor were they invited."
Waiting for your permission to load the Instagram Media.
Waiting for your permission to load the Instagram Media.
After announcing her pregnancy in January, the model and her boyfriend celebrated the incoming arrival of their first child with a stripper themed baby shower at a club in March. Instead of baby bottles and shower games, the "Grudge Match" actress and the musician traded up for dancers and lingerie.
In a series of photos posted to her Instagram, the daughter of Alec Baldwin and Basinger, gave fans an inside look into her shower.
"Way too many of these to post but it'll have to come in parts," Baldwin began in her caption. "My friends and family threw us a very traditional baby shower as you can see. I wouldn't have had it any other way. I was showered… in booty."
Ireland was seen in a pink wig that was fashioned into a short bob along with a black lacy lingerie ensemble. In a sweet moment captured on camera, she also shared a few photos that depicted her mother smiling while the two were locked in an embrace. Basinger was fashioned in a dark gray suit and matching button down as she hugged her daughter who was laughing with dollar bills in her top.