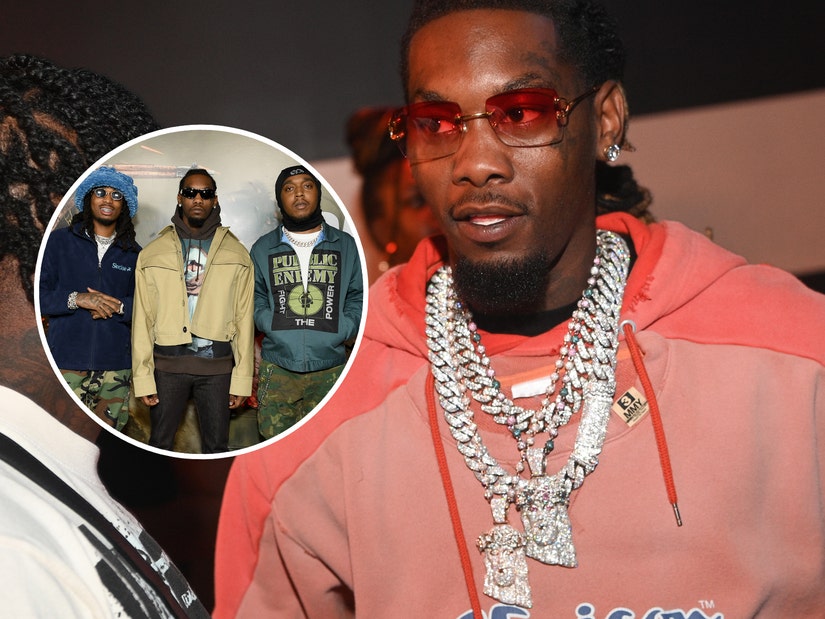 Getty
The rapper apologized for abruptly exiting an interview after speaking about Takeoff's death, admitting he got "emotional."
In a new interview with Variety about his upcoming solo album, Offset shared his excitement over his last song with Takeoff. He also proudly showed off his back tattoo of the late rapper's face -- his "favorite picture" of Takeoff and a rare one without glasses -- before he was overcome with emotion.
"It's hard for me to talk about s--- right now. I've never talked about this stuff. Seriously. Talking about Take is hard, man," he told the outlet, which reported he "shut down" when asked about his emotions.
"Talking about all this s--- is hard. That's why I don't, to be honest. That s--- hurts," he continued. "Like, it's gonna put me in a mood, and I don't want to get in that mood. Some things I don't never tell nobody. He's not here. That s--- feels fake, bro."
"I get through my day thinking it's fake. And I don't say nothing to nobody about it," he added, before getting "visibly upset," telling the publication he needed a break before calling off the rest of the interview for the night.
The next morning he apologized for his abrupt exit -- saying, "No hard feelings about last night. I got emotional."
Takeoff, was one third of the rap trio Migos, and died after a fatal shooting in Houston, Texas back in November 2022. He was 28.
According to TMZ, he was playing dice at a bowling alley and, following an altercation, was shot. Takeoff was pronounced dead at the scene. Quavo, another member of the group, was there when it went down but was not injured.
Migos formed in 2008 and hit it big with songs like "Versace" and "Bad and Boujee." They collaborated with artists including Nicki Minaj and Cardi B, Drake and Katy Perry and released four studio albums. Before his death, Quavo and Takeoff released an album without Offset.
Waiting for your permission to load the Instagram Media.
A few days after a star-studded celebration of life at Atlanta's State Farm Arena, Offset took to Instagram to share an emotional letter where he expressed his disbelief over the loss of his beloved family member.
"Dear Take, doesn't feel real posting you like this…. This still doesn't feel like reality. I've been searching for the right words to say, but there aren't any that will suffice," the father of five wrote at the time. "Until we meet again, Rest In Power. I love you."
Alongside a series of photos and videos of the duo working and spending time together, he confessed that "the pain you have left me with is unbearable."
"My heart is shattered and I have so many things to say, but I can't find the words. I've been going to sleep and hoping that all of this is a dream, but it's reality, and reality feels like a nightmare."
"I wish I could hug you one last time. Laugh one last time. Smoke one [sic] last time. Perform one last time," he continued. "I know someone with a soul like yours is in heaven now. I hope you can see how much we love you and miss you. You have left a hole in my heart that will never be filled."
"Even though I know you will always be with us, throw me a lil sign or a beautiful dream. I love you forever, 4L and after," the rapper concluded.