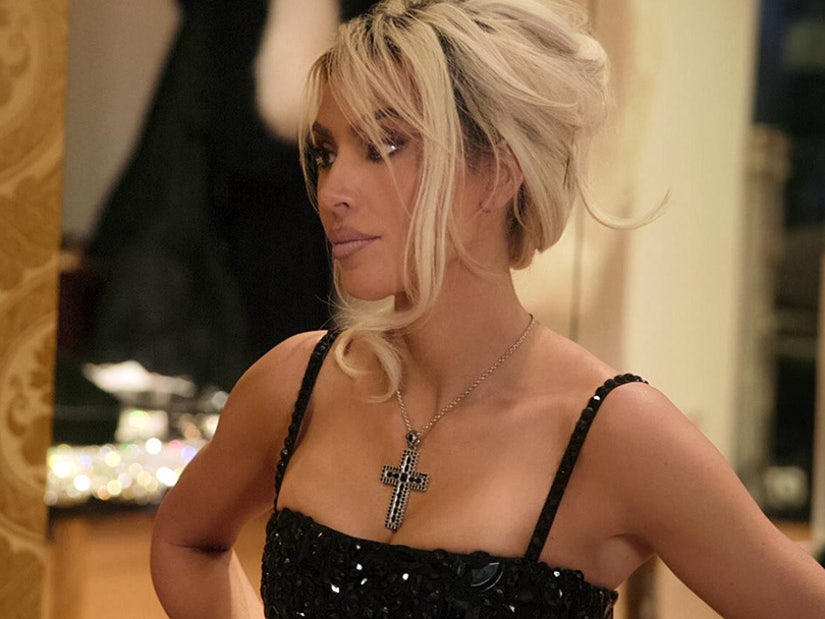 Hulu
After 42 years on this earth, Kim Kardashian know exactly what she's looking for in a man ... in exacting, extremely detailed bullet points, as she shared on the latest episode of Hulu's "The Kardashians" -- but is it possible for any one person to embody all of this?
Kim Kardashian has had high-profile relationships and low-profile relationships. She's had casual flings for fun and a long-term marriage with multiple children. And through it all, she's been figuring out exactly what she wants in a man.
Not stated, but implied, is that none of the guys she's been with to this point, including Kanye West and Pete Davidson, have quite measured up to all of these qualities. Now, in their defense ... it's kind of a lot!
And like the savvy and organized businesswoman she is, Kim apparently has all of these detailed on her phone, as she was reading from the device while breaking down the exhaustive (and exhausting!) list on the latest episode of "The Kardashians."
The 42-year-old reality star said she needs her man to "protect me, fight for me, good hygiene -- and that is a given, so I should maybe take that off -- calm, no mom or dad issues, patient, supportive, genuinely happy for me, successful."
It was clear that this was a list she'd been working on and curating for awhile. And with her consideration of removing good hygiene, as "a given," it appears it's still a work in progress. Aren't we all, Kim!
That wasn't the whole list, either. "Good teeth," she went on. "One of my biggest turn-ons. The straighter, the hornier I will get -- I'm just kidding, but not kidding."
"Also, no balding," Kim continued, but again paused to consider. "If I am in love then I will rub your bald head," she determined. "But we are just talking about our perfection list."
Speaking of said perfection list, Kim still wasn't done, noting that her ideal man should also be "spontaneous, fun, my friends and family love him, someone who can be a role model for my kids -- especially someone my boys can look up to."
"No heavy baggage (I have enough)," she went on. "Taller than me, someone who loves to work out, motivated and independent person, someone who's not clingy and someone with good taste."
That's all she listed during the show proper, but the post-credits scene showed that there were even more qualities on that list. "Smart, kind, has great manners. I want to love their scent after the gym, able to read a room. We could get facials together and laser, have their own s--- going on, but also [be] adaptable, respect to others; especially when no one is watching."
Honestly, we suspect that somewhere out there, Kim is still scrolling through this never-ending list of boyfriend material qualities, breaking down every single detail she's looking for from how he ties his shoes to what his favorite color should be and how many times he sneezes in a row.
With more than 30 items listed just in this episode alone, we hope prospective suitors were paying close attention to all the details. We also hope, for her sake, that Kim is willing to allow a few concessions here and there. She's already willing to concede baldness if she's in love, so guys may not have to meet every exacting standard.
According to Us Weekly, Kim actually has found a man, though she's keeping whatever they do or don't have going on strictly on the way downlow, for now.
She hinted at it in the June 6 episode, laughing, "I just want to sneak around a little bit. There's nothing wrong with wanting to sneak." She said that with Davidson the media "made me feel like I was in a very serious relationship so quickly," she she's trying to avoid that pressure.
Us Weekly's source said that she and this mystery man are currently taking things slow, not even willing to label what they have anything just yet.
Understandably, according to their source, Kim is cautious about allowing herself to be seen with anyone on her arm because social media -- and the regular media -- will immediately blow it up.
And now, she's even given them 30-point bulletin to break down everything about whoever her next guy is. Of course, in that same episode she told Scott Disick that her mystery man "so meets the standards."
At the same time, she told Scott that she's at a point in her life right now where she's not looking to lock in on just one man. Inasmuch as she can pull it off, she'd like to try dating casually as she's "never dated" like that before.
Elsewhere in the episode, the rumored blowout between Kim and Kourtney over Kim's Dolce & Gabbana Deal during her wedding to Travis Barker was definitely real and definitely created a rift between the sisters. You can check out all the deets on that drama below.
New episodes of "The Kardashians" drop Thursdays on Hulu.