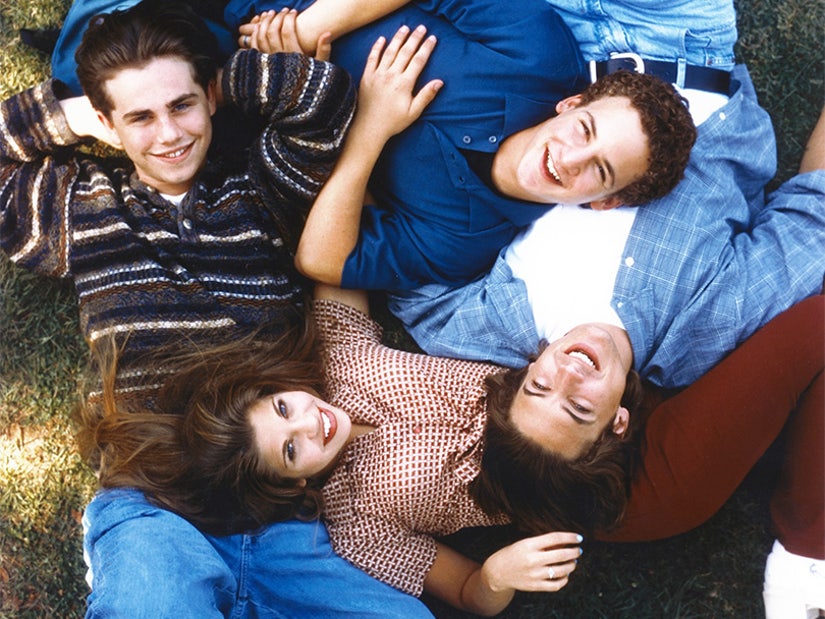 Everett Collection
Danielle Fishel, Will Friedle, and Rider Strong, who share the "Pod Meets World" podcast share how hard they've tried to reconnect with Ben Savage, how filming "Girl Meets World" opened their eyes, and whether Strong would ever consider a return to acting.
The trio, who also co-host their popular rewatch podcast, "Pod Meets World," shared in a new interview with Variety how most of the extended cast of the iconic ABC sitcom is still close, as well as how returning for "Girl Meets World" opened their eyes to their own childhood experiences, and even whether the podcast has inspired Rider to give acting another shot.
In their expansive chat, it was Friedle who reminded Strong that he was the only kid on the show who seemed to take the craft of acting seriously, even taking classes, which Strong thinks might have been to his "detriment."
"I was a little more aware of what acting was," he explained. "Somewhere I picked up this idea of what it meant to be an actor. And because I wasn't in that or doing that, I was failing constantly."
"I was always letting myself down into my early 20s," he continued. "And that's why I had to stop. But in retrospect, I should have just pushed through that, because then I probably would have really enjoyed being an actor."
He left his friends and co-stars stunned when the outlet asked him if revisiting "BMW" has created that acting itch again. The fact that the writer/director and professor even paused on the question was enough for Friedle to look surprised.
"When I look back, I've had these weird moments of like, 'Whoa, there were some instincts that I didn't know I had,'" Strong said of rewatching himself. "For some reason, I have it in my head that I just didn't know what I was doing. Somewhere along the way, I decided I wasn't good at something. So I don't know. Maybe I should have nurtured this. And maybe it's never too late."
He did drop by the sequel series "Girl Meets World" for four episodes, reuniting with various cast members. The sequel mostly focused on a new batch of younger kids, played by Rowan Blanchard, Sabrina Carpenter, and Peyton Meyer, though Fishel and Savage were both back with lead roles.
Returning to the show, which also featured the returns of creator Michael Jacobs, as adults was an eye-opening experience for all of the young stars. "I was like, 'Oh, this is what's really happening here,'" said Strong. "It was hard and horrible to go through. But ultimately, very healthy and healing to experience."
"Certain people counted on us not talking to each other," Friedle added. "When it was revealed that we were talking to each other, the curtain was pulled away. When we started comparing notes, it wasn't great. So, I'm very glad that I had very limited involvement with 'Girl.'"
They say they discovered unhealthy power dynamics and people "playing both sides," with Fishel saying that had they not gone through the "GMW" experience, "We all would have walked around probably still ranting and raving in only the most positive of ways."
As an example of power games, Fishel said she was told the new show would focus on the kids, as the parent series had. On top of that, she said she was also told that Friedle and Strong were part of it. Strong learned about the show in the industry trades, while Friedle found out when CNN called to ask him about it.
"We went to lunch with somebody who tried to justify why it happened that way, and then started yelling at Rider over the salad," Friedle said. "It's been a journey!"
If anything, that experience of going through "GMW" and recontextualizing their "BMW" experience only solidified the bond between the cast members even after "GMW" ended in 2017.
This included Savage, who joined them for conventions and was physically there when Fishel was in the ICU with her first son, born early. He was even involved with early talks to be part of their podcast back in 2019, but ultimately decided against it.
"We were just so, so close, especially during that time," Fishel said of the years following "GMW." "He was checking in with me regularly." Then, seemingly out of nowhere, according to all three, "He ghosted us."
The trio said that after decades of closeness, they haven't spoken to Savage for three years, and there was no explanation from him as to what happened. TooFab has reached out to Savage's team for comment.
"He disappeared -- I wish I knew why, to this day," said Friedle. "We didn't have a fight. There's no falling out. There was no animosity. He just woke up one day, and decided 'I don't want this person in my life anymore.'"
For Friedle, who felt extremely close to his on-screen brother, it's a "sore subject." "I've known him since he was 11 years old, and we have a shared history," he explained. "And we were doing these conventions together, and we were getting to know each other as adults, and then he just kind of went, I'm done with you."
After attempting to contact Savage by phone and text messages, Friedly finally took an extreme approach. "I finally sent a text saying, 'I've known you for 30 years, what's going on?'" he shared. "I said, 'I'm gonna call you every day until you tell me not to call you anymore.'"
He said he held to that promise of daily pinging for three weeks to a month, but still got no response. "I tried and tried and tried for months, until finally my wife was like, 'Why are you doing this to yourself? He obviously doesn't want you in his life.'"
Fishel tried to put an optimistic spin on their long friendship with Savage, even if they are incommunicado right now. "Ben and I may be estranged right now and we may have our complaints about each other, but I will always love Ben and want what's best for him," she said. "I don't think this is the end of our story -- but time will tell."
She said that doing this podcast, which has welcomed other cast members, guest stars and even other child stars, has taught her that "everyone is on their own journey and having their own experiences that can be perceived many different ways, depending on your POV."
For his part, Savage married his girlfriend of many years, Tessa Angermeier, in February of this year. A month later he announced he was running for Congress to serve California's 30th district.
While he purportedly hasn't spoken to his "BMW" cast-mates in three years, Savage told Us Weekly in February 2022 that he would "never say never" to returning again to that world. "I've learned enough to know that you literally never know what can happen in this business," he told the outlet.