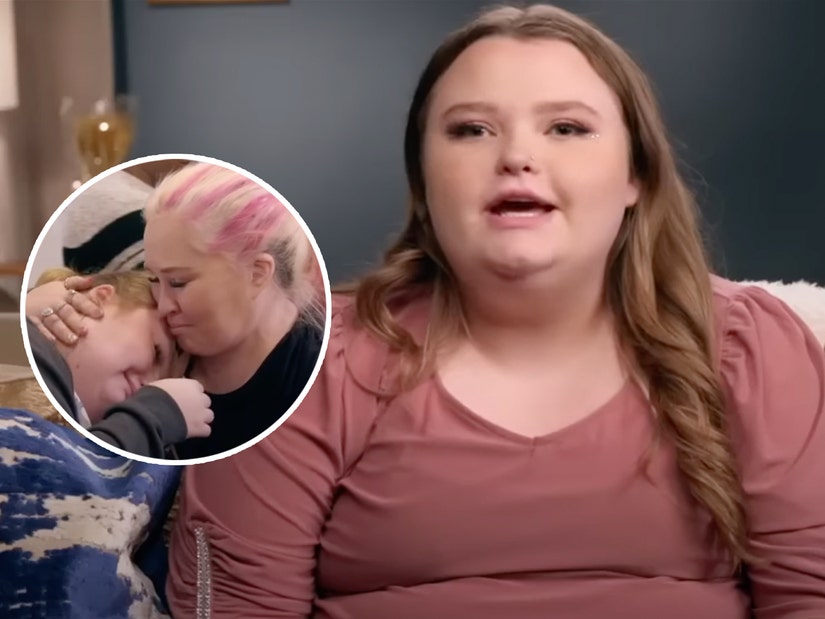 WEtv
On Friday's episode of Mama June: Family Crisis, June comforted Alana as she broke down over her mom's absence in her life during her last year of high school.
During Friday's episode of Mama June: Family Crisis, June, 43, and her daughter Alana, 17, shared an emotional moment, with June giving Alana a hug for the "first time" in years.
The episode featured June and her three daughters -- Lauryn "Pumpkin" Efird, Jessica "Chubbs" Shannon and Alana -- going on a family therapy retreat together in an attempt for the girls to work on their strained relationship with their mom.
During a therapy session with Dr. Ish, June and Alana held hands, and the former was tasked with showing the latter that it's alright to be "emotional."
"I'm glad that we was able to hang out today. And I hope that we can do it really soon. And I love you," June told her daughter, who replied, "I love you too," before adding to Dr. Ish. "It was better because she didn't say it over text message."
Dr. Ish asked then Alana what it would have "meant" to her if her mom had held her hand on the first day of school and said, "I love you. Go on in there and kick some ass now."
Alana paused, before she burst into tears, and June followed suit after seeing her daughter breaking down.
"I just feel like my mom should be there on graduation. And I feel like she should be there for my prom," Alana said through tears. "And she should be there for them little moments in school, like Honors Day or whatever it may be, just the little senior activities I have."
"Everybody at school is like 'My mom, my mom, my mom.' And I always have to say, 'my sister,'" Alana continued. "I don't want to have to say that."
She added, "I want to be like, my mom did this, or my mom does this for me, or I'm going home to my mom today."
Dr. Ish then pointed out to June that since her daughter was clearly upset, it was her moment to "go comfort her."
June pulled Alana into a hug, embracing her daughter, who continued to sob.
Alana reflected on the touching moment in a confessional, revealing it was the first time in a long time they have hugged one another.
"This is the first time Mama's actually really gave me a hug in probably about -- I'm not gonna lie -- probably about five or six years," she said. "And it feels good to get an actual loving hug from your mama. Like, it really did feel nice. I'm not gonna lie."
Mama June: Family Crisis airs Friday nights on WEtv.