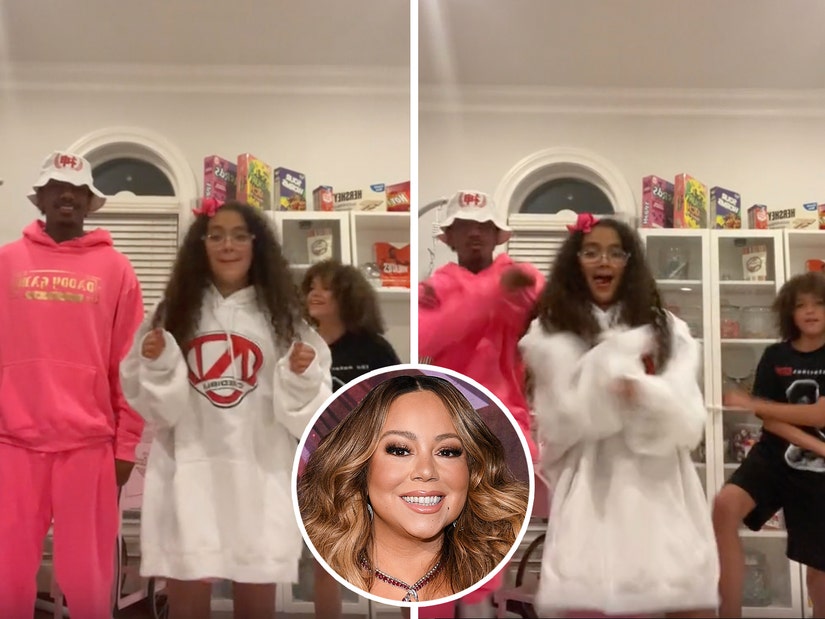 TikTok/Getty
The father of 12 participated in the "Touch My Body" TikTok dance challenge with his and Mariah's twins Monroe and Moroccan and gave his ex-wife a sweet shoutout, calling her the "Empress Queen of all Queens."
On Saturday, the father of 12 shared a fun video to TikTok that featured himself dancing with his and ex Mariah's 12-year-old twins: daughter Monroe and son Moroccan.
In the clip, Nick, 32, and the twins participated in a popular TikTok dance challenge that features Mariah's hit, "Touch My Body."
The video began with Monroe getting her dad and brother into position to do the routine, grabbing Nick after he was hilariously shaking his booty toward the camera. Monroe -- who was front and center in the clip -- her brother and dad then showed off their dancing skills as they performed the choreography to the beat of Mariah's song.
In the post's caption, Nick gave a sweet shoutout to Mariah.
"Only Right!! Shout out to Mommy!!!" The Masked Singer host wrote. "The Empress Queen of all Queens!"
Fans took to the comments section to react to the video -- and it's safe to say they were loving it, with many praising Nick's role as a father.
"watching Mariah's kids dance to her song... classic..," a person wrote, while another called the video "too cute."
"We can say all we want, but this man be taking care of alllllllll his kids 🥹❤️," a fan said as another user added, "Nick gets the Father Of The Year award for this 😂😂😂."
Meanwhile, other fans shared their thoughts on Nick's dance moves, with some writing that it reminded them of his dance scene from his 2003 film, Love Don't Cost a Thing.
'"Nick dancing like he was on love dont cost a thing lol," a user wrote, while another said, "Nick gave love don't cost a thing beach party scene vibes 😂😂."
The Wild 'N Out host is a dad to 12 children with six different women, including Mariah and their twins.
Nick also shares sons Golden and Rise Messiah, as well as daughter Powerful Queen with Brittany Bell, son Legendary with Bre Tiesi, daughter Onyx with LaNisha Cole and three children -- daughter Beautiful and twin boys Zion and Zillion -- with Abby De La Rosa.
He most recently welcomed his 12th child, daughter Halo Marie, with Alyssa Scott in December. He and the model were also parents to son Zen, who passed away at five months from a brain tumor in 2021.