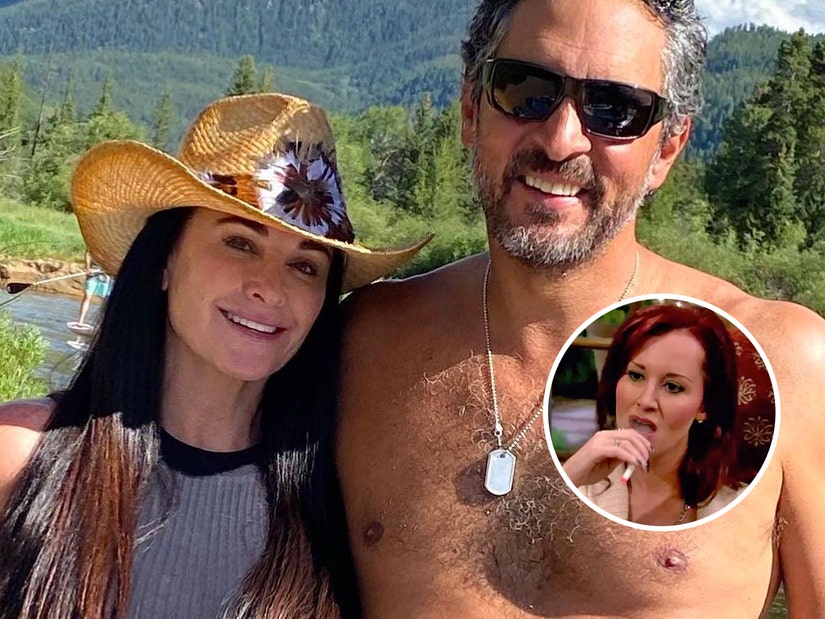 Instagram
The Real Housewives of Beverly Hills star and her husband have denied reports of a divorce, but confessed they've had a "rough year" in their marriage.
Earlier this week, People reported that the two have "been separated for a while" but are still living together while they figure things out. Shortly after, the duo took to their respective Instagram pages to shut down any talk of a divorce, while admitting they were struggling through a rough patch.
Before Kyle and Mauricio addressed the reports, however, Allison DuBois, a psychic medium who told Richards her husband would "never emotionally fulfill" her during a reading in 2010, reacted to the news on Twitter.
"My phone is blowing up from reporters now that Kyle and Mauricio have separated. So, here's my comment," DuBois, who inspired Patricia Arquette's character in Medium, began on Twitter. "I don't wish Kyle ill, I hope she finds what she's looking for," she continued.
"I guess I'm the only one who 'saw' this coming," she added. "People kept telling me I was picking up on Camille's divorce NOT Kyle (Okay, you arm chair psychics can sit down now). Mic drop."
Back on the 2010 "Dinner Party from Hell" episode, Camille Grammer hosted a dinner with DuBois, who flat out told Richards of Umansky, "He will never emotionally fulfill you. Ever. Know that. But you will stay with him and he will take care of you and as soon as the kids are bigger, you'll have nothing in common."
Richards was, of course, livid at the time. Grammer, meanwhile, would split with her then-husband Kelsey Grammer shortly after.
Following the split news this week, Kyle and Mauricio released a joint statement saying "in regards to the news that came out about us today ... Any claims regarding us divorcing are untrue."
"However, yes, we have had a rough year. The most challenging one of our marriage. But we both love and respect each other tremendously," they added. "There has been no wrongdoing on anyone's part. Although we are in the public eye, we ask to be able to work through our issues privately. While it may be entertaining to speculate, please do not create false stories to fit a further salacious narrative."
The two were later spotted together celebrating the 4th of July together on Tuesday.
Waiting for your permission to load the Instagram Media.