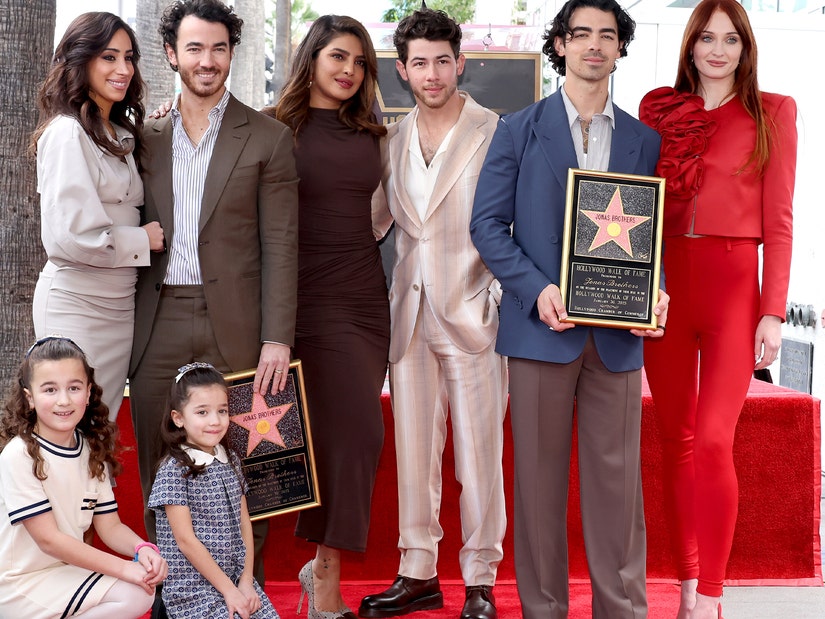 Getty
During a very candid interview, Kevin and his wife Danielle open up about how it feels to be compared to his siblings Joe and Kevin Jonas and their own wives, Sophie Turner and Priyanka Chopra.
Being a Jonas Brother ... or being married to one ... sometimes comes with feelings of inadequacy, at least for Kevin and Danielle Jonas.
The subject came up after Danielle was asked whether she had a "love-hate relationship" with Kevin's career, as one of the hosts wondered whether she had "complicated" feelings in regards to fame and being on the road.
"I am so different than him. We're not trying to fight for the celebrity part of it, but it is a love-hate. I feel like I am torn," she said. Kevin added that due to all their tours and promo for their latest album over the last year, Danielle has been upfront with him about times she felt they were "disconnected," adding that it's so important for them to be honest with one another to keep things in check.
"Also, finding my place in it, because the two boys married somebody who, they're actresses, they're out there, everyone knows them," Danielle added. "And I feel like I'm Danielle, you know, and it's hard."
Kevin attempted to build her confidence a bit, saying, "I think everyone's listening, they're like, 'No, what are you talking about?!" -- but then added, "But I feel that way too."
"Nick and Joe, right? Like solo careers, movies, all this stuff. It's like everyone has to find their place, no matter the situation. I think for us communicating, talking through it," he continued.
Danielle then said that, for her, she's really only "out there celebrity-wise because I've married you," calling that another problem point for her. "That's where it's like, 'Oh, I wanna have something else to my name too.' So that it feels, I don't know, more than, or like, the other girls," she continued, "'Cause then when I'm with the other girls, I feel just less than sometimes. It's weird."
Kevin and Danielle met in the Bahamas back in 2007, before tying the knot in 2009. They've since welcomed two daughters together. Before meeting Kevin, Danielle was a hairdresser; the two went on to star on E!'s Married to Jonas, before she launched her own jewelry collection.