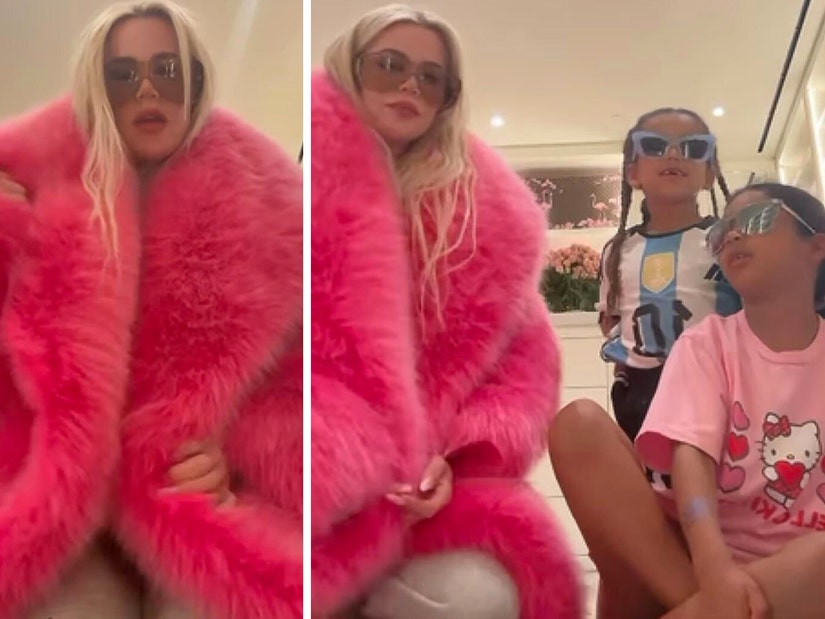 Instagram
"I think I got set up lol," wrote Khloe underneath the video of her and the girls rapping.
The Fancy Girls are back! Khloe Kardashian and her daughter True, 5, are reviving their moniker which they adopted earlier this year. Now joining them is Rob Kardashian's daughter Dream, who is 6.
Khloe took to Instagram to share posts of the three girls having fun and making a music video together, in classic sleepover style.
"We are called the fancy girls," began The Kardashians star, rapping, clad in a huge pink fur coat. "I have my hot-pink coat. And no it's not real fur, before you try to talk to me about it. It's not real fur, you wanna check the tag? Check the tag. I don't wanna hear any of your nonsense. C'mon girls!"
Waiting for your permission to load the Instagram Media.
Next up was True, who matched her mother in a pink Hello Kitty shirt and large sunglasses.
"I'm the fancy girl. We have three fancy girls and we're not the same," rapped True, which received a joyous response from Khloe. "All of us have different names. There's Dream and Mommy, True and Dream, it could be the best sleepover every time."
Along came Dream, wearing a blue soccer uniform.
"I'm a soccer player, who likes Ronaldo. Messi is what I'm wearing right now. All our sleepovers are always fun, and they never have a fight," said Dream.
Waiting for your permission to load the Instagram Media.
Khloe then began the next section of their video, before True stepped in and said that they have to "do it over."
Khloe restarted and continued rapping about their "sleepover crew", with Dream trying to join in but rolling away and True sitting quietly in front, looking stoic.
"I think I got set up lol they begged me to make a singing video with them and then….. crickets 🦗 #SleepOverCrew," captioned Khloe.
Khloe also posted a picture of Dream donning her pink fur coat and another video, in which she begins to rap again before being ambushed by her daughter and niece, who jump all over Khloe.
"Since they didn't want to make a song with me ... I'll make my own song. I'll party all by myself. No shame in my party game! #SleepOverCrew," she wrote.
Waiting for your permission to load the Instagram Media.