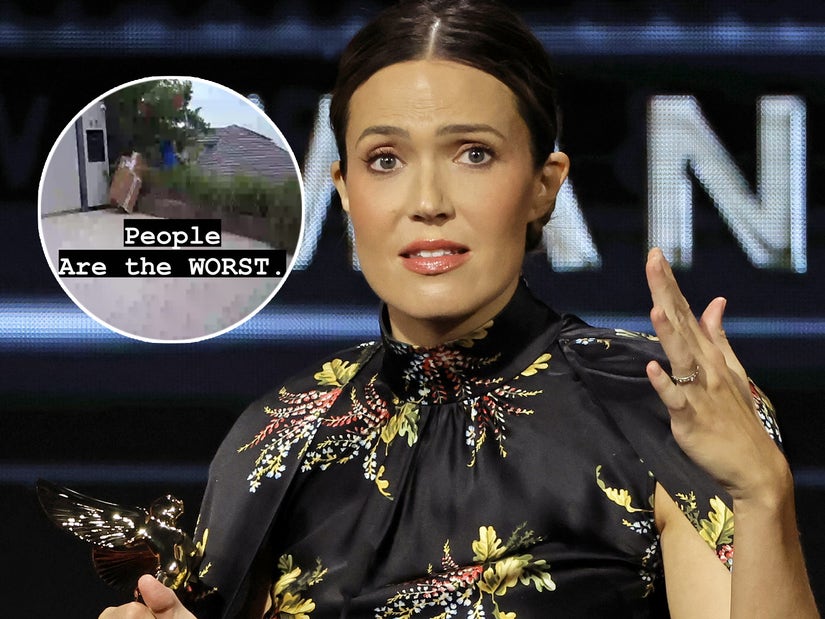 Getty/Instagram
"This Is Us" alum shares a snapshot from video she says is of a man who waited an hour to strike, stealing a stroller she had purchased for her son from her.
Celebrities, they can be victims of porch pirates just like us! Mandy Moore was missing a stroller she had ordered and finally found the answer on her security system.
The "This Is Us" alum shared a screenshot to her Instagram Stories on Wednesday of what appears to be the bandit snagging a package from her property. "People are the WORST," she captioned the shot.
In an accompanying message, she said that she'd been wondering where this stroller was that she had ordered for her nine-month-old son Ozzie and had even gone back and forth with FedEx on the phone about the supposedly-delivered package.
Well, it turns out it was delivered ... and then stolen.
"This dude watched for an hour while the box sat outside and then climbed a side hill to snag them," she wrote beneath the screenshot.
It's an unfortunate aside on an otherwise great adventure the actress has been involved with for the past six years. She shared via her IG Story additional pictures of her LA home that she's been working on for six years.
Moore has been sharing regular updates with her followers since purchasing the home in 2017 for more than $2.5 million. It was mid-construction when she purchased it. The home, according to People, is nearing completion.
The family first revealed that they'd moved into the house in 2018, continuing the renovations while they were there. It has clearly been a labor of love, so it must be heartbreaking to have that tarnished by someone making them feel unsafe on their own property.