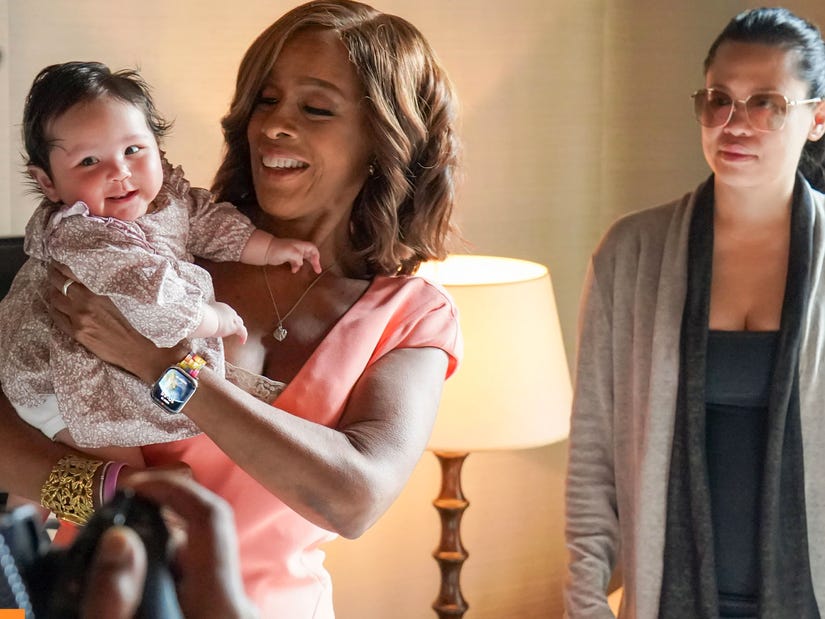 CBS / Getty
Gayle King got to hold the infant on CBS Mornings as she interviewed the proud new mom about family life with De Niro
Robert De Niro's daughter just made her television debut with mother Tiffany Chen.
Chen, 45, spoke with Gayle King on CBS Mornings, where she brought out her baby girl and let King hold her.
King asked how Gia has changed the couple's lives, to which Chen replied, "She's made it more fun."
That might make me a little teary eyed.
While King held baby Gia, she jokingly asked her, "What's your favorite Robert De Niro movie?" to which Chen joked back, "The one in the delivery room, where I'm the star!"
King also asked a heartwarming question that even made Chen tear up.
"The best thing about Bob De Niro is," prompted King.
"How much he loves his family," responded Chen. "That might make me a little teary eyed."
"When I went home, I started to feel like... my tongue felt strange," said Chen of leaving the hospital.
"It felt a little tingly, just starting to get a little bit numb. And then I realized my face just felt weird. I didn't know what the feeling was that I was having. It felt weird."
King then asked if her face "looked different" when she looked in the mirror, which Chen confirmed was true.
"When I got home, it was like everything was starting to just fall down on itself. Like, my face was melting on itself," said Chen. "And then a week after giving birth, that was when it all hit."
"I was trying to eat," continued Chen. "I went to put a fork of food in my mouth and everything came out. I couldn't eat. And then I was starting to slur. So I said, 'There's something really going on here.'"
Chen was instructed to "go right to the hospital".
"I lost all facial function the minute I got to the hospital," she revealed.
Chen and De Niro, 79, welcomed daughter Gia Virginia earlier this year, and the actor shared some details about his newborn with King in a previous interview.
King said the child's name is Gia Virginia Chen-De Niro and weighed in at 8 pounds, 6 ounces after her April 6 birth.
King said De Niro told her the baby was "planned" and both he and Chen "wanted this baby." She added the two were "over the moon" by her arrival -- and said, "she was brought here by love, so he is very psyched and very excited about it."
De Niro now has seven children total, ranging in age from 51-years-old to just 1-month.
The actor shares daughter Drena, 51, and son Raphael, 46, with first wife Diahnne Abbott, twins Julian and Aaron, 27, with ex-girlfriend Toukie Smith and two children -- son Elliot, 24, and daughter Helen, 11 -- with Grace Hightower.