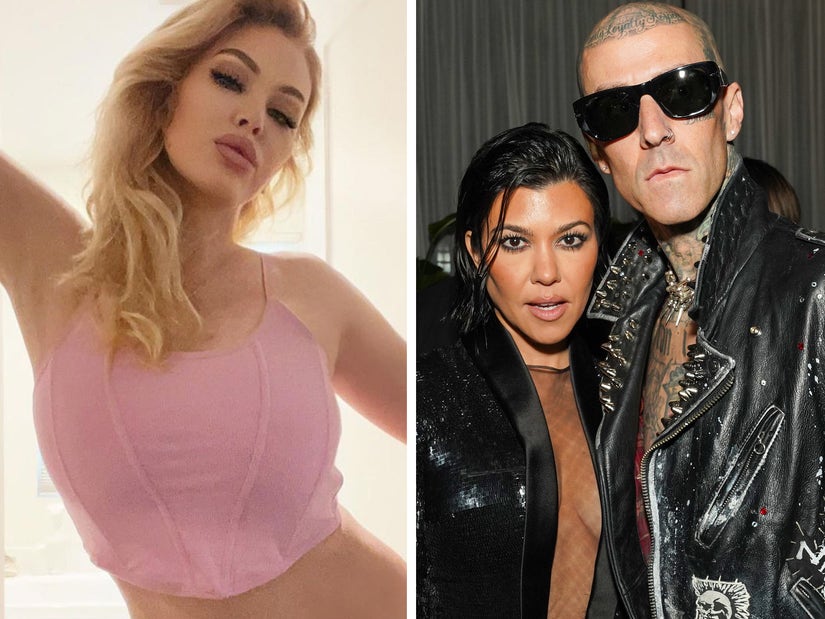 Getty
The model -- who was married to Kourtney's husband Travis Barker from 2004 to 2008 -- said she believes the Blink-182 rocker is a "completely different human being" now, and she doesn't "even really know him as a man."
In a new interview with Page Six, the 48-year-old model revealed how she feels about her ex and his marriage to Kourtney, noting that what's most important to her is how they treat her children.
"I have my own personal reasons for not liking the Kardashians, which I won't get into, but as long as he's happy [and] as long as they are good to my kids, that's all I care about," Shanna said.
Travis, 47, and Shanna were married from 2004 to 2008. The former couple shares son Landon, 19, and daughter Alabama, 17. Travis also helped raise Shanna's daughter with Oscar De La Hoya, Atiana.
It's been over 15 years since Shanna and Travis' divorce, and the former said she believes the Blink-182 rocker is a "completely different" person than he was when they were together.
"I haven't been with him for well over a decade. But you know what -- he's not mine," Shanna explained.
"He's not the person that I was with anymore," she continued. "He's a completely different human being, so I don't even really know him as a man right now. I don't even know if we would be compatible or even good for one another anymore because he's not the person that he was on Meet The Barkers."
Shanna's new comments come just a couple of months after she slammed Travis and Kourtney's marriage back in April.
Waiting for your permission to load the Instagram Media.
While appearing on the Miss Understood With Rachel Uchitel podcast, Shanna said, the "whole thing is so f---ing weird." Shanna went on to emphasize, "I really don't have anything positive to say about it," while also clarifying, "It's not because I'm bitter, and I'm definitely not jealous."
Also in April, Shanna appeared to shade Kourtney's relationship with her children after the couple's "'Til Death Do Us Part" marriage episode premiered on Hulu. She jumped into the comments on one of her posts where someone noted how Kourtney wrote she's a mom of six now.
"She post more of my kids than her own lol," Shanna replied, as captured by Hollywood Life.
Meanwhile, Travis and Kourtney, 44, tied the knot in May 2022. The couple are expecting their first child, a baby boy. Kourtney also shares three kids with ex Scott Disick: Mason, 13, Penelope, 11, and Reign, 8. After marrying Travis, she became a stepmom to Alabama and Landon.