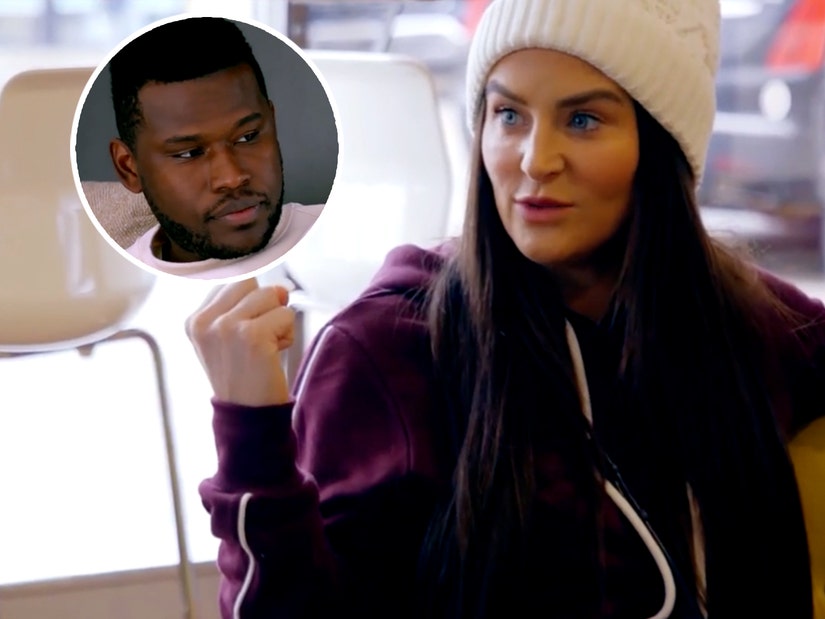 MTV
Though the two exes vowed to stay friends at the top of the episode, Messer pulled a 180 by the end of the hour -- ripping him while saying she never should "have let my guard down."
Leah Messer slammed former fiancé Jaylan Mobley during Wednesday's season premiere of Teen Mom: The Next Chapter, after claiming the two were "in a good place" during the most recent reunion special.
In fact, the pair also started tonight's episode off very civil -- with Leah inviting Jaylan to a birthday bash for twins Ali and Aleeah despite their recent split and Messer herself sharing her hopes for friendship in a confessional at the top of the hour.
"I know a lot of you guys probably saw me and Jay broke up. When we came back from the engagement, things started to unravel, like, 'What the f--- is happening?' and then I just said, 'No, I can't do this. This isn't going to work out for me,'" she shared, vaguely. "It sucks, it hurts, breakups are f---ing hard, but I do hope we can remain friends and eventually find common ground."
Viewers also saw Leah and Jaylan meet up at Messer's home to discuss how they planned to move forward as friends.
"I love you, that's not gonna change, it's just gonna look a little different," she told him. "I know it's hard on you. I thought it would be hard on [the girls], but I think the way we're handling it is allowing us to keep that relationship," he added.
He said he still wanted to be there for Leah's daughters, saying he still had a "huge amount of love" for both Messer and her children. "I don't think that's ever gonna change," he concluded.
But when viewers saw Leah next near the end of the episode, something had clearly shifted.
For context: The pair broke up last October 2022 and were still in the friend zone when she filmed the reunion (video above), which aired in December. But when the final episodes of the previous season aired earlier that month, she began to slam Jaylan on social media -- accusing him of lying about putting her name on a deed he was seen presenting her for a West Virginia home for them to share. At the time, she said that wasn't the reason for their breakup -- and, in the reunion, claimed she "legally ... cannot share" what caused the split.
During tonight's episode, she really only mentioned the deed stuff again.
"On camera in Costa Rica for our proposal, he presented me with a deed that had both of our names on it. Come to find out the deed that he had presented was not that official deed and my name was not on it at all," she shared in a confessional.
While venting to a friend, she also said she was "more empathetic" toward Jaylan in the immediate aftermath of their split, saying she kept things to herself because "I was genuinely in love, 100%" with him. "You know what? That entire year and a half was a facade. That's what I feel like," she added.
She went on to say that her frustrations intensified as the deed moment and the proposal were both shown on MTV toward the end of last season, which is why she began to speak out about some of their alleged issues on social media.
"So seeing that on TV brought emotions I had not yet felt. When things started releasing from the proposal, it just angered me, I felt so much anger," she explained. "When my gut told me not to let my guard down, I shouldn't have let my guard down."
She said she was no longer going to allow him to the girls' b-day bash, saying to her friend, "You cannot show your face at this party. Get the f--- out of here. Get the f--- out of here."
"You weren't trying to do the right thing. If so, you wouldn't have done that. You wouldn't have done that at all," she continued. "It's not just me that's involved, I've got three kids I have to think about as well. So f--- you."
Teen Mom: The Next Chapter airs Wednesdays on MTV.