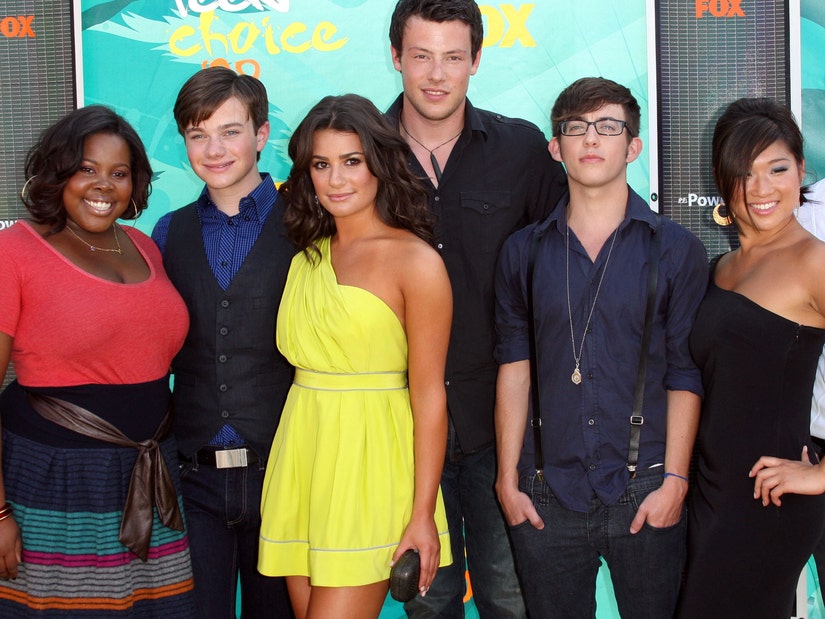 Getty
A game of Spin the Bottle led to the entire cast having to get B-12 shows and antibiotics, according to several of Monteith's costars.
Glee star Cory Monteith once gave the whole cast sinus infections after they all played spin the bottle together, according to several of his former costars.
"At the end of it, we were finally all just a little drunk, and Zach [Woodlee] had finally gotten there, and Darren [Criss] had been jamming with the Warblers, and he finally got there," said Fink, who played Lauren Zizes on the show. "And we're all like, 'Let's all play spin-the-bottle, because we're not grown-ups. We all played spin-the-bottle, and everyone ended up kissing everyone."
Their fun little game took a less-than-desirable turn, however, as Fink revealed Monteith was "Patient zero" for a sinus infection, which led to the rest of the cast getting sick before their UK tour.
"We all flew across the country with a sinus infection," continued Fink. "We had to all land and get B-12 shots and antibiotics because we were sick as s—, because us dumbasses all made out with each other before we had to fly across the country."
McHale revealed he had no idea that Monteith was how "the contagion started," while Ushkowitz didn't remember the incident at all. However, McHale did add the cast played "gender-blind" spin the bottle "all the time."
"That was a very special night," continued McHale. "That was hilarious. I won't say who Cory had to kiss, but I just remember watching his face, and it was so sweet. I remember thinking like, 'I need to lock this in. This is hilarious and wonderful.'"
"We love each other so much, it was like, 'Our friends are so hot,'" he concluded. "And why not?"
Monteith died of an accidental drug overdose in 2013, while the show was still on the air. Despite all the tragedy surrounding the series, both McHale and Ushkowitz have said in the past that they hope to use their podcast to shine a light on the many positive moments they experienced during their time on the Fox series.