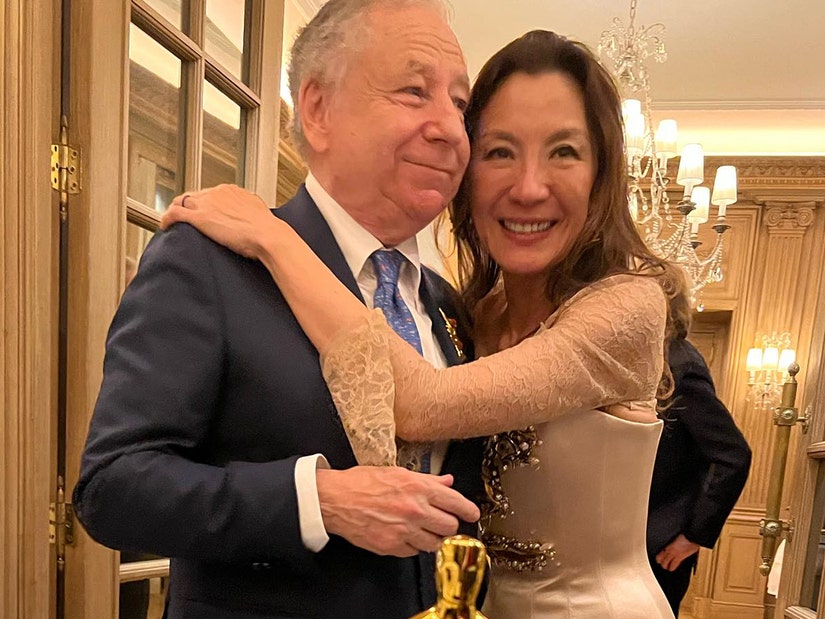 Instagram
The Oscar winner and the ex-Ferrari CEO tied the knot in Geneva, Switzerland after a 19-year engagement.
On Thursday, the actress and her longtime fiancé, ex-Ferrari CEO Jean Todt, tied the knot in Geneva, Switzerland -- after a 19-year and 6992-day engagement.
Waiting for your permission to load the Instagram Media.
Yeoh, 60, confirmed the exciting news on Saturday, sharing a carousel of photos from the nuptials on Instagram.
"19 years and YES!! we are married!! Thkq to our 'families' ❤️ who love us for all these years," she captioned her post. "We love you and here's to many more to come ❤️✨❤️✨✨."
Among the sweet shots the Oscar winner shared from the wedding was a photo of herself smiling while putting a ring on Todt's finger.
Meanwhile, former Brazilian racing driver Felipe Massa -- who was a guest at the wedding -- posted a series of photos from the ceremony on Instagram on Thursday, including a shot of the program.
"We met in Shanghai on 4th June 2004," the program read. "On 26th July 2004, J.T proposed to marry M.Y and she said YES!"
"Today after 6992 days on 27th July 2023 in Geneva, surrounded by loving family and friends, we are so happy to celebrate this special moment together!"
As shown in Massa's photos from the affair, Yeoh wore two bridal ensembles. In one look, the Crazy Rich Asians actress donned a cream silk shirt and matching cream ruffled midi skirt, while she stunned in an off-white lace dress with a silk corset bodice in the other.
Waiting for your permission to load the Instagram Media.
Todt, 77, meanwhile, wore a dark blue suit and a printed light blue tie.
And there was an unexpected guest at the wedding: Yeoh's Oscar. The statuette can be seen in a few of Massa's photos, including one shot of the ex-Ferrari Formula 1 driver posing with the Everything Everywhere All at Once star and her husband.
The award also made an appearance in a sweet photo of the newlyweds, who were all smiles as they posed for a picture alongside their wedding cake, with Yeoh's Oscar placed beside it.
Massa, 42, captioned his post, "Happy marriage #JeanTodt & #michelleyeoh love you so much . ❤️."
Check out the photos from Yeoh and Todt's nuptials in the post, above!
The wedding marks the second huge milestone Yeoh has reached this year.
The Malaysian-born actress made history at the 2023 Oscars in March after she took home the award for Best Actress for her performance in Everything Everywhere All at Once, becoming the first actress of Asian descent to win an Oscar in the Best Actress category.
Yeoh -- who was presented the award by Jessica Chastain and Halle Berry -- was visibly emotional as she took the stage to accept her Oscar.
"For all the little boys and girls who look like me watching tonight, this is a beacon of hope and possibilities," she said. "This is proof that dream big and dreams do come true. And ladies, don't let anybody tell you you are ever past your prime. Never give up."
She went to thank A24, her cast and crew, and her family, including her mom, to whom she dedicated her Oscar.
"I have to dedicate this to my mom -- all the moms in the world -- because they are really the superheroes, and without them, none of us would be here tonight," Yeoh said. "She's 84, and I'm taking this home to her. She's watching right now in Malaysia ... with my family and friends. I love you guys, I'm bringing this home to you, and also to my extended family in Hong Kong, where I started my career, thank you for letting me stand on your shoulders, giving me a leg up so that I could be here today."
"Thank you to the Academy, this is history in the making," she concluded. "Thank you!"