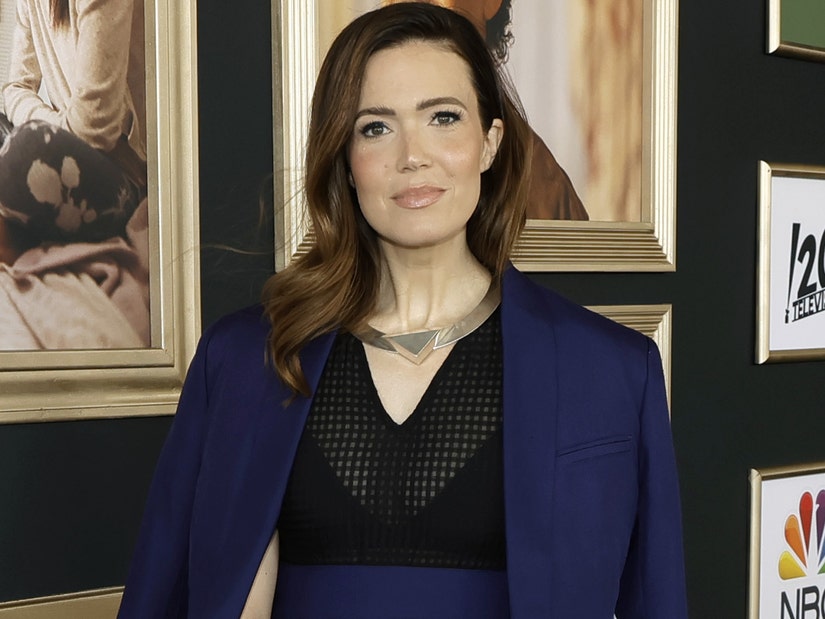 Getty
The actress -- who shares son Gus and 9-month-old son Oscar with husband Taylor Goldsmith -- detailed the health scare, and praised her son for being a "rockstar."
Mandy Moore has revealed her son Gus has been diagnosed with Gianotti-Crosti syndrome after he "woke up with a crazy rash" last week.
On Friday, the actress shared a series of posts on her Instagram Stories, in which she detailed the health scare, and praised her 2-year-old son for being a "rockstar" throughout the whole ordeal.
Alongside a photo of Gus with a lollipop, Moore wrote, "This sweet boy woke up with a crazy rash on Saturday am. We thought maybe an [eczema] flare? Poison oak? Allergy."
"We tried to deduce what it could be and did anything to help him find relief from the itch," she continued. "We went to the urgent care. Pediatrician. Dermatologist. Pediatric dermatologist."
The This Is Us star added, "All the while, he smiles and laughs and carries on with his day like the rockstar he is."
In a follow-up post, Moore -- who shares Gus with husband Taylor Goldsmith -- posted a photo of her son's legs, which were covered with red bumps, before revealing that doctors determine Gus has Gianotti-Crosti syndrome.
"Turns out it's a viral childhood rash that just spontaneously appears called Gianotti-Crosti syndrome," she wrote. "It sometimes accompanies a cold but not in Gus's case. It's all over his legs and feet (ouch) and the backs of his arms but nowhere else."
The Walk to Remember star said "there's nothing to do" to treat Gus' rash aside from applying steroid cream and taking Benadryl in the evening. She added that her son's rash "could last 6-8 weeks," before asking if other moms have been through a similar experience.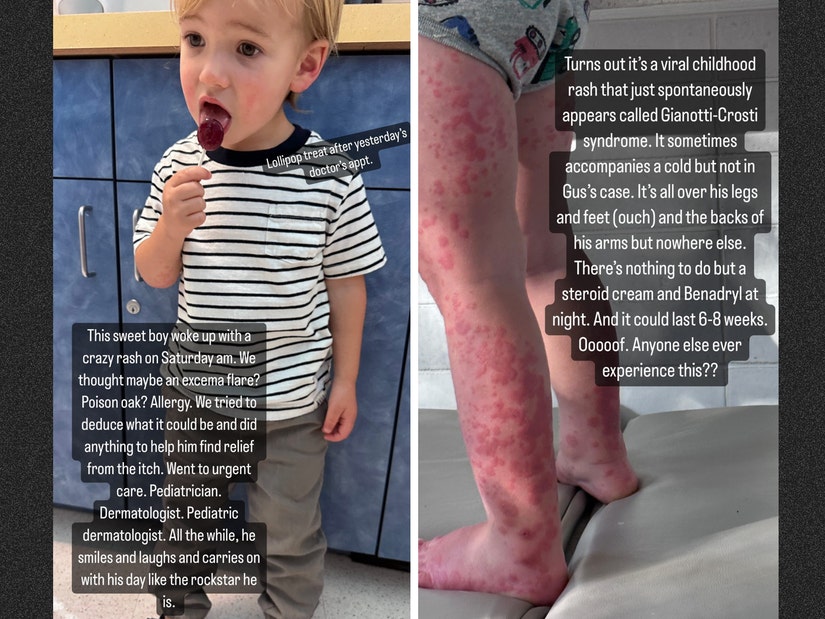 Instagram
According to WebMD, Gianotti-Crosti syndrome -- also called "papular acrodermatitis of childhood" -- mostly affects young children, and is often triggered by a virus. WebMD noted that it's "very common and doesn't have long lasting effects, but it can be alarming when it appears on your child's skin."
Meanwhile, Moore shared another post on her Stories, reflecting on what it was like going through the experience as a mother.
"All of that to say, this parenting thing is weird and hard and sometimes you feel so helpless (and yes I'm ever so grateful it's only an itchy skin condition),'" she wrote alongside a photo of Gus on a swing. "Kids are resilient and as long as he's smiling through it, we are a-okay."
Gus is Moore and Goldsmith's first child. The couple also shares son Oscar aka "Ozzie," whom they welcomed in October.