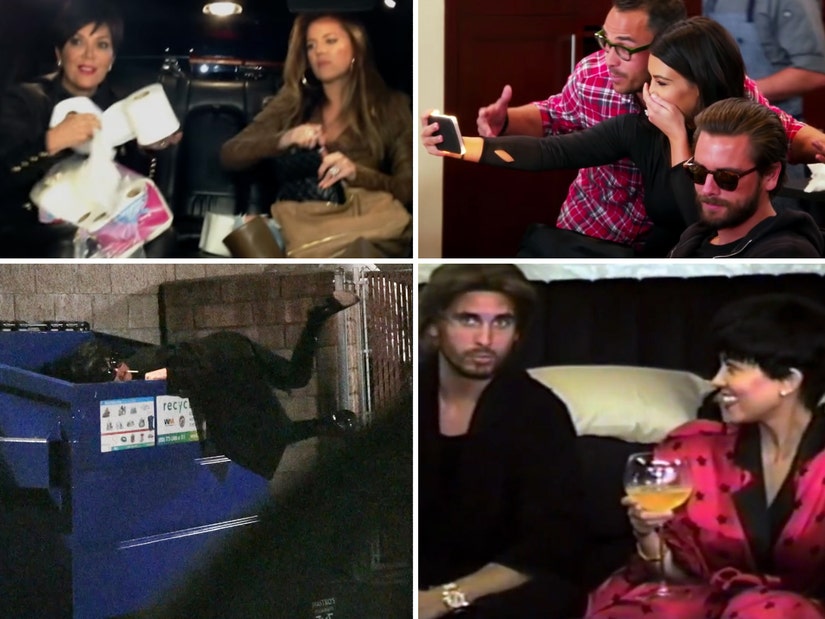 E!
From Art Vandelay to Todd Kraines, the Kardashians love a good prank!
The Kardashians' reality shows may focus on their lavish lifestyles and major business ventures -- but it also showcases that they've got a great sense of humor too.
Through the years, the KarJenners have been known to take part in a prank or two, all documented while the cameras were rolling. While the practical jokes don't always go over well with the other family members, it does make for some funny moments that will go down in Kardashian history.
Look back on the best pranks from the Kardashians…
When Kim announced she was going to be the Bachelorette
During the most recent season of "The Kardashians," Kim tried to prank her family by telling them that she had agreed to be the next star of "The Bachelorette." Her entire family was skeptical though, including her "momager" Kris, who was sure she would have been a part of such a big decision.
Kim took things a step further though because she got Disney executive Rob Mills involved. When Kris called Rob to see if Kim was telling the truth, he covered for her, explaining how it would be a great opportunity. Kim finally came clean -- and everyone was pretty relieved.
When Scott pretended to be family friend Todd Kraines
One of the longest running pranks on "Keeping Up With The Kardashians" was Scott's impersonation of family friend Todd Kraines. Kourtney and her sisters would have Scott call their mom Kris at random times claiming to be Todd -- whose parents were good friends with Kris and the late Robert Kardashian. The prank went on for six months, with the girls even sending Kris flowers, claiming to be from Todd. It turns out Todd wasn't even in on the prank, which he says was "unnerving" at the time.
"When it was going on, I had no idea, and the fact that Kris was calling me, 'Is this you? Are you doing this?' I'm like, what are you talking about?" he later told Bustle. "I got kind of nervous, because it kept going on for six months. I was like, do we need to call the feds? What guy is using my name?"
When Khloé tricked Kris into buying art based off a Seinfeld joke
When Khloé thought Kris was getting a little snobby about her taste in art, she decided to prank her by pretending to be a fake up-and-coming artist named Art Vandelay -- a direct rip-off of an ongoing joke in beloved sitcom Seinfeld (see an Art Vandelay greatest hits reel below).
Khloé started painting her own works of art to try and convince her mom that she needed to buy a piece. Kris loved them so much, she decided to hang them in her entryway. Khloé and Scott even later hired an actor to pretend to be Art and brought Kris to a gallery to meet him -- George Costanza would be proud!
When Khloé dressed up as Kris to take fake paparazzi photos
Khloé and Scott once again teamed up to prank Kris when they staged fake paparazzi photos. Khloé got dressed up like her mom and Scott snapped photos of her dumpster diving -- and then had their public relations team leak the snaps. The pair tried to convince Kris that it was actually her in the photos and she was too drunk to remember.
Kris ultimately got back at Scott by letting him overhear a conversation where she said she was checking into rehab because she was so concerned she didn't remember the dumpster diving. Scott freaked out until Kris walked into the room moments later to tell him she was giving him a taste of his own medicine.
When Kris and Khloé TP'ed Kim's House
Kris teamed up with prank queen Khloé to have some fun with Kim. The mother-daughter duo headed out for a night on the town and after getting a little tipsy, Kris decided the pair should TP Kim's house. They loaded up on toilet paper and silly string at the drug store and then headed to Kim's place -- which Kim definitely wasn't happy about.
When Scott and Kourtney tried to recreate one of Caitlyn and Kris' sex tapes
In one of Scott and Kourtney's stranger pranks, they decided to film a sex tape dressed as Caitlyn and Kris back in the '80s. Kourtney explained that she wanted to get Caitlyn back for how judgmental she could be. They then tried to convince the couple that the sex tape was actually them -- and Caitlyn definitely freaked out. Kourtney finally came clean and Caitlyn said she learned her lesson.
When Rob and Malika Haqq pretended to date
Back when Rob was a more frequent guest on "Keeping Up With The Kardashians," he got in on a prank with Khloé's BFF Malika Haqq. At the time, Rob and Malika were both single and spent a lot of time together -- so Khloé constantly teased them about their relationship. After a dinner where Khloé took things a little too far, Rob and Malika pretended to actually date just to annoy Khloé.
When Kendall and Kylie went missing on vacation in Thailand
Back when Kendall and Kylie were just preteens, they gave their family a scare by going "missing" while they were on vacation in Thailand. No one could find the sisters for quite some time, when in reality they had just headed to the town for a massage because their parents were annoying them. The family searched all over the city and the duo eventually texted Khloé photos of their location. After a wild chase, Khloé and Kim finally found them.
When Kris convinced Kim and Khloé to buy her presents for no reason
In an ongoing prank, Kris convinced Kim and Khloé to continually buy her gifts for no reason. She told her daughters that Kylie had been buying her gifts and the sisters immediately wanted to compete with their younger sister to buy better presents. The prank went on for a while but when Kim and Khloé found out, they knew they had to get Kris back. They purchased her favorite cake and pretended it was another gift but then ended up throwing it on her head to get revenge.
When Kim and Kylie told Kris that Kourtney was "poisoning" her
On a day when Kris was feeling under the weather, Kim and Kylie decided to place the blame on Kourtney. They sisters gave their mom a call and told her that Kourtney had secretly been putting new organic drops in her water that were poisonous. Kris totally believed them but they quickly told her it was a joke.