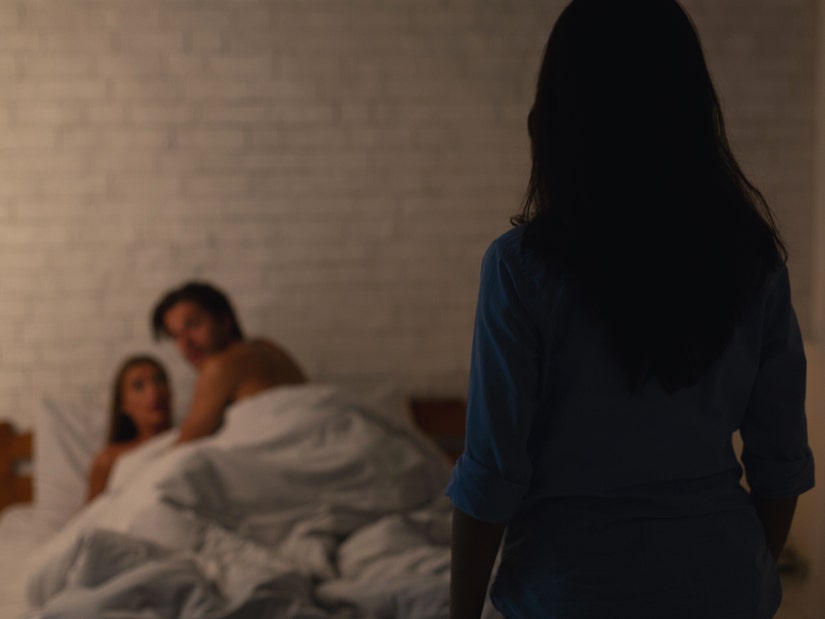 Getty
From extravagant gifts to her sister's phone number listed as "Steve" in his contacts to recently feeling drowsy out of nowhere after her "husband was pushing" her to increase her life insurance policy ... this terrified mother asked the internet for help
A woman who has been married for five years asked the internet for help after she grew suspicious her husband had been cheating on her with her sister.
The wild tale -- that reads like the first chapter of a true crime bestseller -- is impossible to verify as it was posted to an anonymous online forum. However, the chilling details in the request for advice certainly had thousands of Redditors riveted, particularly the final sentences in her post voicing fears for her own safety.
The initial clues included an extravagant gift, hushed conversations she stumbled upon between her sister and her husband, and accidentally overhearing a call that was still connected via bluetooth to her car.
While some of the commenters were giving advice on how to catch her husband in the apparent lies, others were more concerned with her immediate safety.
Read on to see what you think of the tale -- and the hasty update she made to the post that very same day.
"I think my husband is cheating on me with my sister"
"Hey guys, as the title states, I have a hunch that my husband of 5 years and sister are having an affair.
"The first time I felt it was last year during xmas, when we were exchanging gifts my sister looked extra happy/excited to give her gift to him, to my surprise it was a freaking Macbook Pro and I was like... that's a couple a thousand bucks. Later that night I was putting away dishes and I heard them murmuring in the kitchen, when I entered they hushed right away and looked flustered and started doing random stuff like putting away dirty dishes. Nothing really happened after this UNTIL yesterday so I just shrugged that whole thing off.
"Yesterday I was waiting for my husband in the car at Walmart because we really needed a new car seat for our daughter. As he left he made a phone call and it was for a moment, still connected to the bluetooth. The name that popped up on the screen was 'Steve' but I recognized the phone number. My heart dropped because that was my sisters number. When he got back I was like who were you talking on the phone with? And he said it was his boss, but his boss' name is Devon.
"I feel like I'm numb right now, I don't wanna make assumptions but I don't really know what to make of this?? I've just been doing errands all of today, I feel like I'm on autopilot/numb. How do I confront him? How can I confirm if I'm just not overthinking?
"I watch a looooot of true crime about husbands killing their wives for life insurance, and now I'm overthinking the fact that we just increased my life insurance policy literally a few months ago, my husband was pushing me to do it because apparently I make more money now and we need to make sure our daughter is taken care of if anything happens. I'm also overthinking the fact that I'm always feeling drowsy really often.
"Will really appreciate some input (am I overthinking?)"
"A little too soon for an update," the woman wrote that same day, "but I'm so overwhelmed by the genuine advice and support from all of you. I've probably cried for about half the day today, my husband will be home shortly and to be honest I don't know how I'm going to explain my puffy eyes away."
"I've done lots of research today, but I need to digest everything and plan my move carefully. I've pretty much settled on the assumption that they are indeed cheating because I've accessed the phone records and to me, it told me all I needed to know. I'll try to update you guys when I can, but again thank you so much for all the advice and support, please know that I am not taking any of your suggestions lightly."
However, she quickly backs away from the True Crime narrative
In response to a commenter, the woman went on to clarify that the life insurance angle was most likely the result of paranoia surrounding an already difficult situation and likely not plausible.
"My husband has always been a good father and treats me right, does anything I ask him to do and takes care of me, which is why I can't wrap my head around something like this happening," she wrote. "My sister is also a really good person, so I don't think they will ever kill me but the life insurance thing is just at the back of my head bothering me. The payout is 1 million upon accidental death. Even today he noticed I've been acting a bit off, I just can't look him in the eye.."
She also pointed out, "My sister and I have always been really close, she babysits my daughter all the time."
But she did say she was still certain of some form of infidelity, "If my gut is correct I think they are going to deny it... so I'm trying to collect my thoughts and try to get actual evidence or look through my husbands phone."
Most of the commenters believed she was right in being suspicious of an affair but were less certain she had anything to fear when it came to the life insurance policy.
However, many of the Redditors did advise her to hire a private investigator if she was truly concerned about infidelity.