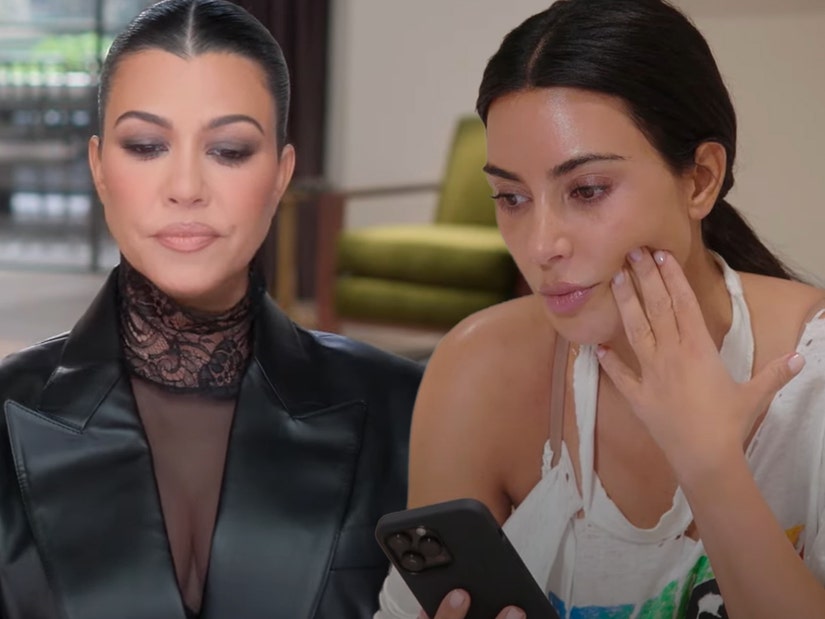 Hulu / YouTube
The season 4 trailer also sees Kourtney confront Tristan, telling the basketball star, "I don't think you deserve Khloé."
No one fights quite like sisters!
The teaser kicks off with the battling siblings sitting side by side for a joint confessional.
Calling the moment "awkward," fans are taken through another bout of uncomfortable moments for the eldest of the Kardashian clan, as a now-pregnant Kourtney battles Kim over her place in the family, shady brand deals and more.
"It's been a lot of tension," Kim says, to which Kourtney responds, "It's really hard to watch people talking about you."
She adds, "I don't feel understood."
It seems Kim may not be understanding Kourtney either, with SKIMS founder questioning whether or not her newly married sister is even happy at all.
"Are you happy? You're a different person. You hate us. We all talk about it," Kim says in a passionate phone call to Kourtney.
"You're like, adding it into a fight to like, have a side," Kourtney shoots back.
At the root of it, Kim suspects, is a big mis-understanding between the pair.
"I think you think things, so you're getting riled up," Kim offers. "I think things so I'm getting riled up."
But for Kourtney, it's much more than that. "You're just a witch... and I hate you," Kourtney says through tears.
Elsewhere in the trailer, Khloé Kardashian's complicated relationship with her ex and the father of her children, Tristan Thompson, is still a point of contention.
With Khloé feeling like some are showing too much empathy for the basketball star following years of infidelity towards the mother of two -- particularly mom Kris Jenner -- Kourtney is doing the opposite, and calls out Thompson for continuing to hurt her younger sister.
"I don't think you deserve Khloé," Kourtney tells Thompson.
See it all go down when Season 4 of The Kardashians premieres September 28 on Hulu.