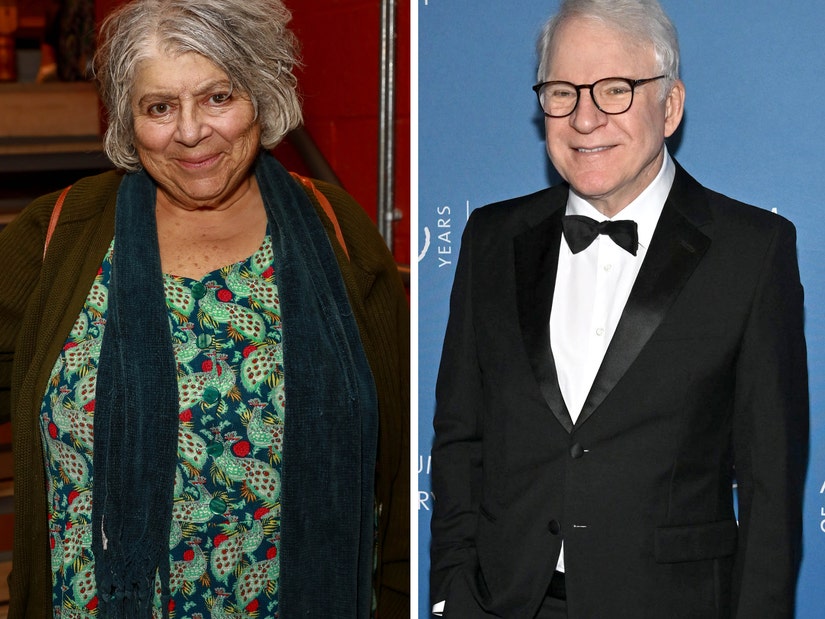 Getty
"Perhaps he was method acting -- and [I] came home grumpy with a splitting headache," the actress writes in her new memoir.
In her new memoir, Oh Miriam! Stories from an Extraordinary Life, per The Independent, the 82-year-old actress claimed Martin was "horrid," "unlovely and unapologetic" to her on the set of the Frank Oz film, in which Martin starred as dentist Orin Scrivello, and Margolyes played one of his assistants.
The two appeared together in the musical number, "Dentist." During the scene, Martin's character punches Margolyes in the face, and later slams the door on her.
"I was hit all day by doors opening in my face; repeatedly punched, slapped and knocked down by an unlovely and unapologetic Steve Martin," Margolyes wrote in her memoir. "Perhaps he was method acting -- and [I] came home grumpy with a splitting headache."
"Let it not be said that I have never suffered in the name of art," she continued, adding that the actor was "undeniably brilliant, but horrid to me."
TooFab has reached out to Martin's reps for comment, but has yet to hear back.
While she wasn't a fan of working with Martin, Margolyes only had good things to say about her experience sharing the screen with another Steve: Steve Buscemi, with whom she starred in the 1993 film, Ed And His Dead Mother.
"Steve Buscemi is a brilliant actor and we had a delightful rapport," she wrote, per Variety. For somebody who's being terrorized by me in the form of a murderous living corpse, he was unerringly sweet -- knocked spots off Steve Martin."
Margolyes has previously opened up about her unpleasant experiences working with certain actors in the industry.
During a July 2022 interview on Australia's I've Got News For You podcast, the Harry Potter actress was asked to name one A-list celebrity she "didn't enjoy working with" throughout her nearly 60-year career. Margolyes named her End of Days costar Arnold Schwarzenegger.
"Yeah, didn't care for him. He's a bit too full of himself, and I don't care for him at all," she said. "He's a Republican, which I don't like, and he was actually quite rude."
"He farted in my face. Now, I fart, of course I do, but I don't fart in people's faces. He did it deliberately, right in my face," she continued, claiming it happened while they were filming the 1999 action-horror movie.
"I can't remember the date, but it was during the filming of End of Days in Los Angeles and I was playing Satan's sister, and he was killing me, so he had me in a position where I couldn't escape, lying on the floor," Margolyes said. "And he just farted. It wasn't on film, it was in one of the pauses, but I haven't forgiven him for it."
Meanwhile, Margolyes has previously spoken about her dislike of John Cleese on multiple occasions after the two shared the stage together while attending Cambridge in the 60s, claiming he was "vicious" towards her.
In a recent interview with The Guardian, Margolyes recalled her experience working with Cleese once again, calling him "poisonous."
"John was a brilliant comedian in his day, but something has turned," she said. "Like milk, he's gone sour. He's an irrelevance."
"Cleese is a puny tadpole of a person," she added.
Oh Miriam! Stories from an Extraordinary Life is available now in the UK. It's set to be released in the US in January 2024.