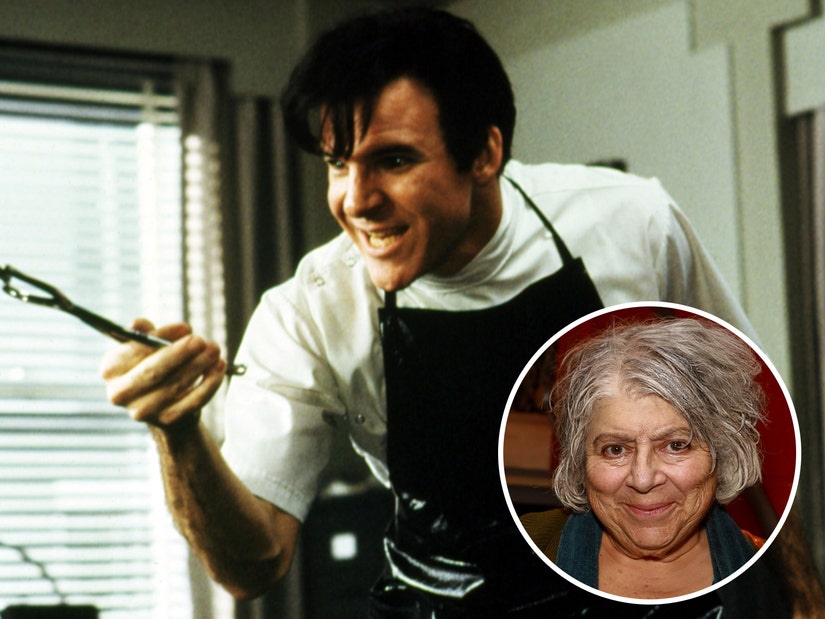 Everett Collection/Getty
"I have to object," said Martin, while addressing Margolyes' suggestion that she was physically harmed while shooting their scene.
In the movie musical, Martin starred as dentist Orin Scrivello, and Margolyes played one of his assistants. The two appeared together in the musical number, "Dentist." During the scene, Martin's character punches Margolyes in the face, and later slams the door on her.
"I was hit all day by doors opening in my face; repeatedly punched, slapped and knocked down by an unlovely and unapologetic Steve Martin," Margolyes wrote in her memoir. "Perhaps he was method acting -- and [I] came home grumpy with a splitting headache."
"Let it not be said that I have never suffered in the name of art," she continued, adding that the actor was "undeniably brilliant, but horrid to me."
In a statement to TooFab, Martin addressed Margolyes' claims, admitting that he was "surprised" by her recollection of events.
"When I first read Miriam Margolyes' pejorative account of our scene in Little Shop of Horrors, I was surprised," he said. "My memory is that we had a good communication as professional actors."
The 78-year-old actor said he took issue with Margolyes' suggestion that she got hurt during filming, claiming that there was "never any physical contact" between them.
"But when it is implied that I harmed her or was in some way careless about doing the stunts, I have to object," he said. "I remember taking EXTREME caution regarding the fake punch – the same caution I would use with any similar scene. She assured me she felt fine, and we did a few successful takes and stopped. There was never any physical contact between her and me, accidental or otherwise, in this scene or any other we shot."
Martin concluded, "Also on the set, keeping their eyes on the action, was the highly skilled and sensitive director, Frank Oz, a stunt coordinator, a camera crew, a script supervisor, as well as extras who witnessed the entire, very-well rehearsed scene."
Meanwhile, Oz also issued a statement, in which he echoed Martin's comments and backed up his account.
"I always rehearse physical actions in slow motion. The scene was supposed to include a fake punch," he said. "It's puzzling what she's talking about. It's not the Steve I know or anyone knows. He's always been professional and respectful of everyone on all of my shoots."