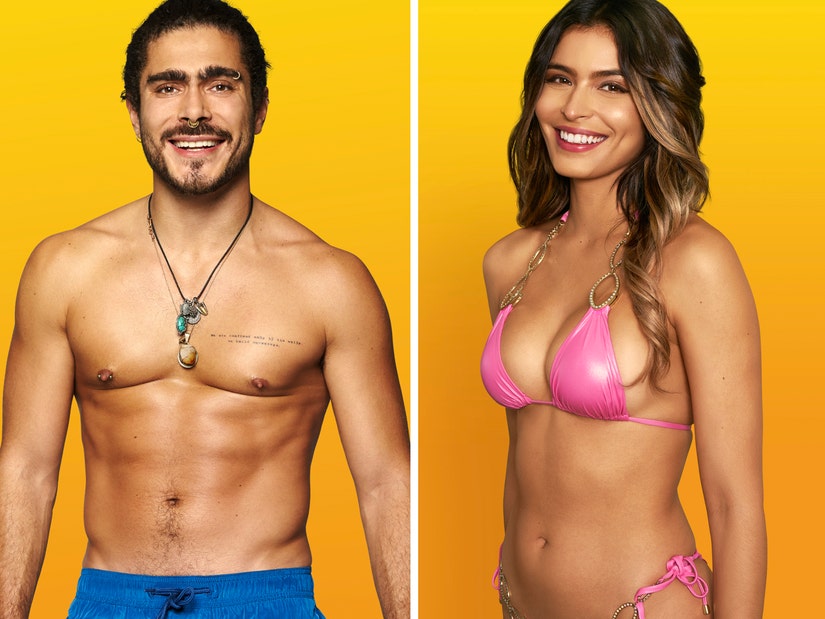 MTV
"I saw so many penises and I wasn't even doing anything! They were just, like, naked," said FBoy Island winner Tamaris, while Acapulco Shore star Xavier described the finale of the competition as "crazy" and "ridiculous."
All Star Shore is back for Season 2 -- and the Shore is hotter than ever. Or shall we say caliente?
In an interview with TooFab, FBoy Island winner Tamaris Sepulveda and Acapulco Shore star Xavier Ulibarri spilled many details about the new season, including the wild parties, steamy hookups, and their costar, Jersey Shore's Vinny Guadagnino.
Per MTV, Season 2 -- which is narrated by Jersey Shore Family Vacation's Nicole "Snooki" Polizzi -- follows 12 reality stars from several TV series, including Jersey Shore, Geordie Shore, Germany Shore, Acapulco Shore, Rio Shore, FBoy Island and Too Hot To Handle "as they come together for an epic vacation at the ultimate shore house on an island off of Cartagena, Colombia to battle it out over a variety of epic party-style challenges for a chance to win $150,000 and global bragging rights."
In the first episode, which premiered on Thursday, there were some sparks flying between Tamaris and Vinny after the two were randomly selected as partners following the first game.
When asked about her first impression of Vinny and if he lived up to his reputation as an MTV reality show veteran, Tamaris told TooFab, "I say this with all respect, but Vinny, every single second, he would tell us about all the shows he's been on, which I thought was f--king hilarious."
"And towards the end I would make fun of him," she added. "'So, when I was on Dancing [with] the Stars and this, this and that.' And I'm just like, 'Oh my God, Vinny, we get it! You've been in this industry for 15-plus years, but you know, hang it up a little bit. Boy, hang it up."
Xavier chimed in, saying that Vinny was "sweet," before noting that he would continue to intentionally bother the Jersey Shore Family Vacation star "throughout the whole season."
When it comes to their other fellow competitors, Xavier said there were "quite a few" people who surprised him or were different from how he expected them to be.
"I mean [in] the beginning, it's all sweet because the competition's not that serious or intense at the beginning," he shared. "So everyone's being sweet to each other. I mean, obviously, there's a few people who weren't sweet to each other since the beginning, but as the season goes on, you start to understand how conniving people can be and how everyone's just there for their own interests. So I think, I don't know, I think everyone in their own way will surprise you at one point or the other. For sure, including myself."
Tamaris said the season is an "emotional rollercoaster," telling TooFab that "you just don't know what's gonna happen next or who is gonna be friends," before noting that there was a "culture clash in the beginning" as the show includes several international stars.
The pair also got candid about the hookups that went down in the Cartagena shore house, including sharing some NSFW details.
"I just can't tell you what happens, but like, there's definitely some hookups. There's definitely some spices. There's definitely some people that don't wanna kiss other people in the show," Tamaris said, starting to tease more, before Xavier jokingly said to "keep it to yourself."
"I'm just gonna say this," Tamaris added. "I saw so many penises and I wasn't even doing anything! They were just, like, naked. ... I saw too many."
Tamaris and Xavier also opened up about the crazy partying that went down in the shore house, including how they fared participating in physical challenges the day after a rager.
"It was so hot out there, to be honest," Xavier said of Cartagena. "You would just sweat it out the next day. Like, it was so f--king hot. It was always sunny and boiling, and I mean, we were by the seaside, which kind of helped. But yeah, no, there were definitely some days that we were like, how the f--k are we gonna do this today? Especially near the end. It was getting ridiculous."
Unlike many of the Shore franchise stars, Tamaris said she wasn't really a "big drinker" before the show or even at the beginning of All Star Shore, but that very much changed by the time the show ended.
"This is what happens when you party with us!" Xavier joked, before Tamaris added that she "definitely get[s] it now," shouting out her obsession with lychee martinis.
So ... which show parties the hardest?
"Any Shore!" Tamaris said. "It doesn't matter if it's Jersey Shore, Acapulco Shore, Poland Shore ... They party so hard. I honestly, I can't compete!
"No, I think it's Acapulco Shore," Xavier quipped. "Come on, let's face it. I mean, we're Mexican. We made tequila. It's obviously us!"
Elsewhere, the two also shared their thoughts on the shore house member who won it all -- without spoiling anything -- and left Cartagena $150,000 richer, revealing whether they thought the person deserved their victory.
"I definitely think whoever won -- I'm not gonna tell you -- deserved it," Xavier told TooFab. "I mean, I think in the end, you can't plan it. I think any of us would deserve it. ... At the end of the day, you would never know because you could [have] -- with your shore score -- really high points, at one point, and then suddenly you just go to the bottom again. So it really was a gamble ... everybody tried to be very strategic on how they would reach to the top and stay there, but at the end of the day, you just, you never knew what could happen."
"You'll see, especially near the end of the show, it gets so crazy," he continued. "And some of the people that you'd expect to be in the final won't even make it there. And yeah, it just gets ridiculous."
While Xavier said it was "meant to be" how the competition ended, Tamaris didn't appear as thrilled, suggesting that some serious drama went down.
"I wouldn't say that they don't deserve it," she said. "I would say the way that it ended, and the way that it was [in the] last 10 minutes of filming, and something transpired [and] an agreement was set prior to that, and then stuff was broken."
"You just never know," she added. "You can't trust anyone. It's a competition at the end of the day. And I think I took it a little bit hard at the end, but yeah, it's a competition."
Tamaris said she "couldn't believe" how the show ended, adding that viewers are "not gonna see it coming," while Xavier laughed, teasing that "it's so funny" and fans are "gonna laugh very hard."
Ultimately, Tamaris and Xavier both expressed their desire for a Season 2 reunion. "I want to hear people talk," Tamaris said. (Your move, MTV!)
Meanwhile, TooFab has an exclusive look at what's to come for the rest of the season of All Star Shore. The clip teases major drama and blowouts between contestants, some crazy competitions, hilarious antics, and of course, more sexy moments!
Check out the preview -- in addition to more from Tamaris and Xavier -- in the videos, above!
All Star Shore premieres on Thursday, September 21 at 9 p.m. ET. New episodes air every Thursday.