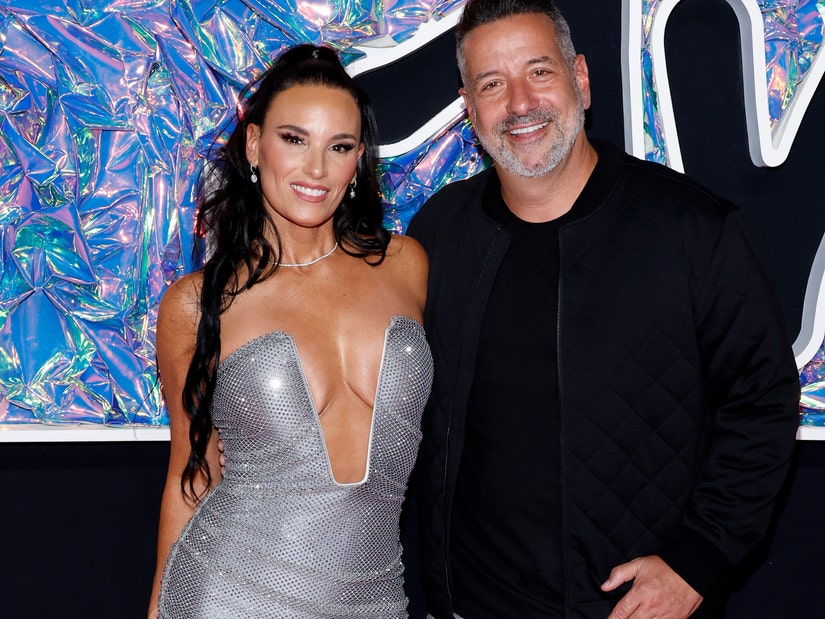 Getty
Heidi's time competing on DWTS led to talks with Marc about separating and tension among the family as a whole.
Marc and Heidi D'Amelio are opening up about the Dancing With the Stars drama that nearly ended their marriage.
TooFab spoke to the couple ahead of the season three premiere of their Hulu reality TV series, The D'Amelio Show, where they shared how they got past it and revealed where they stand today.
"I think what we didn't realize was how coming to L.A. as a family, all four of us, just how close we are, how dependent we are on each other," Marc began before sharing how trying it was to have both Heidi and their daughter Charli D'Amelio, who went on to win the competition series, "inaccessible" to the family.
He continued, "They were super driven to go as far as they could... no one came to us and told us, 'Hey, this going to turn your life upside down,' and I think for us, who are so close... it definitely affected me in a way.'"
There were contributing factors to Marc's feeling of loneliness at that time, with the business owner detailing on the show just how tough things got, as arguments broke out almost nightly with him and Heidi while she was on DWTS, leading to talks of a separation and tension amongst the family as a whole.
"I've had time to reflect on it, and I think leaving the East Coast and being put in California, with not having my friends and family, and all of a sudden having Charli and Heidi be not accessible for a long period of time was definitely trying on me, but I think there's a positive to it," Marc explained.
He added, "They were missed. If Heidi was busy for 10 weeks and I didn't care, I think that would be a bigger issue."
Heidi saw the opportunity as one of the first times she was able to do something for herself, sharing in the series that for once, she wasn't just Charli and Dixie D'Amelio's mom, or Marc's wife, she was just Heidi.
While having the spotlight on her caused some drama for the D'Amelio family, it was empowering for its matriarch, with Heidi telling TooFab, it was both "hard" and "emotional."
"It was really hard. I almost quit four days before the first show, 'cause I just didn't -- at that point we were doing interviews and they were asking me all these questions about me," Heidi shared. "It went from zero to a hundred."
She continued, "I was used to being in this supportive role of like, the family and 'how could I help get you guys where you want to be, 'cause I'm good back here,' and it just wasn't like that. It was really hard and it was really emotional."
Heidi stuck it out though, placing eighth on the dancing competition series. The experience, ultimately, contributed to her growth, not only as a person, but as mom and wife too.
"I just grew so much, because time is not on your side during Dancing With the Stars, so every day was something, and it was pushing me," the mother of two explained. "Something that probably would've taken years to get to, I got in 10 weeks or so... it was hard and it was great, and we went through a tough time, but I came out of that... I felt like such a better person."
She continued, "I learned how to communicate a lot more. So, when Charli and I got back to our family after being on Dancing With the Stars, I felt like I had so much more to give to the family and wanted to be an equal part of this family."
"It sort of unlocked this lane of our relationship that we really didn't have before," Heidi added. "So, it's been really, really good."
Marc wasn't the only one who struggled while Charli and Heidi were on DWTS, the couple's eldest daughter Dixie did as well, with the TikTok star telling TooFab that while it's something she doesn't want to go through again, it turned out to be a great learning experience for the foursome.
"I think over these past few months, we have gotten very close as a family," Dixie, whose conversation with her dad over the drama is teased this season, said. "It's difficult because it was something we've never gone through and expected to go through, just such a difficult time as a family, because that was just our core, we were always so good."
She continued, "Obviously something I wouldn't want to go through again, but I do think it gave us a lot of lessons that we can go into every relationship with."
And Marc agrees, telling TooFab that the family is "absolutely" in a better place as a result.
"This tested us," he said. "And also, it was a wake up call to all of us about how much we depend on each other and how much we love each other."
Marc added, "I think now, issues that come up that maybe a year ago would've been a big deal, are not that big of deal anymore, and we work right through them. So, I think it was a blessing in disguise."
Season 3 of The D'Amelio Show premiered September 20, with new episodes dropping Wednesdays on Hulu.