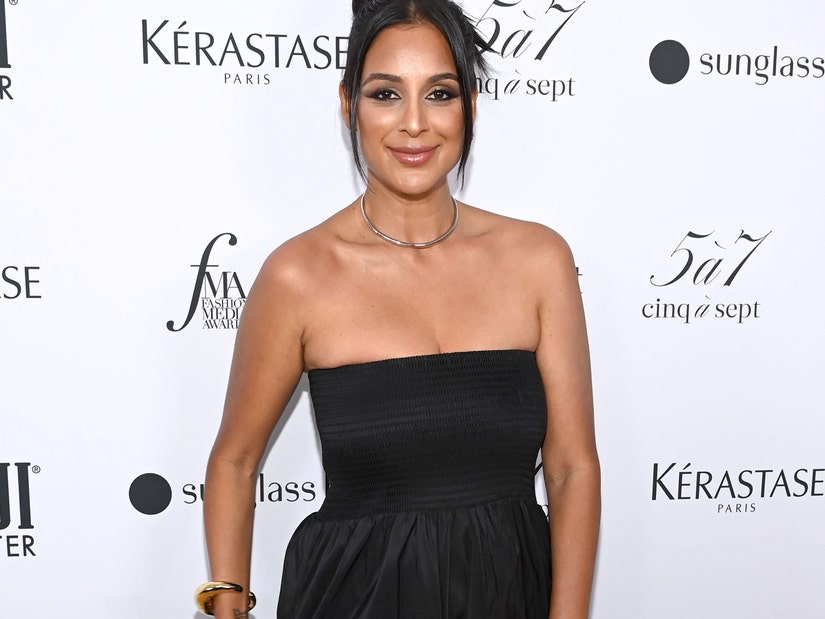 Getty
"I will always start by that, because it informs my identity. It informs the color of my skin."
Jessel Taank is setting the record straight about her background.
TooFab spoke to The Real Housewives of New York star about her inaugural season on the revamped series, and the pressures to "open up," as this new group of New Yorkers get to know each other.
While Taank shared both her background and tidbits about her personal life -- including her marriage and IVF journey -- she was met with backlash from much of the cast who questioned her story and made jabs at her behind the scenes.
"It really was very confusing, and I guess I should start by saying, I'm the type of person that, I'll open up freely and openly if I feel like it's a safe environment to do so," Taank began before detailing the tense moment where things took a turn during the group's trip to Anguilla.
She continued, "I think you see them sort of picking apart at Jenna [Lyons] during that first dinner in Anguilla. Then they asked me about my background, right after that, and I just kind of felt myself tensing up a bit, because I just didn't feel very comfortable in that moment."
Admittedly, Taank said she finds it hard talking about herself, and while she's forced to -- and now in a very public way on the series -- she felt like her castmates were looking for holes in her story, no matter what came out of her mouth.
"I really am very proud of my background, and I will always, as a daughter of an immigrant, share how or where my parents came from. Which is what I did, but it obviously didn't resonate," Taank, who is the first Indian Housewife in the franchise's history, added. "I will always start by that, because it informs my identity. It informs the color of my skin."
Taank's lineage is a layered one. While she was born in England, the fashion entrepreneur boasts Indian heritage. Furthermore, her parents are from East Africa. While they are Indian by ethnicity, they lived and worked in Kenya until a political uprising forced them out and into the U.K.
"For me, it was really kind of an important story to tell, and I don't know why it was not received that well," she continued.
Part of the issue, Taank believes, is that the cast thought she was comparing her upbringing to that of castmates, Sai de Silva and Brynn Whitfield, who have each detailed traumatic childhoods when sharing their stories on the show.
"That was not the case at all," Taank assured. "How I grew up, and let me just be clear, they really worked really hard to give us a roof over our heads, and we never didn't have anything that we needed, but it was a very simple life."
She continued, "They were very hard-working, middle class people. And I think that maybe when I was telling the story, that didn't really resonate, because Brynn and Sai had a very different upbringing."
She also shot back at Erin Lichy's assumptions that she got help from her parents after moving from England to New York. Taank was housed by her uncle and said she was on a student visa upon her arrival to the U.S., which made her unable to legally work and get paid.
"Our story as first generation immigrants -- we don't really get the credit that we sort of deserve. I think that people look at us now, and yes we're accomplished, and yes we have an education, but that didn't come on a silver platter...," Taank maintained. "My parents instilled a very strong work ethic, and I actually worked really hard to get where I am."
She added, "The system here is not favorable to people who are not from here. I think that's the other part of my story... yeah, I always had a phone-a-friend line that I could call my parents if I needed, but I also didn't want to. I wanted to work and prove to everyone that I was able to do it, and I did it by myself."
As for some of her castmates' behind-the-scenes commentary, Taank attributed it to a mixture of "culture misunderstandings" and ignorance.
Waiting for your permission to load the Instagram Media.
"I just think that there are things that you can be playful about, but then there are things that are just not really -- it just comes across as not very kind," Taank said. "I think there's a fine line between the two... I think sometimes the things that they're saying -- it does come across a little bit ignorant, to be honest."
The pressure on the show to "open up and share your story," the mother of two said, ultimately can be a lot.
When it comes to what's next this season, Taank said viewers can expect more "heated" exchanges, especially where people's stories are concerned.
"Let's just say the momentum that we're seeing in the past few episodes continues," Taank teased. "It's a lot of drama, and it's starting to get heated now. So, keep watching."
The Real Housewives of New York City airs Sundays at 9:00 p.m. ET on Bravo.