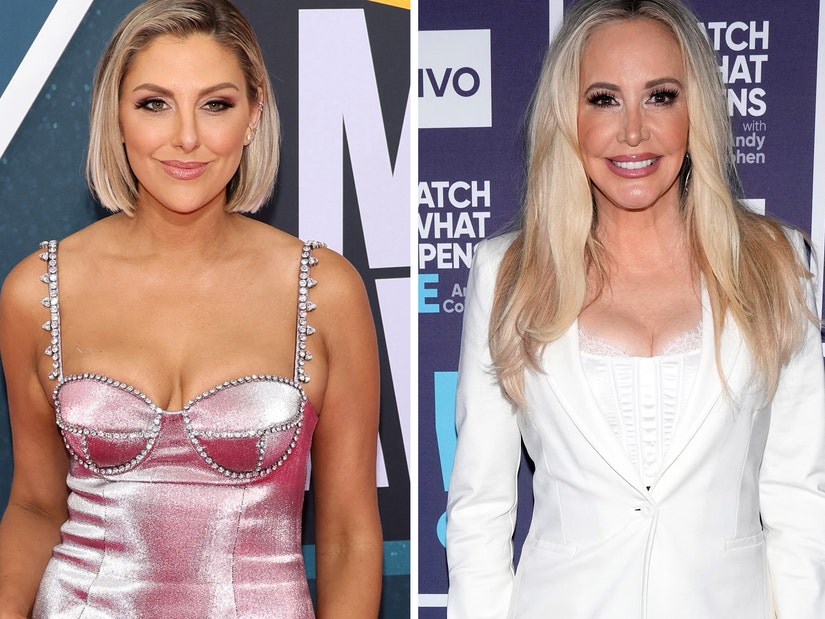 Getty
In a new episode of her 'Orange Country' podcast, 'RHOC' star Gina Kirschenheiter discussed her castmate Shannon Beador's recent DUI arrest and shared how she feels about it after facing backlash from Beador about her own DUI in 2019.
In a new episode of her podcast, Orange Country, which she co-hosts alongside country star, Shane McAnally, Gina discussed Shannon's situation, and explained why she waited to address the elephant in the room on her podcast.
Saying the platform is where she feels the most comfortable, Gina said she has no intention of kicking Shannon while she's down, because she too has been in a similar predicament.
Fans of the show will remember that Gina too was arrested for a DUI in 2019, with the traumatic event recently re-surfacing on this season of the reality show as Shannon and Gina butt heads over rumors surrounding Shannon's relationship with then-boyfriend John Janssen.
"Yes, obviously, you can't ignore the fact that the irony of it is major," Gina said Wednesday. "At the end of the day, I've been thinking a lot about this and Shannon in general, and I just don't have it in me. I'm not gonna kick someone when they're down. And I've been down."
Sympathizing with where her friend is at physically and emotionally, Gina said that while she's glad Shannon didn't get horribly injured or injure anyone else, she feels bad that Shannon made this "really bad decision."
She also admitted to having a bit of an "I told you so" moment, calling the arrest karma for the vitriol Shannon spewed toward Gina over her own DUI arrest -- making claims that Child Protective Services could've taken Gina's kids away after the arrest had it not been for Shannon's help -- among other things.
"I'm not gonna lie to everybody and say I didn't wake up and be like, 'Oh s--t,' this is like karma," Gina, who quit drinking alcohol after her arrest, admitted. "Then very quickly, I moved past that. Then I got angry about a lot of it for a minute, and then I really have settled into appropriate sympathy for the situation and for her."
She added, "I don't want to see anybody down. I never have. I just didn't want to be put down."
Adding that it's not in her nature to take Shannon down for this, Gina empathized that the mother of three is simply a "human being" that's "struggling."
On September 16, Beador drove her car onto a residential property in Newport Beach, and clipped the house, law enforcement sources told TMZ. Beador then allegedly turned back onto the road and kept going before parking her vehicle in the middle of the street and getting out with her dog.
Per the outlet, Beador reportedly tried to act like she was taking a walk when police arrived after receiving a 911 call. The reality TV star, 59, was arrested by police shortly after, and booked for two misdemeanors -- hit-and-run and DUI alcohol.
She was cited and released without bond.
Beador's lawyer, Michael Fell released a statement shortly after telling TMZ that the reality star is prepared to taking responsibility for her actions.
"I spent quite a bit of time with Shannon yesterday. She is extremely apologetic and remorseful," Fell said. "We will be awaiting the official information on this case as it becomes available, and Shannon is prepared to accept full responsibility for her actions."
While the pair may be at odds as of late, Gina, also a mother of three, said that she plans to be there for Shannon during this trying time.
"I know that I will support her, and I will be there to help her however I can to try to try and help her get back up," Gina said. "I don't think it's right. I don't think people should crap on people in these moments, and I'm not gonna do it."
See Gina and Shannon's back-and-forth play out on The Real Housewives of Orange County airing Wednesdays on Bravo.