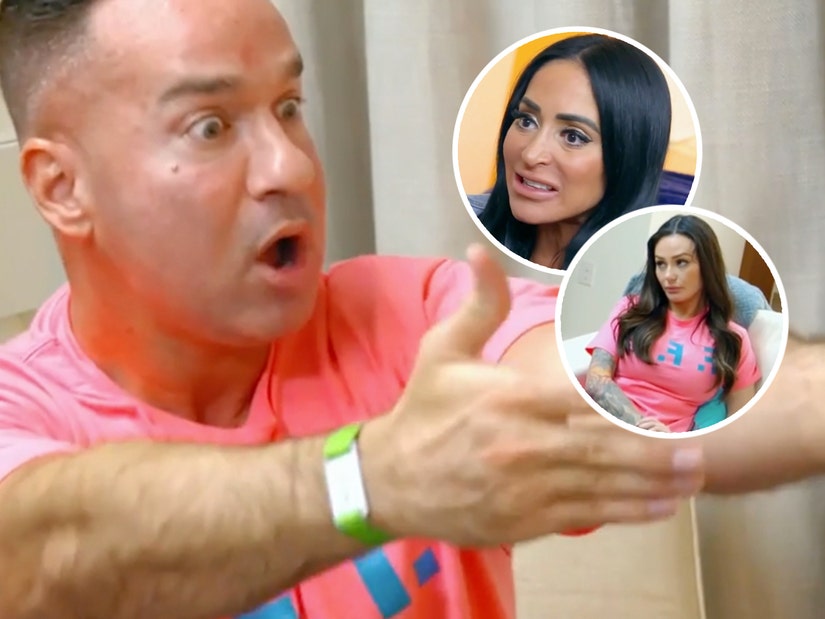 MTV
Though Sammi said Mike "owned up to your s--t," Jenni thought he was speaking out of both sides of his mouth after he apparently whispered something to her under his breath.
As the entire cast showed up to Orlando for a group trip, Angelina wasted no time confronting Mike. Sitting with Mike and Lauren in his hotel room, she said she thought they were finally on good terms with one another before he went and "riled up" Jenni with his pot-stirring, leading to "a full-on Angelina bloodbath" at the brunch.
"I was merely sharing the events of everything, that was it," he said, explaining that if he didn't tell them what she had said, he would become "an accessory" after the fact. In a confessional, however, his wife Lauren acknowledged he was being messy -- saying, "What Mike relayed was exactly what Angelina had said and what she said wasn't anything that wasn't truthful, but sharing information with Jenni was kind of stirring the pot."
Angelina then accused Mike of being "very scared" of Jenni, believing he simply didn't want to acknowledge his own feelings because he didn't want to upset his longtime friend. "Mike, just be real and say you were upset, you're scared as f--k of her!" she exclaimed, as he swore that wasn't the case.
After Angelina suggested the girls were actually "upset with themselves" over their absence and that's why her comments "hit a nerve," Mike finally began to admit his role in the drama.
"Most people don't show up for you and it does hurt if someone doesn't show up for a baby. It definitely bothered me there were two events ... two events in a row, which that upset me, but I was just too scared to admit who I feel," he said, before Angelina said the women all owed him an apology for their absence.
"I was really hurt more than I let onto during that store opening. I know they had their excuses and they couldn't make it, but I still felt some type of way," he continued, before saying he and Angelina were "both stirring the pot."
After their sit-down with each other, they then went and met up with the rest of the group. Vinny was nervous about the conversation, saying, "I'm waiting for a blowup to happen. It's definitely awkward and I'm sure fists are going to fly or wine bottles or something."
That didn't happen. Instead, Mike sat down and said he was taking "some accountability that I did stir the pot a little bit with passing the information to Jenni." He told them all that Angelina was "being Ange, but not in a malicious way" -- and concluded, "One thing led to another and things have taken a life of its own."
"I think you just owned up to your s--t," Sammi told him, as Jenni also commended him for coming clean. Jenni then said that had he known Mike and Lauren were upset, she would have "approached it differently" with Angelina, before Deena also apologized directly to Pivarnick for lashing out at her.
In a confessional, Jenni still expressed frustration with the fact Mike never came to her with his true feelings ... before then acting confused after he apparently said something very contradictory to her under his breath.
"I'm confused with Mike because he's literally saying to the family, 'Not malicious, my bad,' and then whispering to me, it's malicious," she said, as footage showed him saying something inaudible to her. "There's this pot-stirring that does not stop."
We'll see if it continues when new episodes of Jersey Shore Family Vacation air Thursdays on MTV.