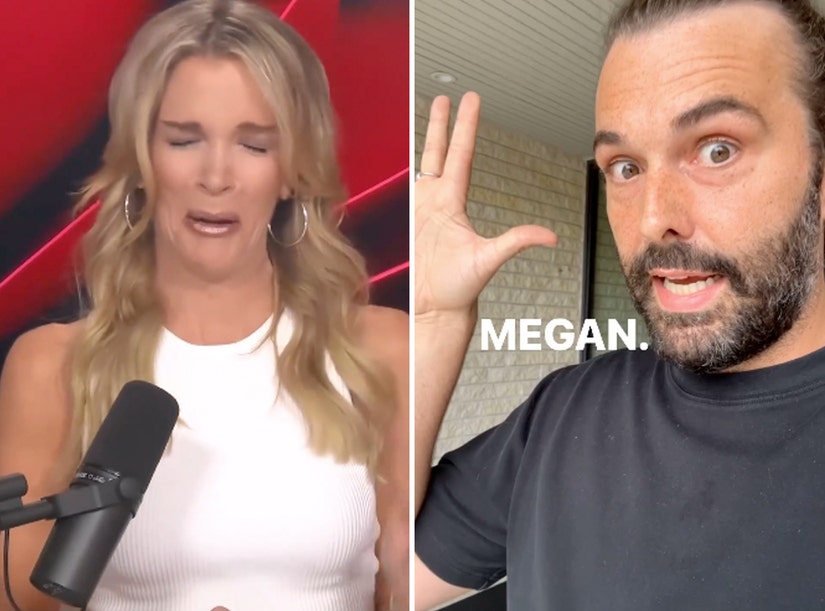 Instagram
Jonathan Van Ness took to Instagram to slam Megyn Kelly after she criticized him for standing up for trans inclusion in sports during his recent appearance on Dax Shepard's 'Armchair Expert' podcast.
After criticizing his recent appearance on Dax Shepard's Armchair Expert podcast during her SiriusXM show Thursday, Van Ness took to Instagram to publicly respond to the conservative commentator.
Kelly mocked Van Ness for remarks he made on the Monday episode, including an emotional plea to Shepard in which he said he's "so tired of having to fight for little kids because they just want to be included."
"You know what, Jonathan? Same. Same. I'm so tired too. I'm so tired," Kelly said, fake crying. "I'm tired of having to stand up for my daughter's right to play sports with other girls."
She continued, referencing a North Carolina case in which a high school volleyball player got injured when a transgender athlete spiked a ball into her face, "I'm tired of having to stand up for the volleyball player down in North Carolina."
Waiting for your permission to load the Instagram Media.
Starting his response by poking fun at Kelly's cancelled Today show gig, the Queer Eye star once again shared why he won't back down from standing up for trans rights and for trans kids who simply just want to play sports.
"Here's the thing, I don't think you would make a video of every single time a high school or collegiate athlete got injured playing volleyball or soccer or basketball or baseball or any of those sports when she gets injured by a cisgender competitor, which happens all the time. Why? Because sports are dangerous. Volleyball is dangerous. Trans women don't make sports dangerous, they are dangerous," JVN said.
Van Ness made a point to clarify that advocating for trans rights in sports doesn't mean he's taking away from women's rights.
"Women deserve the same access to money, advertising dollar, resources, training facilities, scholarship opportunities, professional league opportunities that men do, and I'm advocating for that all the time," he maintained.
JVN continued, "I believe in women's rights. I believe in women's right to choose. I believe in trans rights."
Van Ness was met with lots of love in the comments, including from his Queer Eye castmates, with Tan France writing, "Gracefully put! 👏🏽👏🏽." Actress Alyssa Milano also commented, "You are grace and love, she is fear and hate. Love you."
Drag queen Jinkx Monsoon also seemingly came to JVN's defense in a post of their own, in which they stated, "I have zero patience for false allies ... be a true ally or TF out my way." The Drag Race winner also appeared to take aim at Shepard, saying, "There's 'asking questions' and then there's perpetuating myths and misinformation."
Waiting for your permission to load the Instagram Media.
Van Ness' video comes just days after his tense conversation with Shepard about trans rights and transphobia in sports.
"Some people are very uncomfortable about teenagers transitioning," Shepard said. "How do we know that the person's not gonna change their mind? Then there's another counterargument. If they kill themselves, then that's really f---ing permanent... To even question it makes you an enemy. I don't think that's the way forward."
"All I'm saying is what we know about misinformation and disinformation is when you have an outsized reaction to something, there's a good chance that you're being exposed to misinformation and disinformation," Van Ness explained. "And a lot of the rhetoric around the anti-trans backlash does have a lot of misinformation and disinformation in it."
Noting that many people think they're "really fighting" for women when they exclude trans kids from sports, the tit for tat continued until it became truly exhausting for the TV star, prompting an apology from Shepard.
"Sincerely, I did not want you to come in and challenge your position on any of these things," Shepard said. "I'm just emotionally exhausted," Van Ness added of having to defend issues surrounding trans people and transphobia in athletics.
"I think you're right to feel like it's not on my shoulders to set the table for you," Shepard said.
Since then, Van Ness has spoken out on several occasions about the conversation, saying he "doesn't have the words" to describe the now-viral back-and-forth. He also shared another explainer on why he believes trans inclusion in sports is so important.
"There's so many conversations about trans inclusion in sports, we have state houses all over the United States that consider passing bills to make sure that no trans kids are able to play sports at any level in their state," Van Ness said Tuesday.
Waiting for your permission to load the Instagram Media.
He continued, "And I just think that this is a huge travesty. The science that we have now says that transgender women do not hold an unfair biological advantage over cis women."
He also explained what he learned from being able to play sports himself. JVN, who identifies as a non-binary trans person and uses he/she/they pronouns, said having the opportunity to be a part of a team taught him valuable life lessons that trans kids will miss out on should they be banned from sports, including, "rejection" "teamwork," "how to overcome an obstacle" and "people skills."
"We are doing a huge injustice to trans kids for just not letting them play," Van Ness maintained.
Shepard has yet to address the conversation outside of Monday's episode.