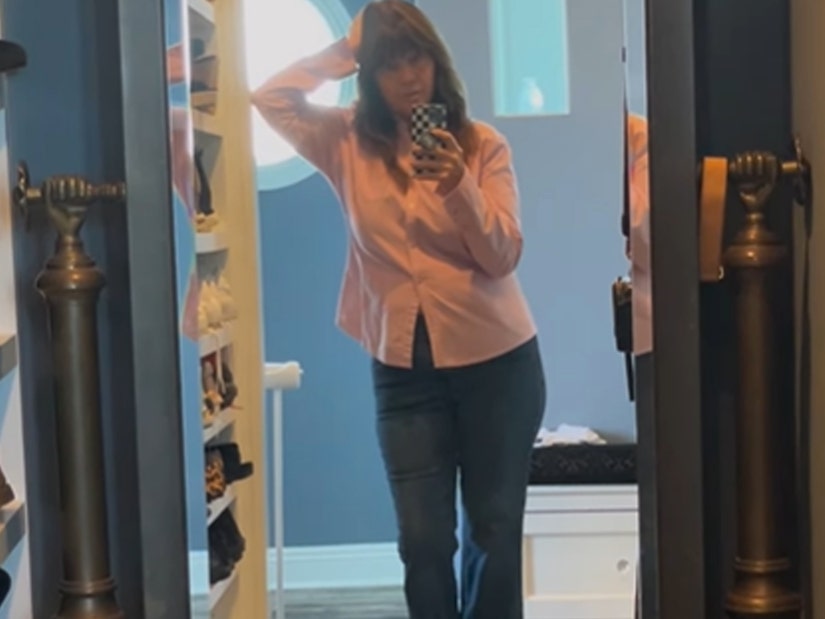 Instagram
Bertinelli says the clothes came from her "before photo" in the weight loss ad
Valerie Bertinelli is opening up about feeling beautiful in her own body while wearing what used to be considered her "fat clothes."
The Food Network star took to Instagram to share a video of her wearing the outfit she donned in her first Jenny Craig photoshoot, which she calls the "before photo."
"Health is not a body size. Health is not the number you see on the scale. Your worth as a human being isn't dictated by your body," she said in the video.
"I thought I was fat the last time I wore these clothes," continued Bertinelli.
"I've never felt more beautiful, more at peace, more mentally and emotionally stable that I do today and I'm wearing my 'fat clothes'. That's f---ed up."
Waiting for your permission to load the Instagram Media.
"I have been doing a lot of emotional and mental purging in the last year," she captioned her post. "And the past few weeks, purging my closets and getting rid of things that no longer bring me joy. These were in the back of my closet in my office."
"I don't know why I kept them, but now I'm glad I did. It's nice to see how far I've come emotionally. I continue to work on not suppressing or numbing my feelings with food or alcohol and here I am."
"I am enough" she added. "Our bodies do not define who we are as human beings. A number on the scale does not define how much love your heart can hold. Please love yourself, every single part of you."
Burtinelli previously opened up about prioritizing her mental health and feeling much healthier after doing so.
"So it's getting about time for me to probably go down another jean size. I can't believe it. And this all started in November, the month I got free," she said referencing her divorce from Tom Vitale, per People.
"And I started really concentrating on my emotional and mental health. And when I started doing that, I started caring about the nutrition that I put in my body more," she continued.
"Caring not so much about calories but what are in those calories? Am I getting enough fiber? Am I getting enough protein? Am I getting enough vitamins, naturally, in my food? Am I drinking too much? What makes me feel better? What makes my body feel better? Keyword, FEEL better."
She shared earlier this summer in June that she was prioritizing her mental and physical health in the wake of her divorce from Tom Vitale last year.
Bertinelli was also previously married to the late Eddie Van Halen, who she had son, Wolfgang, with.